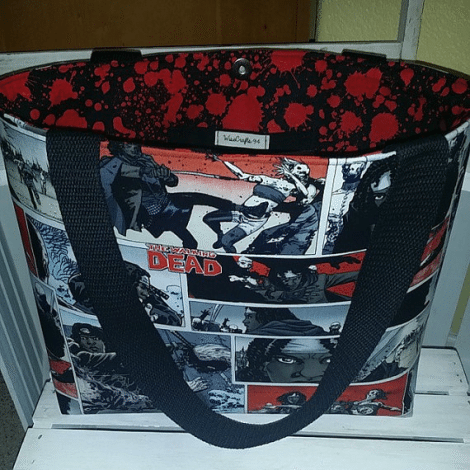 I know you may be ten times more interested in the show rather than the original comics, but this is where the show originated! It deserves some respect. The entire purse is made from cotton materials and the character theme is Michonne, so you know it's going to be bad ass. The splatter on the inside can either be black with red or white with red, you get to choose! One side note is the inside pocket material seen on the Etsy page is subject to change based on availability. If you want to make sure it is as identical as possible to the pictures, message the seller and ask if they have that material piece in stock right now.
Your own Walking Dead purse will vacate your wallet of $40, not including shipping. Unfortunately this item only ships to the United States and Canada. For U.S. shipping it seems to depend on your zip code, but I tried Georgia and Alaska and both had a shipping price of $3.25. Shipping to Canada costs a bit more at $8.50.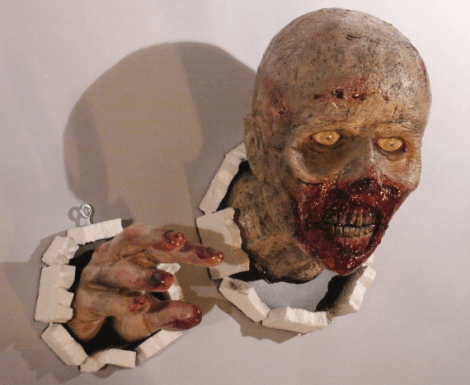 Ever wanted to freak your friends out by having a zombie partially breaking through your wall? Well now you can! This item might actually be pretty cool in a gaming area as well. It looks to be made from foam and resin and the seller doesn't really have much information on the piece available. I can give you the dimensions though! The head is 12" x 7 ½" x 7 ½" and the hand part is 5.5" x 5.5" x 4.5". A nice size for a zombie busting into your living room.
To have your own mountable zombie, it's going to cost you! About $175 dollars to be precise. Imagemotor only ships this piece to Lebanon for just over $58, the United Kingdom for $55, and to the United States for about $12.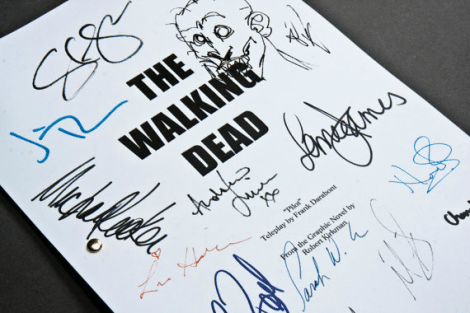 A signed script of the pilot episode of The Walking Dead! The seller states that this is a fantastic collectors item, and I would be hard pressed to disagree. It's signed by Andrew Lincoln (Rick), Jon Bernthal (Shane), Laurie Holden (Andrea), Steven Yeun (Glenn!), Frank Darabont (Executive Producer), Chandler Riggs (Carl), Sarah Wayne Callies (Lori), Emma Bell (Amy), Iron E Singleton (T-Dog), Norman Reedus (Daryl), Lennie James (Morgan), and Michael Rooker (Merle).
This would be a great gift for someone who has loved the TV series since the beginning. The only real issue I could find with this item is the fact that it is NOT sent with a tracking number. Most of the reviews are good and look like people received their items, but there is one person who seemed very upset that they never received the script they paid for.
The script itself with cost you just over $16, and shipping is the same as the cost unless you live in the United Kingdom, in which case you pay just under $2 in shipping.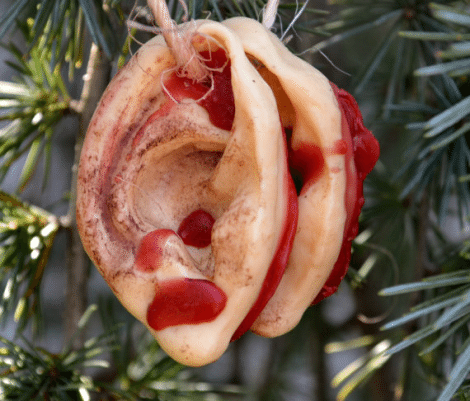 Buzzfeed did an article on Walking Dead items at one point, and this soap pops up at number twenty on their list.  If you're a bit worried about what exactly Daryl's ears smell like, you will be happy to know they are apparently apple and berry blend scented! Obviously this soap is already freakin' awesome, but it gets a little better. The seller states that if you leave the ears alone in the package or out as decoration, the ears will shrivel up a little, increasing their creep value. By the way, they do custom orders, so if you want some intestine soap instead, ask for it!
One soap ear is just under $7. Shipping in the U.S. is $6, Canada is $8, and everywhere else is $16. If you buy multiples at once the shipping will say it's being charged twice, but the seller says they will refund the second charge back to you and ship it all together!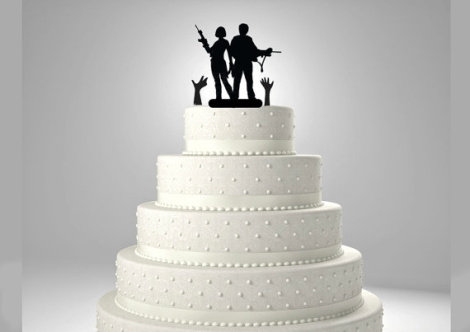 While the immediate use of this item is probably seen as a wedding cake topper, it could also just be an awesome cake topper for parties. Especially for people who like to have other people over to watch their favorite shows together! Make a cake for The Walking Dead series, put the topper on it, boom! You are now the best host ever. You have to choose the color you want the cake topper in from a range of basic colors on her page. The seller for this item seems really nice and easy to work with from what I can see in her description. They'll even throw in a free walker of your favorite Walking Dead character! Just be careful, 'cause these are really fragile.
The basic four inch tier cake topper seen above is $15, but the price can go up to $28 if you want the eight inch topper that comes with a mirror and a stand. I had no idea they got so big! Shipping within the United States is just over $6, and shipping anywhere else is $14 extra.
Would you buy any of these Walking Dead items? Tell me in the comments!