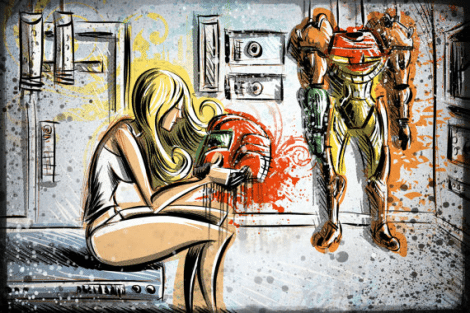 This Metroid art print is very creative and I love the sellers art style. I highly suggest taking a look at some of his other works. He even has a blogspot and TurningArt account for you to keep up with his works. My only issue with this Samus artwork is that in the headline description of the item, he titles it 'Shamus' which only reminds me of the wrestler. This is a 12 x 8 inch print, but I did a little research and it seems that the seller supports the sale of this artwork as a t-shirt! That can be found at redbubble, and actually looks pretty badass. I would wear that. You should wear that.
This unique artwork will cost you $20, which isn't bad. Shipping is pretty simple, with the cost at $5 in the United States, and $10 anywhere else. Considering the unique and intriguing art style used by Joe Badon, I highly suggest checking out all the links provided and supporting him if you find something you like.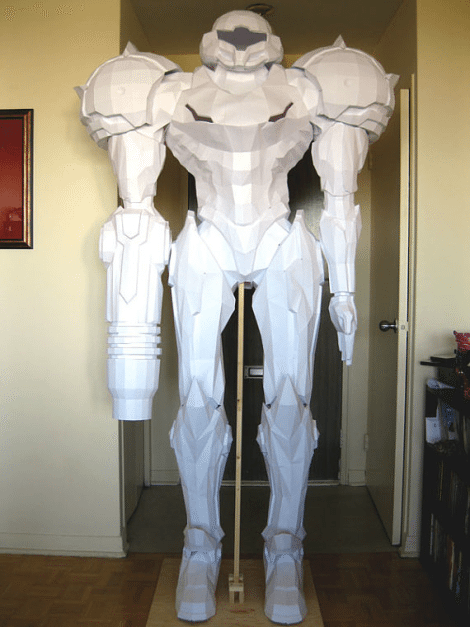 In the description of this item the seller states, 'Want a truly awesome gaming statue? You got it.' He is not kidding, this item looks awesome once assembled. Yes, assembled. If you happened to see the amazing picture of this Samus outfit and skip the title, this is papercraft. Particularly the pattern for the papercraft awesomeness that you rested your eyes on above. The suits available currently and bought individually are Varia, Gravity, Phazon, Dark, and the PED suit. Apparently the Light suit is not available currently, but could be in the future.
The seller states that depending on the pattern you request these can be used for cosplay. Can you imagine walking into a con with this thing on? Hell yes. If you are thinking about using these for cosplay, the seller does NOT include a tutorial on how to make that happen outside of building the suit from paper. He highly suggests looking up youtube videos on how to harden the paper.
One pattern runs $35, so make sure to choose your favorite! Seeing as how this is delivered electronically, shipping is free. Wooo! Just keep in mind that this is not what I would consider a beginners papercraft tutorial.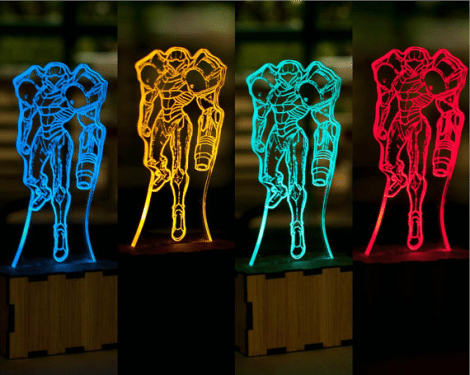 The seller has an assortment of cool little lamps like these, including a Metroid lamp if you would prefer a cute space monster instead! These lamps cycle through a variety of colors, or you can pick a color you would prefer. The above picture is an example of this. If you want to take a look at one of the lamps in action here is a short video showcasing the rainbow mode.  The Samus lamp is about twenty-one centimeters tall and every lamp uses LED lights as well as arduino pro mini. The lamp is hella easy to charge, either by USB or regular plug, with the seller making sure to note that it can be charged no matter what country you're in. This is one of those awesome stores that advertises that you can request a custom order, so send them a challenge if you have something different in mind!
Awesomeness of this variety does not come cheap, so the price for this lamp is $71.67. This item ships from Australia, so shipping there is a bit cheaper at $7.54. The rest of the world can get their hands on one of these lamps for $18.86 shipping.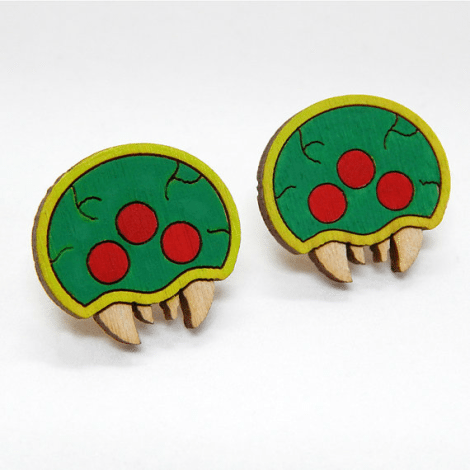 I feel like half the items I ever put in these lists are from my own personal wishlist or items that make their way there. These wooden earrings are no exception! They are laser cut from birchwood and unlike real Metroids, are very unlikely to harm you once they have been attached. I only have one kind of issue with this product, and it is the posts. They are made of brass and then gold plated, and I'm not sure if they contain nickel, but literally metal entering my ears that isn't surgical steel (and even then I sometimes have problems) hurts after a short period of time. If you have a metal allergy that makes you question the jewelry you equip, you may want to see how your ears handle gold plating/brass before buying these.
These 'space jellyfish' as the seller calls them, cost $15. Tack on an extra $5 for shipping if you happen to live in the United States, and an extra $14 if you are situated anywhere else in the world.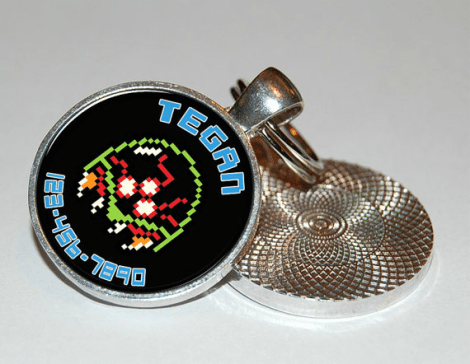 This is great! I want pet tags inspired by my favorite games for all my one-day-pets! This resin sealed pet ID tag allows for the name of you furry child as well as a number where you can be reached should they get lost. They come with two metal rings of different sizes to ensure that the tag matches any collar. Custom orders are available, so if you would prefer they attempt a Chozo or Samus for you, just ask!
A specialized pet tag costs $9.50 with shipping at only $2.50 if you live in the United States. All places that lie elsewhere will have to fork over $8.50 for shipping. Despite what could be a bit of a pricey purchase, these tags are adorable!
What do you think of these products? Hit us up in the comments! Also, if you would like to suggest an Etsy store for The Etsy Roundup leave a comment!