Batgirl Vol. 1:
The Batgirl of Burnside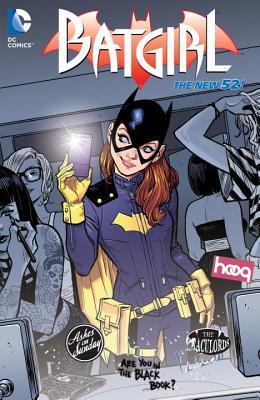 Writers: Cameron Stewart, Brenden Fletcher
Artist: Babs Tarr
Release Date: Month Day, Year
Publisher: DC Comics
Rating: ★★★★☆
Review Spoilers:  Low
GoodReads | Amazon
Hipsters, social media, pop culture, and Barbara Gordon collide in the latest edition of the Batgirl comics. Released at about the same time as other new series Gotham Academy and Grayson, Batgirl is one of a handful of titles currently looking to draw in young audiences. And while some people I've seen online have been upset about it I don't see it as a bad thing at all.
Batman books are awesome. Batman is awesome. But they can get seriously dark. If you ask me, it's okay to get a little levity in once in a while. And Batgirl of Burnside is a fantastic start to what is just a generally fun comic all around.
Beginning with this first volume we find Babs dealing with some very familiar issues. Okay, so, not all of us have our apartments burn down and have to start all over again. But the other issues he's facing are familiar – particularly for teens and college students these days. Her friends are obsessed with the hottest new app. She's having some problems with her friend and teammate, Huntress. And her whole world starts to fall apart when her laptop just won't seem to work.
To top if all off someone out there is trying to steal her image. So Babs goes on the offensive and starts posting to social media as the actual Batgirl with her own pictures of her fighting crime. This is actually pretty cool and I loved it. But I loved Huntress's comment that Batman wasn't going to like that even more because, yeah, Bruce would not approve.
Honestly, there's a lot about this version of Babs that readers can relate with.
That's really the strength – and weakness – of the book. Babs has been reimagined as a struggling, pseudo-hipster graduate student. Which is great. The problem is when the book tries to be too pop culture and hip. Bad guys inspired by anime characters are a neat little addition. I mean, who doesn't like the idea of evil cosplayers? But the ultimate pay off was disappointing. The final villains were lame and, honestly, we needed more.
The book deserved more.
I love all-ages books and I did enjoy this book. I just hope that later volumes take things a big more seriously. I loved the book up until like the last third so it's off to a great start. I love Babs. I love the new costume. I love the artwork. I love most of her new friends and the new characters. I even love the modern feel with social media and everything.
I just hope Babs gets better villains and better finales to future arcs. That's all I want.
Otherwise keep at it, Batgirl team. This was a super fun read. I can't wait for more.


A review copy of this title was provided by the publisher via NetGalley in exchange for a fair and honest review.