https://www.youtube.com/watch?v=k4jVmuuJHVM
McFarland, USA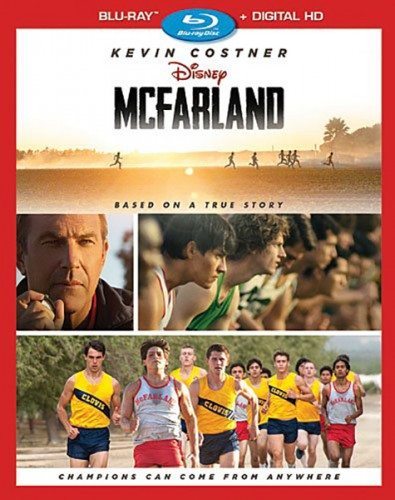 Release Date: June 2, 2015
Cast: Kevin Costner, Carlos Pratts, Johnny Ortiz, Hector Durane, Sergio Avelar, Michael Aguero, Rafael Martinez, Ramiro Rodriguez
Director: Niki Caro
Studio: Walt Disney Pictures
Distributor: Walt Disney Studios
Genre(s): Biographical Drama, Inspirational, Sports
Extra Feature Rating:  ?????
Rating: ?????
Format: Blu Ray (also available on DVD & Digital HD)
Review Spoilers: Low
Amazon | IMDB | Wikipedia | Rotten Tomatoes
I am a sucker for inspirational sports movies. From Remember the Titans to Iron Will, it doesn't matter what sport the movie is about I'm probably going to watch it. And I'll probably cry at some point or another, too.
What can I say? I'm weak.
McFarland, USA has been on my radar since the trailers first started airing and I have really been looking forward to bringing it home on blu-ray. It had been a while since I'd seen a good sports film and I just knew it would tug all the right heartstrings. Though the film takes some liberties with the actual history of Jim White's work with McFarland High School's cross country teams, it's still a really fantastic film that touches on a lot of important themes about race, community, and determination.
Review
Based on a true story, McFarland, USA tells the story of McFarland High School's 1978 State Championship cross country team. Jim White – a disgraced football coach – finds himself floundering in a new school in the primarily Hispanic town. Unsure how to relate to his students or the community he seems about ready to throw in the towel.
But then he realizes that McFarland might just be hiding some incredible potential right in plain sight.
He pulls together a ragtag group of students – mostly the children of field workers and day laborers – to put together a cross country team. Many of the students work in the fields themselves and are pulling double duty as both athletes and workers. It's a difficult situation to navigate for White, but he comes to realize that it's also part of what makes his runners so tough. Eventually – with the support of their community – they prove that they can to toe-to-toe with kids from far wealthier districts and be the best.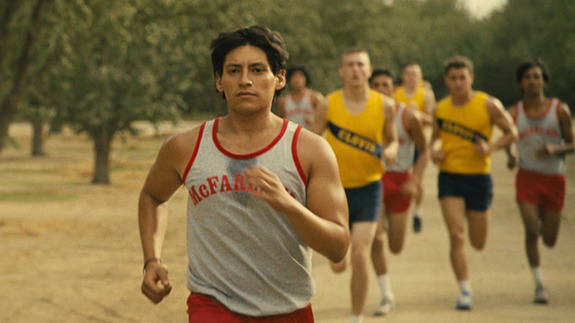 The whole story is really inspiring in general and having spent a lot of time in the Central Valley myself, this movie really took me back home. I loved it and I loved the hard-hitting, realistic portrayal they gave. They didn't shy away from the harsh realities facing these kids. And, at the end, when they talked about where each kid went after high school, they were honest that some still struggled.
Ultimately, though it took some major artistic licenses with the true story on which it was based, McFarland, USA is everything I hoped it would be. The inspirational story is complimented by a fantastic cast that truly brings it all to life.
Special Features
Disney releases never leave you wanting when it comes to special features and McFarland, USA is no exception. With a biographical drama such as this, you at the very least hope for a few featurettes talking talking about how the film compares to the real story.
McFarland Reflections is a very sweet featurette focusing a lot on the real Jim White and the boys who actually ran on the State Championship team. It's incredible to see how many of the runners came back to McFarland after college to make the town a better place. These are really amazing people who put their community first. It was cool to see them talk about how things really came together and to see these men together with their coach putting a real face to the truth of what played out in this little Central Valley town.
https://www.youtube.com/watch?v=TCVB5R–vkY
Inspiring McFarland follows closely behind McFarland Reflections, but instead focuses on the impact the movie made on the actors playing the various members of the 1987 cross country team. It's a short featurette but it's nice to see how seriously everyone took this story. This was a truly inspirational moment not just for these kids but for the town as well and it's clear from these short videos and interviews that their successes have really had a lasting impact on the community in McFarland.
There are six deleted and extended scenes included on the blu-ray release. Since those are always my favorite part about a home release I was super excited to see them all. Some scenes – like an unseen confrontation between Jim and the head football coach or a scene where Coach White goes to find Jose living alone in an abandoned home – would have added something new to the story. Others merely expand upon or slightly alter scenes we've already seen. Regardless they're all worth watching and I'm really glad the time was taken to prep them for release.
The last special feature on the disc is a music video for Juanes's song "Juntos (Together)" from the film. I've included the YouTube link from his VEVO account below. Definitely a neat video. It has him driving around town in one of the decked out, painted cars from the film and later mingling with the people of McFarland and performing a concert on the steps of the school's gymnasium. I actually really like when blu-ray releases include tie-in music videos so I was pretty happy to see this on there.
Final Thoughts:
If you're a sucker for these sorts of inspirational sports films like I am, McFarland, USA is a must-see addition to your home movie library. As always, I recommend going for the addition with the Disney Movies Anywhere code because there is nothing quite like the freedom of booting up your favorite Disney movies anywhere you go.
Unfortunately the blu-ray release only comes with the blu-ray disc and the digital code and the DVD release comes with a single disc and no code. So that might not be an option for everyone. Still, don't let that deter you from picking up this touching, inspirational family film!


A REVIEW COPY OF MCFARLAND, USA ON BLU-RAY WAS PROVIDED FOR THE PURPOSE OF THIS REVIEW. NERDOPHILES WAS NOT COMPENSATED FOR THE REVIEW AND THE OPINIONS HERE ARE OURS AND OURS ALONE.