Alice in Tumblr-Land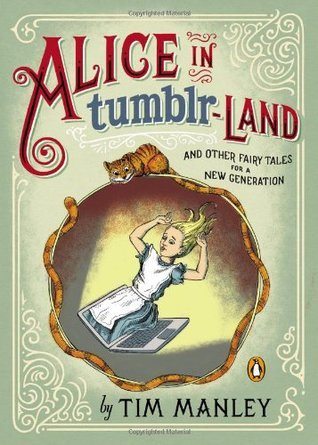 Author: Tim Manley
Release Date: November 5, 2013
Publisher: Penguin Books
Genre(s): Humor, Parody
Rating: ?????
Review Spoilers:  Mild
GoodReads | Amazon
The Internet is a crazy place. It can also be pretty amazing. Online you can find any number sites that allow you to foster community, creativity, and conversation. Tumblr is one of the most eclectic places you'll find on the Internet. Fandom flourishes and no matter what you think of  people you'll find someone who is passionate about the same things as you. But it is a weird, exciting place.
So it's no surprise that Tim Manly's collection of social media-warped tales takes it's name from that particular website.
It's a 'Wonderland' all of it's own.
Alice in Tumblr-Land is the kind of book that modern day netizens should love. It transports all our favorite fairytale characters and many Disney Princesses into the modern age where things are hardly the same for them. Peter Pan becomes obsessed with social media and creating content to garner views. Mulan discovers her reflection will never show who she is inside until she makes the full transition from female to male. Aladdin and Jasmine as well as Beauty and the Beast work through their relationship issues.
It's certainly a book that will be enjoyed by a particular sort of person.
You have to be able to laugh at yourself and your own obsession with social media, hipsters, and more. You also can't take things too seriously. Tim Manley pokes fun at a lot of things that if you've got a good sense of humor you should enjoy.
The stories are told in short one to two page snippets that tie together as they go along with illustrations to go with each. You might explore a story featuring Cinderella one moment and not see her again for another fifteen to twenty pages. But throughout the book each character will face new, modern challenges. The shot sections make the book move along quickly and while you can take your time moving through them one at a time you'll probably finish it in just one or two sittings.
Alice in Tumblr-Land is a great book particularly for people in their late teens to mid-twenties because they'll truly be able to appreciate the humor.  The Tumblr, Twitter, Instagram, and OkCupid fans among us will get a kick out of seeing their favorite characters struggle through the mundane the same way we do. It's also a fantastic gift option if you're looking for something fun to give a friend. Definitely check it out.


A review copy of this title was provided by the publisher via NetGalley in exchange for a fair and honest review.