FX makes its presence known outside of San Diego Comic Con this year with it's massive Fearless Arena, which takes up the entirety of the Hilton Bayfront Park next to the convention center. Modeled as an expansion of "Homer Dome" from last year, FX brings some of its most popular shows including The Strain, American Horror Story Hotel, The Bastard Executioner, and Fargo.
When fans get there (or you can do it before!), you register at fxsdcc.com in order to get a QR barcode that can be scanned at the different on-site events. While supplies last you can also pick up a giant FX Fearless Arena tote bag, lanyard, and many collectible cards that give you access FX Now from July 9 – 20.
Once you've gotten your free swag, you can stop by the It's Always Sunny in Philadelphia sunscreen dispenser or the Archer water fountain. There's a massive tented area with seating for those just trying to get out of the sun. Also catch the workers giving out Sex & Drugs & Rock & Roll buttons, as well as the free Squishees in the Qwik-E-Mart Truck that will be around on Saturday, July 11.
The interactive attractions are:
The Strain
Prove your fearlessness by entering a live-action virtual reality experience inspired by The Strain, the vampire thriller from Carlton Cuse and Guillermo del Toro, based off the best-selling book trilogy by del Toro and Chuck Hogan. Using the Samsung Gear VR – powered by the Galaxy Note 4, fans will be taken on a two-and-a-half-minute adventure created exclusively for Comic-Con and featuring series regular Kevin Durand ("Vasiliy Fet"). It's the perfect preview for the second season of The Strain, which premieres on FX on Sunday, July 12th at 10 PM ET/PT.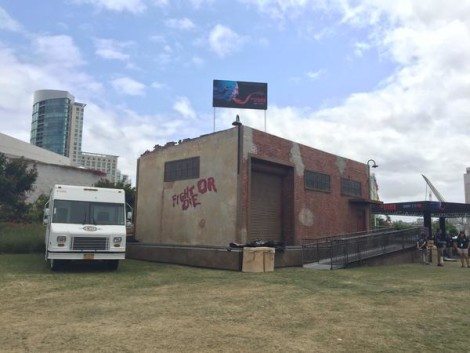 American Horror Story: Hotel
Ryan Murphy's hit anthology horror series American Horror Story is back this fall with its fifth installment, Hotel, and FX is building a two-story model hotel to give viewers a taste of the era. Then fans will be able to venture inside one of eight "gifting suites" in order to capture the most flying bills and earn prizes.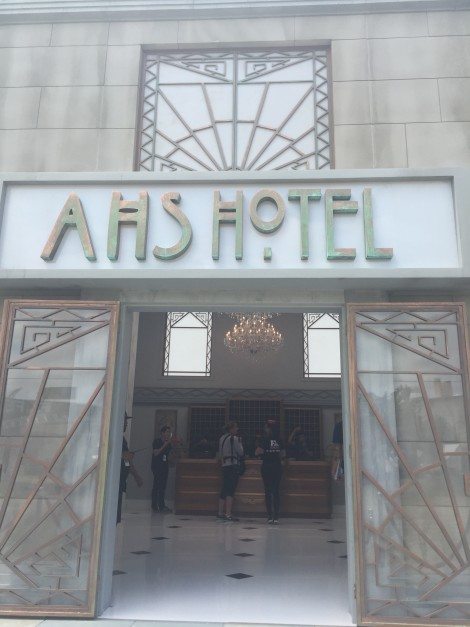 The Bastard Executioner
"Escape the Forest" is the ideal duel inspired by Kurt Sutter's upcoming medieval drama The Bastard Executioner. Visitors don the mantle of "warriors" and square off against each other to prove their prowess with a high striker, a cross-bow, and a final puzzle challenge that will help them escape the "forest" and win a TBX-themed hooded t-shirt. The Bastard Executioner will debut on FX this fall.
Fargo
Aw jeez, a blizzard in San Diego? Step inside a giant 20-foot inflatable snow globe featuring snow flurries and a façade of a Waffle Hut – a key location in the second installment of the award-winning limited series Fargo which returns to FX this fall.