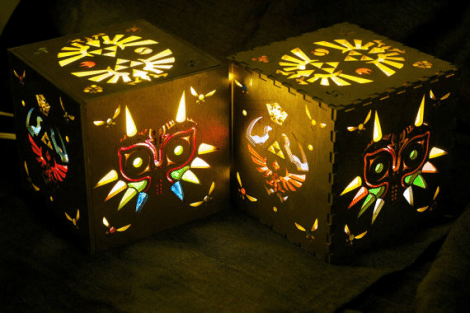 Etsy has quite a few different Zelda inspired lamp designs, but this one was the most original. The way it shines in the picture make is seem more akin to a night light, but even then it's still awesome! As is evidenced in the picture above, this item either comes with puzzle edges or the straight edge – you decide! The seller states that the top is the six sages medallions with a doubled image of the Royal Crest of Hyrule. The lamp sides consist of Majora's mask and Link's shield, so there are two of each. The four faeries from the game series can be seen flitting around the sides of the box as well.
It's always fun to see what kind of work people put into their handmade items! This lamp costs $100, with shipping in the U.S. at $14 and the shipping price goes up to $25 if you live anywhere else in todo el mundo!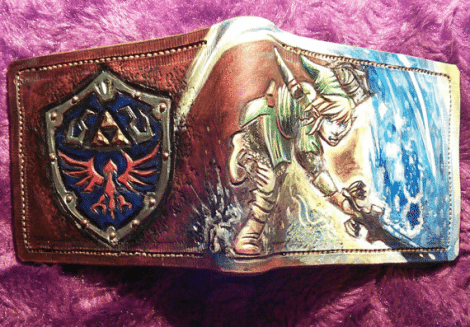 This is the second time I have featured this shop, because Stephen Greenhouse (listed as the store's owner) makes some seriously glorious wallets. The one featured here is from Skyward Sword, but he also has multiple designs of Majora's Mask, another Skyward Sword, Twilight Princess, one featuring Skull Kid, etc… The list just goes on. There's even multiple versions of the same general idea. It's freakin' great and talent like that deserves to be showcased. These wallets are literally leather, thread, paint and varnish. The store is more than willing to help you put together your own custom idea, just hit 'em up.
This particular wallet costs $122.07. Shipping is cheapest to the United Kingdom at just under $5, to everywhere else except the U.S. shipping is just over $8. Shipping is highest in the U.S. at just over $9. A great piece of handcrafted leather works is not cheap.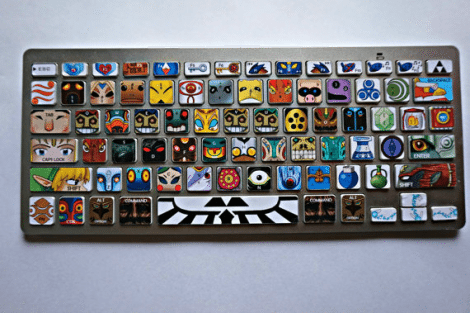 A Legend of Zelda villains keyboard is a great design idea. At first I was worried that I was going to have to become very sure of my typing skills, but then I realized the letters are still on the keyboard! Cue the excitement! And then the disappointment when I realized this was only for Mac keyboards. Some people in the reviews have tried to make this work with some laptops, but apparently sizing is an issue, so that may not be the best solution. It does seem like they sell this keyboard decal version for Asus laptops with no number pads.
The price of getting to poke Zelda villains in the face with your fingertips is just barely under $16. Shipping is a flat rate of $2.39 to anywhere!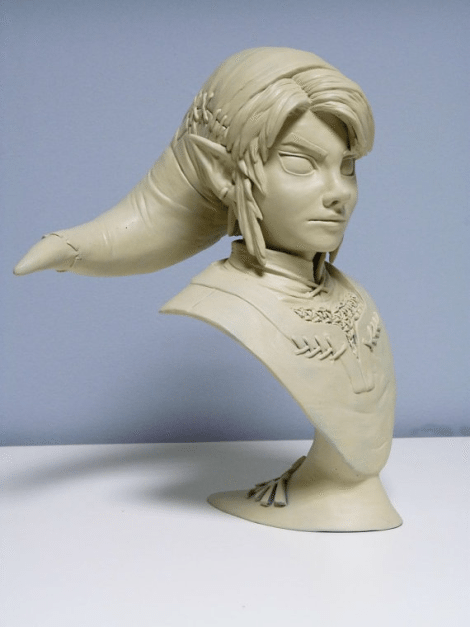 For the real die-hard Zelda fan, here is the Link bust fashioned after Link from Twilight Princess! My only complaint is that it's so small! The height is 24 centimeters, width is 18 centimeters, and it only weighs 1200 grams (a little over two pounds). When I first saw this I though it was going to be quite large, which is the only reason I'm disappointed to learn it isn't. For being smaller, it really is well detailed, especially the hair and hat. If you happen to want your Link bust in color, that is completely doable, as the seller can coat it in whatever color acrylic primer you want from black to purple.
A Link bust will run you just over $106. Shipping is about $23, unless you live in Poland, then it's just under $6. As great as this item is, for it's size I cannot imagine popping out that kind of cash.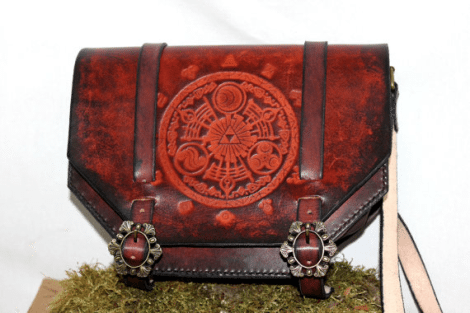 A leather Triforce shoulder bag! Really cool idea, right? I love it and the color is perfect in red to me! If I had to complain about something it would be that the triforce symbol has the green on top when I'm used to seeing red there. But whatever, not a big deal. If you happen to not like this bag in red, you'll be happy to know it comes in other colors! It comes in more common colors for leather, such as brown and black, and then it comes in some crazy colors, like purple and green.
As with most handmade items, this bag is not cheap at $170. Shipping through-out the United Kingdom is cheapest at $15, but anywhere the price goes up to $30.
Would you get any of these great Zelda inspired items? Tell us in the comments!