Are you stuck in a YA slump and want to see what else is out there? Tired of reading the same ol' dystopian tropes, and looking for something new? Want someone other than John Green to make you cry? Never fear! We have got a list of books for you to try out this summer and branch out into the adult section of the library or store. So read on, expand your horizons, and give a new book a try!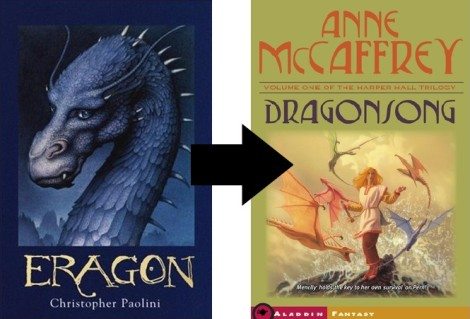 If you liked Eragon, try Dragonsong by Anne McGaffey!
Why? Eragon showed us a magical world where dragons exists and the struggle between good and evil is ever present. Dragonsong does the same thing, just in a bit more grownup way. There's dragons, riders, wars, and more. It's a series that you won't want to put down after you get started. And since they come in a handy paperback size, you can take the magic anywhere! Also, who doesn't love a book about dragons?
If you liked Twilight by Stephanie Meyer or the House of Night series by P.C. and Kristen Cast, try Interview with a Vampire by Anne Rice!
Why? Twilight introduced us all to the idea of sparkly vampires and their love for humans. House of Night gave us vampires that are just like us, just a bit cooler. Anne Rice is the creator of the modern day vampire, and will thrill your senses beyond your imagination. Sparkly vampires are for kids.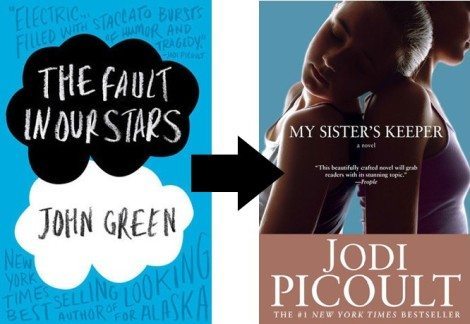 If you liked The Fault in Our Stars by John Green, try My Sister's Keeper by Jodi Piccoult!
Why? John Green brought us all to tears with his novel about a couple of star crossed lovers who were fated to meet, love, and lose the great love of their lives. Once you have dried your tears from The Fault in our Stars, pick up My Sister's Keeper. Another tale of a kid with cancer, her fight for individuality, and her sister's dreams. The crazy family dynamics are very real, and it'll keep you rooting for the girls the entire way through. Also, you're going to need some tissues.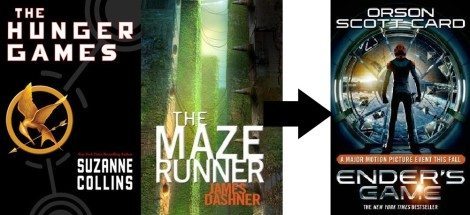 If you liked Hunger Games by Suzanne Collins, Maze Runner by Dashner, and 5th Wave by Rick Yancey, try the Ender's Game Series by Orson Scott Card!
Why? Dystopian is nothing new to the avid YA reader. We've got a plethora of series and standalones to choose from when it comes to that genre. So to branch out a little bit, I'm suggesting the Ender's Game Series. Set in the future, Ender and a handful of other kids are the only ones stopping the end of the human race. As we all know that's not the only thing they are fighting against. It's fun, a little different, and a great read. Did I mention it's also a movie?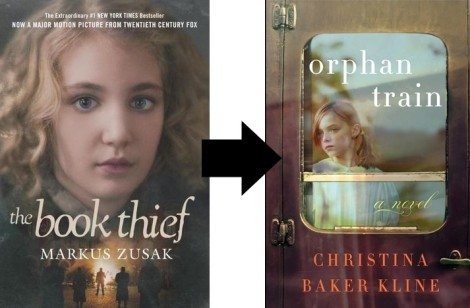 If you liked The Book Thief by Markus Zuzack, try Nightingale by Kristen Hannah or Orphan Train by Christina Baker Kline!
Why? The Book Thief shows us what life was like during WW2. A lot like Anne Frank did, but much easier to read at times. For any history buff, Nightingale does that same thing. Set in WW2, two sisters give their respective views of the war and what is happening. A littler closer to our time, Orphan Train tells the tale of Vivian, a rider on the train, and Molly, a foster kid from today. Both wonderful reads that will take you back in time, to a not so simple time. History is pretty cool.
Didn't find any that suits your taste? That's okay! Leave us a suggestion below of what other books you'd like to see on the list, and we'll find one of our favorites for you to try out. And let us know what you think of our picks!