Release Date: June 19, 2015
Cast: Shameik Moore, Tony Revolori, Kiersey Clemons, Zoë Kravitz, A$AP Rocky, Chanel Iman, Blake Anderson, Keith Stanfield
Director: Rick Famuyiwa
Studio: Significant Productions, JuntoBox Films, i am OTHER, Revolt Films
Distributor: Open Road Films, Sony Pictures
Genre(s): Comedy, Drama, Bildungsroman
Rating: ★★★★1/2☆
Review Spoilers: Medium
IMDB | Rotten Tomatoes | Wikipedia 
At it's core Dope is some amalgamation of a bildungsroman story and a drug-deal-gone-wrong film wrapped up in a high-tech comedy-drama. We all know the basic story of a coming-of-age tale, it's been done enough times but a good one always manages to hit home with a message about growth and maturity, it's about going from a child into an adult and finding out who you are.
Malcolm (Shameik Moore) is from one of the worst neighborhoods in Los Angeles. In the world he's grown up in, he's surrounded by boys who become men with a gun in their hand, dealing drugs on the street, and joining gangs. He's a decidedly different kid. A geek and a 90's music aficionado, he stands on the outside, being criticized by his peers for his interests, his academics, and his aspirations. Similarly, to the world, he is a black teenager from a bad part of town raised by a single mother. The world refuses to see him outside of these stereotypes that they've placed on him.
While the film itself is filled with stereotypes playing out on the screen, it's what the movie does with these typical labels that sets them apart. The modern tech age does wonders for a plot that gets turned on its head when you implement things like bit-coins and the dark web with gang culture. From internet memes to conversations about racism and oppression, Dope utilizes on the subject matter it's working with extremely well.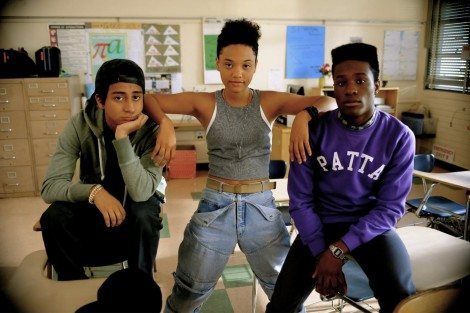 Dope is nothing completely new, it's still the story that you expect. The protagonist wins, the antagonist loses; the characters act as you would expect them to. But the story is decidedly dated in our current age, and while the nuances might be lost on future generations, they highlight an already strong story to an audience that understands internet memes and songifying the news and contemporary slang.
Famuyiwa's direction is fast-paced and exciting to watch, with a script that jumps from laughing out loud to deeply introspective and a bouncing soundtrack that mixes 90's hits and sounds from Malcolm's own band Awreeoh (pronounced Oreo, with songs composed by Pharrell Williams). It's impossible to ignore or deny the struggle that young African Americans face in a society that's been taught oppression. For Malcolm, knowing people in jail, knowing people in gangs, knowing people who sell drugs, knowing people who have been shot, knowing people who have died meaninglessly is as common as the McDonald's down the street.
Dope continuously reminds you through Malcolm's character that this should not be the norm. This should not be how we see people, this shouldn't be the default. Malcolm's final monologue capitalizes on the message of the story. He is a person of two worlds, and effectively an outsider who has been forced to see things from a new perspective, as an African Amercan he constantly fluctuating between the person he wants to be and the person he is expected to be.
Final Thoughts: With a summer full of action movies and blockbuster hits, Dope stands out as both a comedy as well as a dramatic film written about teens growing up in this generation. It's hard not to enjoy a coming-of-age film that manages to capture the struggles of a geek and the oppression of a young African American all the while placing a humorous and youthful spin on a story about drug dealing. It's not a perfect film, but it's definitely something you should be watching. And hey, if you have a few bitcoins lying around, you can get yourself a movie ticket.