Talker 25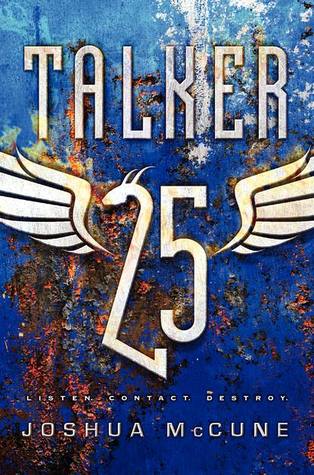 Author: Joshua McCune
Release Date: April 22, 2014
Series: Talker 25 #1
Publisher: Greenwillow, HarperCollins
Genre(s): Young Adult, Science Fiction, Fantasy
Rating: ★★★☆☆
Review Spoilers:  Low
GoodReads | Amazon
I have never been a fan of dragons-related fantasy in general. I don't know why, I've just never really been that interested. While all my nerdy friends in school were all about the Dragonriders of Pern, I just didn't care. But I'm coming around thanks to series like Game of Thrones, How to Train Your Dragon, and now Talker 25.
I mean, dragons and dystopian fiction just shouldn't work. They shouldn't. It's such a weird concept and, in a market where pretty much four out of five books are dystopian fiction, it shouldn't stand out. But it does. It really does. I think mostly because Joshua McCune takes (what I considered) the impossible and really hammers out a great story from it.
Melissa lives in a world where dragons are real. They have reawakened and generally wreak havoc more or less. Some dragons are sectioned out into reservations while others are hunted down. Melissa hates dragons after they killed her father. But after a prank goes wrong and tragedy falls on her town, Melissa finds herself at odds with the militaristic regime that rules society and that has now branded her a 'dragon talker.' Which, you know, is not a good thing.
Action packed and incredibly dark at times, Talker 25 pulls that unique aspect of dragons into an otherwise pretty generic YA dystopian plot. The relationship between Melissa and Baby – a young dragon she befriends despite her misgivings – and the struggles they both go through to regain their freedom later on in the book are compelling.
The dragons as a whole are pretty amazing. The lore and mythology surrounding them and their rise are great and, while I never thought I'd be a talking dragon fan, it's hard not to like these ones.
This is my most unexpectedly great read of 2014 hands down. I can't wait to read the sequel!


A REVIEW COPY OF THIS TITLE WAS PROVIDED BY THE PUBLISHER IN EXCHANGE FOR A FAIR AND HONEST REVIEW.