Fight Club 2 #1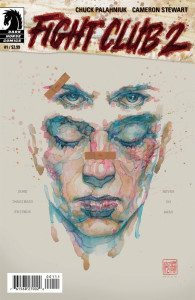 Author: Chuck Palahniuk
Artist: Cameron Stewart
Release Date: May 27, 2015
Publisher: Dark Horse
Source: Dark Horse DRC
Genre(s): Satire, Crime
Rating: ★★★★☆
Review Spoilers:  Mild
Listen up neckbeards, the end of the book version of Fight Club and of the Free Comic Book Day bridge issue set between the book and the new comics series (which is more or less just the illustrated end of the book) consists of The Narrator taking control of his life. Tyler Durden woke him up, but he didn't give him the solution. You gave up your television dreams of millionaires and movie stars and rock gods, now it's time to realize you'll never be Tyler Durden. If you're going to self-insert into the shoes of The Narrator, remember that.
When we return to The Narrator in this comic adaptation– Sebastian, as he's now named – it's not him that's discontent. Tyler Durden has become The Narrator; Sebastian has become something else – average. He celebrates anniversaries, he takes his medication, he mows the lawns, and he actually cares about what happens to his son, while still being haunted by fight club and Project Mayhem.
Perhaps it's naiveté on his part; his son is making saltpeter, Marla – his wife – is in support groups complaining about his inadequacies as she sees them, and he's ignoring all nods to his past life. Between her swapping out his pills, his shrink turning out to be a space monkey, and Tyler Durden evolving into some sort of war-profiteering mogul, Sebastian has settled into something not unlike what we found at the beginning of Fight Club.
This first gripe is the re-immersion into Chuck Palahniuk's hyper-violent, biting social commentary lacks… that familiar bite. I want to believe that is a result of working out the kinks from novel writing to comic writing, but the words are all still very Chuck Palahniuk. There is the start of something that could be great and, ultimately, I suspect that Fight Club 2 will read well once it's been collected, but for now the message feels lacking.
Maybe I've grown up too much since the original release of Fight Club – book or movie – or I'm too content with my life, apartment, and Ikea furnishings, or I just had the highest of expectations for this sequel, but I just wanted… more?
The art, however, is everything I could've hoped for. The characters don't mirror their movie star counterparts, but they're distinctive enough to still be recognizable. Cameron Stewart makes fantastic use of the panels to delineate between Sebastian and Tyler, as well as using pills and rose petals to intentionally obscure some of the lettering – giving readers a sense of Sebastian's drug-induced haze that he lives his life in.
It's certainly enjoyable for fans, recognizing the parallels to its predecessor was a treat (fires anyone?), and I'll be eagerly awaiting the next issue to see if there's a payoff to middle-aged mediocrity and megalomaniacal alter-egos in this sequel, but after reading the first issue, I'll be tempering my expectations of the rest of the series.