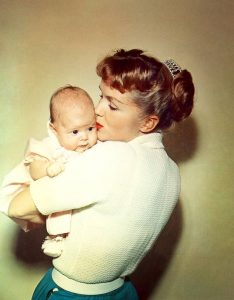 Release Date: January 7th, 2017
Cast: Debbie Reynolds, Carrie Fisher, Todd Fisher
Director: Alexis Bloom; Fisher Stevens
Production Company: Bloomfish Productions, HBO Documentary Films, Insurgent Docs
Genre: Documentary
Rating:
Review Spoilers
: Medium
IMDB | Rotten Tomatoes | Wikipedia
Bright Lights is the documentary we all needed after 2016, and the unexpected deaths of legendary mother-daughter duo, Debbie Reynolds and Carrie Fisher. Always engaging, never overly sentimental, and with a dash of cheek, this documentary doesn't so much mourn the deaths of these great ladies. Instead it celebrates their relationship. It's truly an homage to their love of one another.
The documentary features a variety of home videos, a discussion of their lives as film stars, and their lives as they decline into old age. There are interviews between the two of them, as well as a few from other family and friends. Todd Fisher, Carrie's younger brother is often featured, and his wife actually has a comfort chicken. But the focus is always on mother and daughter, Debbie and Carrie.
Much is said of Debbie Reynolds' fame, as it did shape the lives of their whole family. After breaking out as America's sweetheart in Singing In the Rain, Debbie Reynolds went onto a picture perfect marriage with singer Eddie Fisher.
After having two children who were thrust in the limelight of the Hollywood machine, Debbie then suffered a tabloid-perfect scandal. Eddie left her for her best friend Elizabeth Taylor. Carrie felt this loss in particular. In a touching scene between her and her father (another home video as Eddie died in 2010) she says to him that as a child she tried to make herself the "best girl" for him. But who can compete with Elizabeth Taylor?
Growing up, Carrie says that she and her brother Todd "grew up around each other, like trees." They were meant to be a photo ready family, as wholesome and marketable as Leave It To Beaver. But all that pressure took its toll. Debbie had another bad marriage with Harry, who gambled all their money away. And from the way Carrie speaks of him, there's no love lost between her and her stepfather.
Around the age of 13, Carrie started to develop manic-depression. She's been very public about her mental illness, and her signature frankness is how it's approached in the doc. There's not tip-toeing around the fact, and there's no wallowing in sorrow. It's an unapologetic part of her life, and that's how it's portrayed.
Fisher and Reynolds had some rough years, chronicled in the film Postcards from the Edge. But over the past few decades, they had become best friends and neighbors. Carrie visited Reynolds often, especially since throughout filming Reynolds was frequently ill.
Fisher has spoken out often about the ageism of Hollywood, but time and age really took a toll on Reynolds. Both Carrie and Todd lamented about how Debbie internally feels 35, with the same fervor she had in her Oscar-Nominated performance of The Unsinkable Molly Brown. But in reality, she was frail. Performing laid her flat, but she continued to perform anyway. Carrie faced her mother's fragility several times throughout the documentary. After watching them together like this, it's hard to imagine them apart. But we know how this story ended.
Mother and daughter might not have shared everything. Their taste in home decor greatly differed (Fisher's home was like a treasure trove of eccentricities; Reynolds was classic, with Hollywood memorabilia on display). They might have disagreed on Carrie's singing career (Fisher sang several times throughout the movie and she had a wonderful voice). They might have even disagreed on what cell phone Reynolds should have had.
But there's no doubt that these two were the loves of one another's lives. It makes one feel a little bad for Todd Fisher, the younger brother. Try as he might to join the club, Carrie and Debbie were a party of two. Carrie's daughter Billie was not featured much and I wonder where she fits in this relationship, but the love between Debbie and Carrie is the focus of the film. And while the world will miss them dearly, this documentary is the love letter we all needed to wish them well in the great cabaret on the sky.