https://www.kickstarter.com/projects/tylerchintanner/broken-frontier-the-boldest-comics-anthology-in-th/video_share
I had the privilege of sitting down with the two brains behind the up-and-coming Broken Frontier Anthology to get the latest scoop. While Kickstarter campaigns might be a dime a dozen, it is the people behind them that help them sink or swim. In this case, their Kickstarter is swimming with over 550 backers at the helm pushing it to its funding goal. The guys behind it, Tyler Chin-Tanner of A Wave Blue World and Frederik Hautin of Broken Frontier, agreed to sit down and share a little bit about the process behind this behemoth of a project.
KC: Who are you and what do you do?
Tyler: I'm Tyler Chin-Tanner and I'm a creator and publisher of comic books and graphic novel at A Wave Blue World.
Frederik: And I'm Frederik Hautin, Editor in Chief of the online, comic book new site, Broken Frontier. Together we're putting together a new anthology about breaking boundaries and exploring the great unknown with 40 of the brightest talents across mainstream and indie comics.
KC: Tyler, how did you get into publishing and what led to you establishing A Wave Blue World?
Tyler: I got into publishing because when I pitched my first comic series, Adrenaline starring Dr. Saida Nri, I was told that a series starring a black women wouldn't sell, and the fact that she was a fully clothed woman made it even more difficult. So, I formed A Wave Blue World as a way to help creators publish their own characters, but to make sure they could do so without having to cater to marketing reports or follow the latest trends. We should be setting trends, not following them.
KC: Frederik, Broken Frontier is not only the name of the anthology you're working on, but a comic website too. Where did you come up with the name and what is your vision for the site?
Frederik: I came up with 'Broken Frontier' as I was looking for a cool name with a sci-fi element to it (I specifically didn't want anything with "comics" because so many other sites were doing that). I thought of the intro of Star Trek: The Next Generation where Picard says they're constantly going where no one has gone before, which to me felt like they were going beyond/breaking through the known "frontiers" was my metaphor for that. Hence, 'Broken Frontier'.
Our vision for the site is to continue to spotlight the best independent and creator-owned comics and graphic novels out there, wherever they come from. We're especially interested in material that pushes the medium forward, that does creatively interesting things and in spotlighting bright new talent.
KC: You've got a Kickstarter campaign happening right now for an anthology named after the site. Where did you get the inspiration to head up an anthology project?
Frederik: We wanted to do something that underscored our belief in the strength of independent and creator-owned storytelling, something that went beyond just writing reviews, articles and doing interviews. Putting together a publication that celebrates creator-owned comics AND which gives creators a good deal up front for their work felt like a great way to do so.
KC: What kinds of stories will supporters find in their copy of the Broken Frontier Anthology?
Tyler: Readers will find all sorts of incredibly entertaining stories in the Broken Frontier Anthology. We set a fairly broad topic by saying they should be about "breaking through boundaries and exploring new frontiers" but just exactly how the creative teams interpret that is up to them. And there's so many different directions creators can take that in, from outer space, to western frontiers, to the metaphysical. We feel it's just enough to tie all the stories together, but still allow creators the freedom to bring something new to the table with each story.
KC: For those who might not know – in your words, what makes an Anthology different from other comic projects?
Tyler: Anthologies are different from most comic projects in that they a collection of shorter stories by a larger variety of talent. I really think it's a way to offer readers more "bang for their buck" because each creative team is putting so much into their story. They're still creating new characters and pulling us into a fascinating new world. The fact that they're doing that in fewer pages per story is even more impressive.
KC: How did you gather together the list of talent that's contributing to this project?
Frederik: We wanted to put together a strong lineup of creators that not only fit well with our anthology's theme of breaking boundaries and exploring the great unknown (creators like Nathan Fox, Toby Cypress, INJ Culbard and PJ Holden), but which ideally had a direct link with Broken Frontier's rich 12-year history.
As such, we started out with contacting some of the people that we've been covering since they appeared on the scene (such as Fred Van Lente, Alison Sampson, Sean Wang, Karrie Fransman, Steve Bryant and EdieOP) and who had close ties to the Broken Frontier website because they used to write a column for us at some point (Greg Pak, Josh Fialkov, A. David Lewis, Cullen Bunn, David Hine). We were incredibly fortunate that they all said yes when we pitched them our idea.
Next to that, it was incredibly important for us to have a healthy mix of established stars and new talent, because we love spotlighting up-and-coming voices, and our anthology had to be as good a reflection of the work we do on a daily basis on the site. That's also why we're so excited about giving young international creators like Varga Tomi, Aysegul Sinav, Carla Berrocal, Yaroslav Astapeev and Jamie Coe a wider stage.
KC: If you had one piece of advice to give anyone wanting to head up their own anthology, what would it be?
Tyler: Like any project, an Anthology needs to have a purpose for existing, both for the creators and the readers. Make sure that all the creators are motivated to write and draw something fresh and original for the theme of the anthology so that you can deliver something more than a collection of random stories to the readers. It has to be something that can stand on its own as a work of art.
KC: Why have you chosen Kickstarter as the campaign platform for your anthology, and how has your experience been with it so far?
Tyler: A project like the Broken Frontier Anthology is perfect for the Kickstarter platform, because it's the type of book that appeals to a large audience and we're going to need their support to make it happen. This anthology will only be made if enough people back the project.
Kickstarter has been great so far. They really provide you with a lot of tools to keep track of your campaign, monitor the progress and keep you in close contact with your backers. They really have pushed crowd-funding to the next level and it's a great site.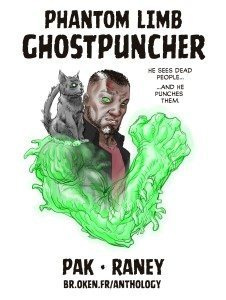 KC: How many people total are working on a project of this scope?
Tyler: We have just over 40 creators and 11 staff writers for Broken Frontier. So that puts us at just over 50 total.
KC: You're working out of Portland; have you found a lot of local support for the Broken Frontier Anthology?
Tyler: I've had a pretty good amount of support from my local community, a lot of friends here who have been spreading the word about the project and some of the local Comic Book Stores (and even one cafe) have gotten the Retail Incentive rewards so they'll have copies of the Broken Frontier Anthology when it comes out. But this is an international project, so it's really about spreading the word far and wide.
KC: If you had to sell this idea in a single sentence, what would it be?
Tyler: Some of today's brightest talent across mainstream and indie comics coming together to make a creator-owned anthology filled with amazing stories you won't find anywhere else!
KC: Finally, where can readers keep track of the project?
Tyler: The best place to keep track of our project is on our Kickstarter page. We'll continue to update our page even after the campaign is over to keep backers informed of the progress, but you're going to need to back the project while it's still going on if you want to be involved!
A huge thanks to Tyler and Frederik for sharing a little bit about their project. If you're wanting to support it, or learn more about it, you can check it out . Don't miss out on your chance to be an early supporter of this fantastic project so that you can say, 'hey, I was there from the beginning!'