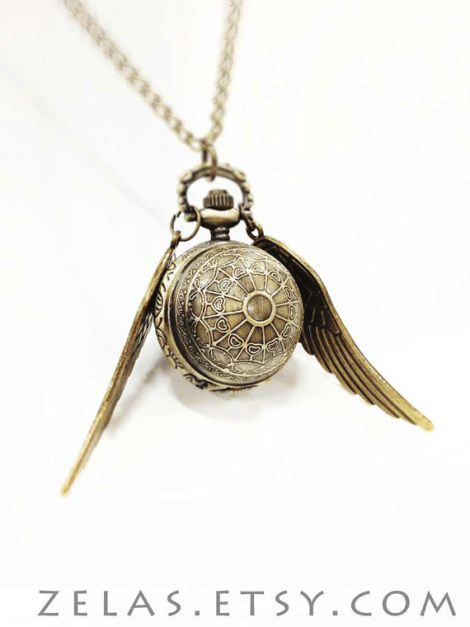 This necklace looks freaking great! This snitch necklace is a brass pocket watch with awesome little wings. It looks slightly heavy. I wonder how much it weighs? Either way, this necklace would be eye catching and a great way to show the world your interests. If gold happens to not be your color, they also have one in silver. Both look really nice. They also do custom orders, so if you have something else Harry Potter related in mind, message them! The seller claims that the chain dangles around to a persons midsection, so be prepared to equip something long!
The necklace (in either color) will run you $25 and then an extra $3.50 in shipping within the United States, $13 in shipping to anywhere else. This is a must have for any Harry Potter fan!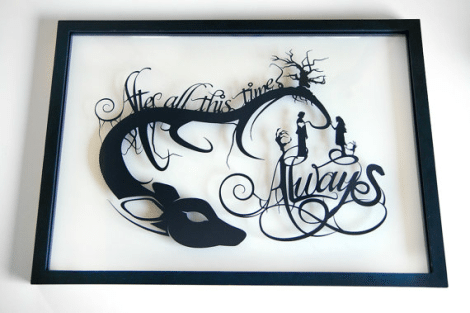 The Snape and Lily situation was always sad to me, and this piece really brings out the feels. Things would have been really different if Snape and Lily had gotten together. Oh well. This is a hand cut paper craft that has been made from a single black sheet of paper. All of those little cuts in the paper have to be made with precision and it takes quite a bit of care. I love the doe patronus wisping out from his heart.
The picture above shows this paper craft framed, but you have the option of buying it with or without a frame. Without a frame it is $45, with a frame you are looking at $75. Either way, shipping is not cheap. It will be $20 to ship this in the U.S. and $50 to ship it anywhere else. So potentially $125 to get this to you. It's really sentimental and I know a lot of work goes into paper crafts, so the choice is yours!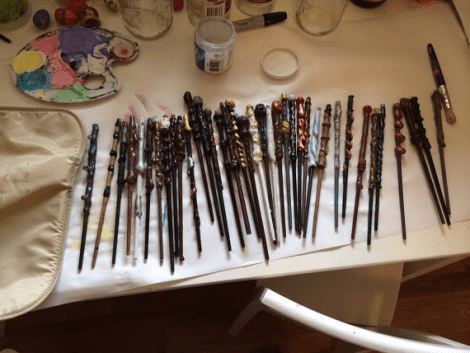 WANDS! I want ALL OF THEM. Alright, maybe not ALL of them, but quite a few. Luckily the store sells them five at a time! The wands are made from wood and decorated with beads and metallic paint. The reviews for these are spectacular, all five stars and the reviews state that each wand is unique and beautiful. If you are a Harry Potter fan or know someone who is, I can not find a reason to now buy these.
You get five handmade wands for $35… unfortunately, the shop only ships to places within the United States. Shipping will cost $7. Buy them and then ship them to your international friends! Go forth!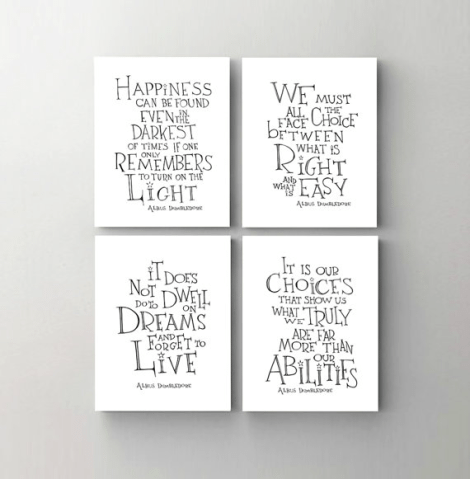 These quotes come in the white, as seen above, or sepia, though the sepia is more expensive and offers ether the sepia or blue. These are great if you are one of those people that likes little inspirational quotes on your walls. Maybe you just want to reach out and offer some inspiration to someone else and you happen to know they love Harry Potter. Either way, this item would work perfectly. It comes with those four quotes, one on each block, and you can hang them together as seen above, or separately. The choice is yours!
The starting price is $32 and goes up to $60, depending on which size you order them in. 5″ x 7″ is $32, 8.5″ x 11″ is $42, and 11″ x 14″ is $60. Shipping within the U.S. is about $6, shipping anywhere else is about $14.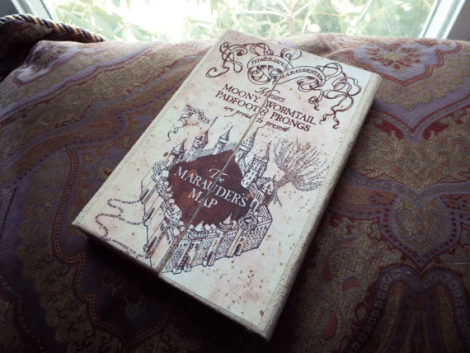 This is a cool little marauders map replica case that can fit tablets that are six to eight inches, the Kindle Fire, and the iPad mini. The outside looks well designed, I just wish the back and inside had more going on. You can pay a little extra to have quotes added to the inside panels and the back, which should up the design a little. Other than that, I think this piece looks really well done! It would be particularly fitting to see on a Kindle device.
 With no quotes added this will run you $44. With quotes you will be looking at $49. Shipping is $6.50 within the United States and $25 to anywhere else.