Cherry City Comic Con afforded me the great opportunity to sit down and talk a bit with local artist, Brett Weldele. Though he may have ditched Salem for its bigger, more interesting brother, Portland, he still makes it down to delight con goers with his fantastic distressed ink works. Even though he's got a busy schedule chocked full of conventions, he agreed to answer some questions about what it is like to make a living as an artist. Specifically, as a comic book artist.
KC: First, let's start with this: how did you get into being an artist? Had you always known what you wanted to do?
BW: At age 8 I decided comics were the thing for me, but I had been drawing for years already at that point.
KC: How many projects do you have going at any one time? Or do you just stick to one?
BW: It depends. I would like just be able to focus on one thing at a time, but I rarely have that luxury.
KC: In a year, how many conventions do you generally travel to in order to sell prints?
BW: It varies, but between March and October it averages between 1-3 a month.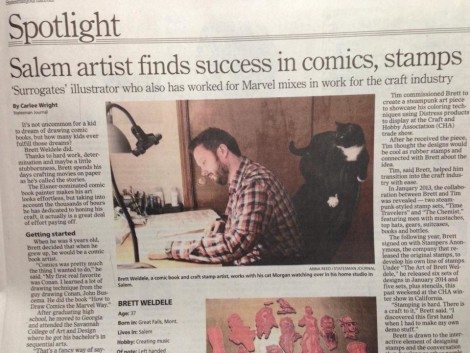 KC: Have there ever been any conventions where you didn't end up breaking even?
BW: Yes. It happens.
KC: What's your best show?
BW: New York Comic Con.
KC: What's your favorite show, if it is different from the best one?
BW: That would be Texas Frightmare Weekend. The horror fan in me has a great time.
KC: Do you ever go to conventions just for the fun of it, or always to vend?
BW: They're always fun, whether you have to work it or not.
KC: How do you decide which prints to sell?
BW: Some of them are things I wanted to do. Others are going off what subjects are popular.
KC: Is the artistic community pretty welcoming where ever you end up traveling?
BW: Yes.
KC: If you had advice to give to an aspiring comic book artist, what would it be?
BW: Its difficult, but not impossible.
KC: In the same vein, if you had to give a warning to an aspiring comic book artist about working in this field, what would it be?
BW: Don't get into this thinking its a quick way to make some money.
KC: If you're willing, what has been one of your most frustrating experiences trying to make it in this industry?
BW: Trying to balance making a living, and being fulfilled creatively.
KC: Any interest in producing your own comic someday? Do you have original characters you play around with?
BW: I'm always making comics that I have some hand in creating, but I have a project of my own that I'd like to produce. Hopefully soon.
KC: When you're not working on something art related, what do you like to do?
BW: Play guitar. Play darts. watch videos of kittens on Youtube.
Thanks again to Brett for submitting himself to my questions! Hopefully aspiring artists out there will be able to take some of his wisdom and apply it to their work. If you're wanting to meet this guy in person and buy some of his fantastic art, check him out at the upcoming Texas Frightmare Weekend. You'll also be able to see him at Northwest Comic Fest in Salem when it comes around in August. For all other needs or interests, check out his website.