Pip Bartlett's Guide to
Magical Creatures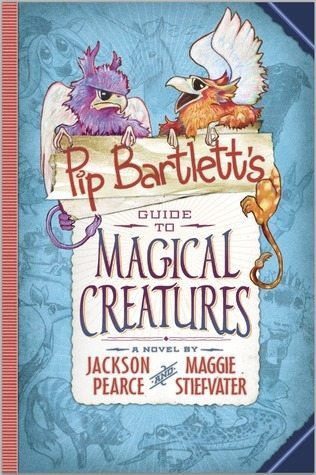 Author: Maggie Stiefvater and Jackson Pearce
Series: Pip Barlett's Guide to Magical Creatures #1
Release Date: April 28, 2015
Publisher: Scholastic Press
Source: Edelweiss DRC
Genre(s): Middle Grade Fantasy
Rating: ★★★★☆
Review Spoilers:  Low
GoodReads | Amazon
I have had my eye on Pip Bartlett's Guide to Magical Creatures for a while now. It came up as an 'upcoming book' when I was working on a Diary of A Wimpy Kid read-alike display at the library where I work. It looked cute and unique and I can't say I was disappointed!
I really enjoyed Pip Bartlett's Guide to Magical Creatures. It's definitely a book that kids who like magic, animals, and spunky main characters will enjoy.
Pip is a fantastic leading character. Even without the added benefit of being able to talk to magical animals she's everything you'd want in a middle grade protagonist. She's bright, funny, and constantly put into crazy situations. Within just the first few pages she's unintentionally causing a unicorn stampede at school!
With her parents at their wits end (and obviously not believing for a second that their daughter can actually talk to magical animals) they send her to stay with her aunt – a magical creature veterinarian – in hopes that she'll get to have fun and maybe get her head out of the clouds. Instead, she finds herself surrounded by all manner of creatures with all kinds of problems Pip must now help solve. For some – like the itty bitty, adorable-but-incendiary fuzzles – their plight is even a matter of life and death!
Teaming up with Tomas (a boy that a griffon from her aunt's work describes as "weird" like her and thus clearly best friend material) they try to save the fuzzles, help a nervous unicorn overcome his fears, and more.
Pip Bartlett's Guide to Magical Creatures is an incredibly fun read that moves at a very quick, even pace. I read it from front to back in a matter of hours. I just couldn't put it down. I was smiling and laughing the whole time. Plus the illustrations from the fictional guide book to magical creatures that Pip reads from religiously and also updates with her own observations really add to the story.
I highly recommend this title if you're looking for elementary student's next great read or for anyone looking for some middle grade fun.
A REVIEW COPY OF THIS TITLE WAS PROVIDED BY THE PUBLISHER VIA EDELWEISS IN EXCHANGE FOR A FAIR AND HONEST REVIEW.