Star Wars: The Force Awakens is going to be the blockbuster event of the holiday season. It is a series that transcends generational boundaries. Odds are there's at least one Star Wars fan in your life. It could be your grandfather, your mother, an uncle, or your younger niece or nephew. That's the beauty of this particular story: it resonates with people from all walks of life. It is also going to make holiday shopping that much easier, because there's a bunch of new merchandise that is bound to tickle your giftee's fancy and have them chatting about it for years to come.
Star Wars Stuff to Wear
Most people are going to be looking for something to wear to show-off their love of the series. The great thing is, accessories are abundant and there's something for every size, every age, and every gender.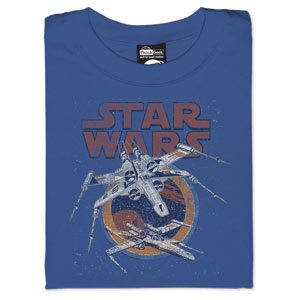 T-shirts from Thinkgeek.com are going to be a great addition to any Star Wars fan's closet. From classic designs to ones specifically geared toward The Force Awakens, there's bound to be something for everyone in their selection. They've got shirts for kids and adults, in more designs than anyone could have ever hoped for. If you're looking for more variety, or are snooping around for the best deals, you can also check out Her Universe, 80'sTees.com, Hot Topic, and the official Disney Store.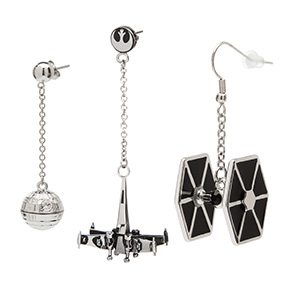 People love to accessorize, and Star Wars fans in particular have a tendency to go all out in their dress up. With that in mind, checking out the offering of accessories from Thinkgeek and the Disney Store will no doubt satisfy your needs. However, if you really want to go all out for that special Star Wars fan, then you're going to want to check out the new make-up line by Covergirl.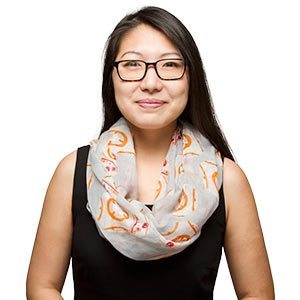 Finally, if you want to keep your Star Wars fan comfy and cozy this winter, there's no way you can go wrong in getting them a scarf. There's a bountiful offering of scarves on Etsy.com, as well as the previously mentioned Thinkgeek. With most characters and designs represented, there's bound to be something worthy of being under the tree this year.
Star Wars stuff to play with
Who doesn't like a good toy? Even as a 24-year-old, there's nothing I love more than perusing the shelves at Toys R Us, Target, or online to see what sort of gadgets and gizmos they've come up with these days. Below are a number of Star Wars toys that are sure to make the kids, and the kids-at-heart in your life squeal with joy when they unwrap their gifts on Christmas.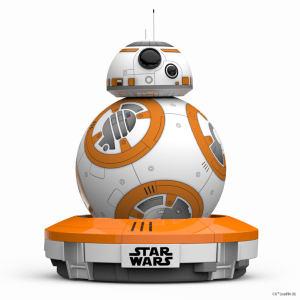 Sphero's BB8 is the toy to have this year, hands down. Released on Force Friday, it retails for $149.99 and will eclipse any other gift you could give someone this year. It is Bluetooth enabled and controlled through a smart phone app that is available on Apple or Android. Through the app, you can have BB8 patrol on its own and listen as it beeps and boops all around your room and crashes into things. You can also control BB8 and terrorize family pets with it as it zooms across the floor with a squeal. Utilizing Sphero's original technology, this is going to be a gift that is not easily forgotten.
If you're unable to swing the $149.99 price tag, then Hasbro has a series of toys that might be better suited to your pocketbook. Furbacca, a Star Wars themed furby, comes in at $79.99 and is set to delight audiences everywhere. It can function both with an Apple/Android app and without. If you're willing to allow Furbies back into your home (what are we, back in the 90's?), then this little fuzzy friend may be your ticket to Christmas stardom among the people you're gifting.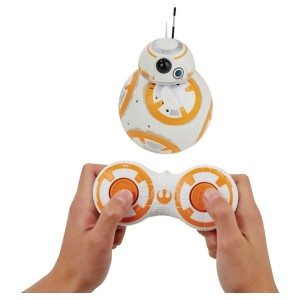 On the off chance you're not interested in listening to a furby coo at you night and day, Hasbro released their own BB8 toy exclusively to Target on Force Friday. It comes in at $79.99 and though it may seem similar to Sphero's BB8, it is quite different. It is a "pure" toy, in the sense that it is controlled 100% by a remote control. It rolls around, zips and zaps, but it doesn't have the depth that the Sphero BB8 toy does. However, it also doesn't have the high price tag and is still bound to provide hours of fun.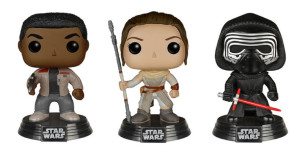 The next item is set to delight any Star Wars fan would be the Funko Pop! series dedicated to the movie. Their collection is extensive, and there's something for all fans new and old. Not only are the traditional figures available, but a number of other Funko related items can be purchased as well. They're great for bookshelves, work desks, and reenacting your favorite scenes.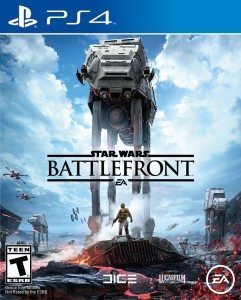 Here's a different type of play thing for those video game lovers out there. Star Wars: Battlefront is available on multiple consoles (even PC) for anyone who wants to step into the Star Wars universe.  Players can fight for the Rebellion or the Empire, in a number of different ways that will no doubt please any gaming fan. It is available on Amazon, and through most retailers who sell video games (like Gamestop and Bestbuy).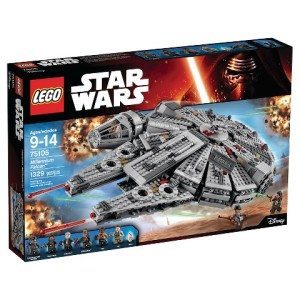 Finally, you cannot go wrong with a classic. From the smaller sets, to the larger, more complex ones, Lego has got your hookup for everything Star Wars. You would be hard pressed not to find something for the die hard fan in your life. You can see a number of the sets available through the Lego site, but can also peruse the selection in person at stores like Target, WalMart, and anywhere else with a toy section worth anything.
Star Wars stocking stuffers
Looking for something to shove into a stocking? Thanks to the new movie, there's no lack of Star Wars merchandise that's small enough to fit into a stocking.
This year, Hallmark has got your stocking stuffer hook-up. Not only do they have an impressive line-up of ornaments capturing both the new and the old, but they have a series of "itty bittys," and a portion of the proceeds from each Star Wars themed itty bitty sale will go toward Toys for Tots. On top of those, there's a number of other Star Wars themed items that are perfect for slipping into a stocking Christmas Eve.
For next level Star Wars fans, Marvel has a number of comics that may just hit the spot. You can check out their currently running series HERE to see if any of them would catch the eye of your giftee. Maybe they've already started their collection and are looking to fill in the holes, or perhaps they are just ready to unravel the next level of fandom. Either way, comics are a great stocking stuffer and there's a number of them to choose from. To add to that, there's also a hefty number of books bound to bring a smile to any fan's face. Whether you're looking to start off someone's collection, or you want to find the missing volume, there's something for ever fan.
Help your friends and family harness the power of The Force through scent. Air fresheners for the car or someone's room are a great way to give them a practical gift that boards about their geek cred. Thinkgeek has got your hookup on these, regularly priced at $4.99.
Star Wars stuff for the home
Finally, if all else fails and none of the above seems to suit the one you love, you can check out a number of useful around-the-house items with a Star Wars slant. From the kitchen, to the living room, to the rest of the house, there's something for everyone in this last batch of items.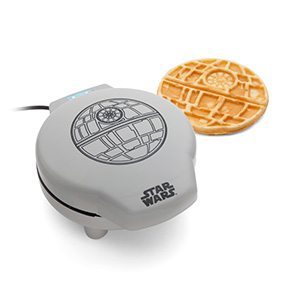 In case anyone in my life doesn't know what to get me, here's the hint. The Dark Side has waffles, and they look absolutely delicious and could probably blow up an entire planet. Thinkgeek.com has released a Death Star themed waffle iron that is bound to make breakfast just a little more fun than it already was. It is the perfect fusion of geeky and practical, and will allow you to annoy all the non-Star Wars fans in your life anytime they come over for breakfast. For $39.99 it is an affordable gift, and will bring years of joy to whoever receives. Like me. Please buy it for me.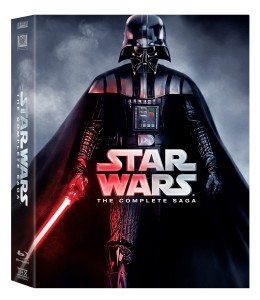 Any Star Wars fan worth their weight is going to want to own The Complete Saga on blu ray, available through Amazon. Relive the spectacular original trilogy and the sub-par prequels with this excellent collection. It is a perfect excuse to snuggle up with family and friends on the couch to whittle away the winter by escaping on a journey into space.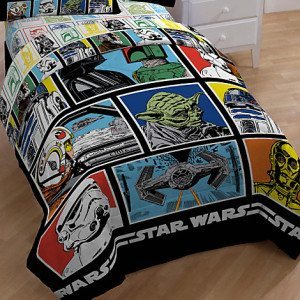 Thanks to the new movies, there's a lot of younger fans that are being drawn into the Star Wars universe. As such, Disney came out with a comforter set just for them (or anyone with a twin sized mattress). For $59.95 someone in your life could be slumbering peacefully beneath the warm comfort of vintage and iconic Star Wars images.
Perfect for apartments, bedrooms, or back patios, these storm trooper lights will show the world just how big of a fan you really are. The best part? Thinkgeek is offering them up for $24.99. The string they are on is 9ft long, great for decorating a smaller space, and multiple strings can be hooked together to dominate the entire house. Who needs normal lighting when you've got a bunch of light up storm troopers looking after you?
Of course this is hardly a comprehensive guide, but it is bound to get you started. Don't forget that most retailers have Star Wars goods, too. Kohls, Michaels, I even picked up a fantastic coloring book at my local grocery store. There's no end to the available merchandise. Be sure to treat the Star Wars fan in your life to some cool gear, and if they don't already have tickets to see it in the theater, that may be where you start.