Marvel Collector Corps – April 2015
Retail Value: ~$50
MCC Cost: $25 + shipping
Rating: ★★★☆☆
When they first announced the Marvel Collector Corps I was super excited. A subscription box service put together through a partnership between Marvel and Funko seemed like the absolute perfect idea. After all, what I enjoyed most in past Loot Crate and Nerd Block boxes have generally been Marvel and Funko related items.
I signed up for a year-long subscription almost instantly.
Call it a leap of faith.
The Marvel Collector Corps promises nothing but exclusives in every box. We know going in that we'll get a t-shirt and a vinyl figure as well as at least two 'premium accessories' worth at least $50. The April 2015 box is their very first one and its got a fitting Age of Ultron theme. We knew that one item would be the exclusive Hulkbuster POP! figure but everything else remained a mystery for the most part.
So how does this inaugural box shape up?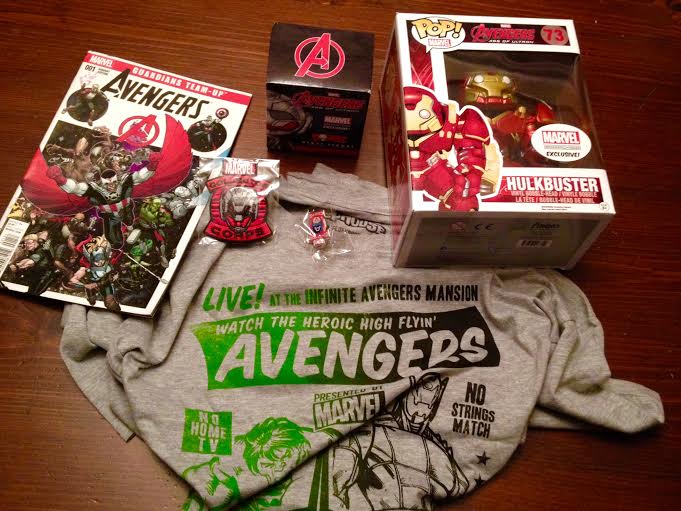 The Hulkbuster POP! is easily the coolest thing in the box. But we already knew it probably would be. I was really excited that they threw in an exclusive Ultron vinyl mini from their upcoming Dorbz line of mystery boxes. They were announced at New York Toy Faire but they are pretty damn cute up close. (Though the paint job on mine was a bit rough around the edges.) The Guardians Team up variant is nice addition, too. It just didn't have much to do with Age of Ultron.
The t-shirt was, unfortunately, a bit disappointing – for me at least. I'm not really a fan of the design or the grey t-shirts generally. But I'll still wear it to the premier on Thursday night!
But you know what? The patch and pin felt like, well, filler. They'll probably be cool to have for people who really get into the Marvel Collector Corps and are super proud to be members but they are otherwise unremarkable.
Ultimately, this is an okay start to what could be an even more epic subscription box. Hopefully future boxes have cooler looking shirts and that the pins and patches (should they be something common in every box) improve as well. Last I checked subscriptions were still open – even for the Founders program. So if you want a box – and in particular that sweet  Hulkbuster – check out the website: http://collectorcorps.com.
Just do it quick before they run out!