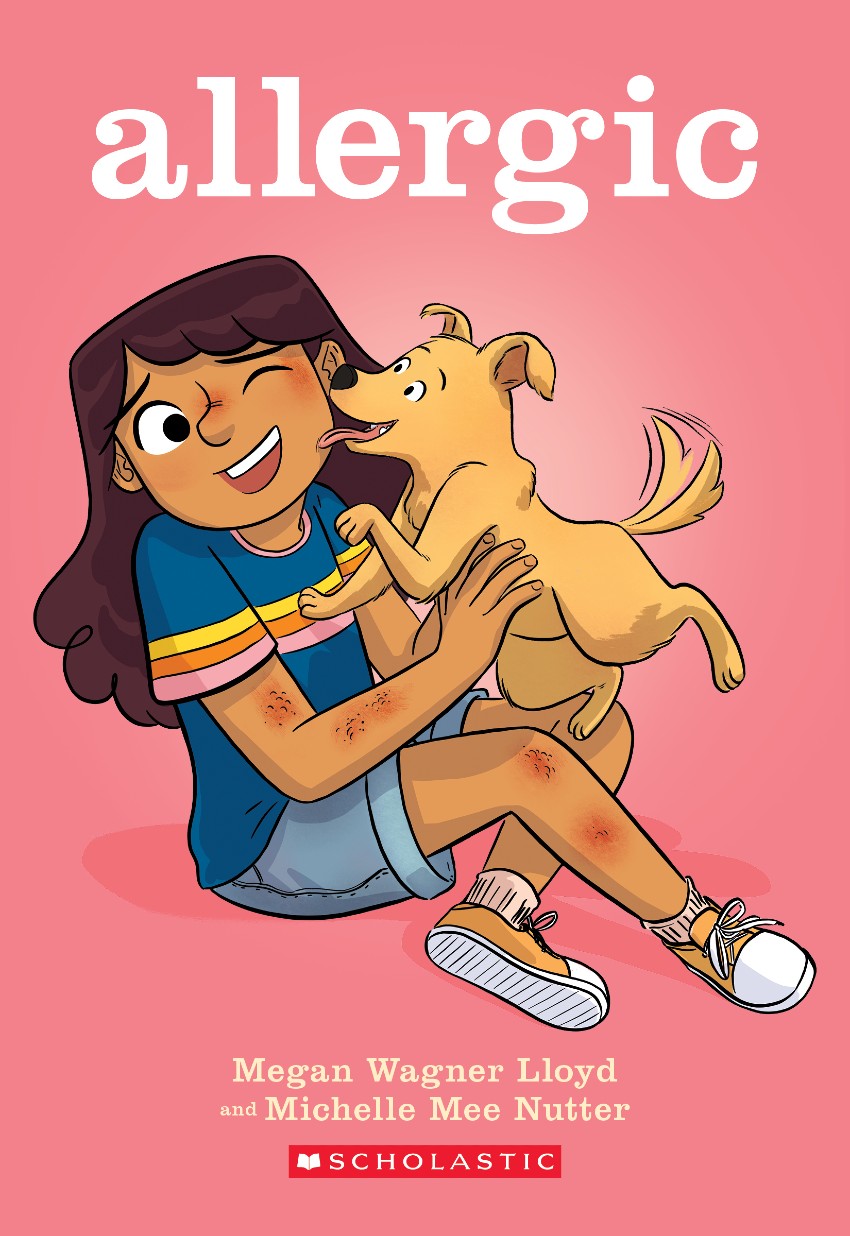 Title: ALLERGIC
Author: Megan Wagner Lloyd & Michelle Mee Nutter
Pub. Date: March 2, 2021
Publisher: Graphix
Formats: Hardcover, Paperback, eBook, Audiobook
Pages: 240
Find it: Goodreads, Amazon, Kindle, Audible, B&N, iBooks, Kobo, TBD, Bookshop.org
Maggie loves animals. Unfortunately, her severe allergies do not. Maggie quickly goes from excited to get a puppy of her very own to devastated as she learns that her severe allergic reaction to any type of furry animal (from dogs to cats to guinea pigs and more) means she'll never be able to have a pet. As someone whose biggest dream was to have a pet of her own to love, it's hard for Maggie to accept.
Allergic focuses on Maggie's journey to acceptance as she deals not just with her new found allergies but with finding her place within her family. With a new baby on the way and twin brothers who obviously have always had one another, she feels left out. Even her friendship with new neighbor, Claire, doesn't solve things as it's very clear how different their families and lives are.
Maggie's struggles to accept change and herself will be incredibly relatable for the graphic novel's middle grade target audience. Even as an adult I related and so many things struck me as similar to my own childhood. I love that Maggie's story was told in a graphic novel format. Michelle Mee Nutter's artwork is fantastic and the whole book will appeal to young readers who tend to devour these kinds of coming-of-age graphic novels. Fans of Raina Telgemeier's work will love Allergic.
That said, Allergic was a the kind of book that really hit home for me. No one in our family is allergic to animals but my youngest has a severe, life altering food allergy. We don't seen allergies addressed enough in pop culture and media. When we do, it's usually a throw away line or related to some catastrophic medical event on some medical drama. Allergic really normalized allergies and the impact they can have on kids from allergy shots to the total unfairness of missing out on what other kids get to do and experience.
Allergic is a wonderful read which shines a light on allergies in a very natural way. I definitely recommend it especially for fans of middle grade/late elementary graphic novels!
About Allergic
A coming-of-age middle-grade graphic novel featuring a girl with severe allergies who just wants to find the perfect pet!

At home, Maggie is the odd one out. Her parents are preoccupied with getting ready for a new baby, and her younger brothers are twins and always in their own world. Maggie loves animals and thinks a new puppy to call her own is the answer, but when she goes to select one on her birthday, she breaks out in hives and rashes. She's severely allergic to anything with fur!
Can Maggie outsmart her allergies and find the perfect pet? With illustrations by Michelle Mee Nutter, Megan Wagner Lloyd uses inspiration from her own experiences with allergies to tell a heartfelt story of family, friendship, and finding a place to belong.
Praise for Allergic
"Maggie's inventiveness as she overcomes these trials is showcased through Lloyd's captivating narrative and Nutter's bright and dynamic illustrations. The story provides insight into the lives of those with allergies and the accommodations needed to avoid serious episodes … A heartachingly enjoyable tale of resilience." — KIRKUS REVIEWS, starred review
"Readers will root for this realistic and relatable fifth grader, who's capable of kindness well as envy and self-doubt. Lloyd folds in information about allergy tests, anaphylaxis, EpiPens, and other facts that Maggie and her friend Sebastian, who also has allergies, recite to each other. Layouts rely on three to four large panels per page, creating a smooth visual flow; Nutter's muted, uncluttered art has a cozy feel … Maggie makes new pals here—she'll find even more friends in elementary and middle school libraries, where readers will easily identify with her trials and accomplishments." – SCHOOL LIBRARY JOURNAL
"A fun and entertaining story." — BLEEDING COOL
"The perfect graphic novel for kids of all ages." — FROLIC
"Allergic is the sweetest story you'll read all year. A touching chronicle of a young girl's severe allergies woven into a meaningful journey of friendship, family, and self-discovery." — Terri Libenson, New York Times bestselling author of Invisible Emmie
Giveaway
3 winners will win a finished copy of ALLERGIC, US Only.
a Rafflecopter giveaway
About the Creators
MEGAN WAGNER LLOYD is the author of several picture books, including Paper Mice, Building Books, Finding Wild, and A Fort-Building Time. She lives in the Washington DC area. Visit her online at meganwagnerlloyd.com.
Website | Instagram | Goodreads | Amazon
MICHELLE MEE NUTTER graduated with a BFA in Illustration from the Massachusetts College of Art and Design. Her work has been recognized by the Society of Illustrators, 3×3 Illustration, Creative Quarterly, and more. Michelle lives in Boston. Visit her online at michellemee.com.
Website | Instagram | Facebook | Goodreads
Tour Schedule
Week One:
Week Two:
Week Three:
Week Four:
CATCH MEGAN WAGNER LLOYD AND MICHELLE MEE NUTTER ON THE VIRTUAL ALLERGIC TOUR
March 2, 2021 5:00 pm (PST) Launch event hosted by Green Apple Books In conversation with Raina Telgemeier (GUTS)
March 4, 2021 7:00 pm (EST) Hosted by An Unlikely Story In conversation with Jeff Kinney (DIARY OF A WIMPY KID)
March 10, 2021 4:00 pm (PST) Hosted by The Reading Bug In conversation with Varian Johnson and Shannon Wright (TWINS)