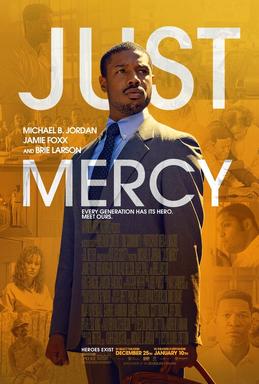 Release Date: December 25, 2019
Cast: Michael B. Jordan, Jamie Foxx, Rob Morgan, Tim Blake Nelson, Rafe Spall, and Brie Larson
Director: Destin Daniel Cretton
Studio: Endeavor Content, One Community, Participant Media, Macro Media, Gil Netter Productions, Outlier Society
Distributor: Warner Bros. Pictures
Spoilers: Low
IMDB| Rotten Tomatoes | Wikipedia
Rating: ★★★★½☆
A warning that this review and the film it discusses contain material relating to racism and police brutality.
There are several assumptions that you could make walking into Just Mercy: that it is just another Oscar-bait movie for some big-budget action stars, that Brie Larson's character will be the key white savior figure, that it will be another movie about how changing a single racist's opinion will solve racism in the US, etc.
I had all of these assumptions and more going into the screening and every one of them was wrong. The warmth and care that director Destin Daniel Cretton shows for the subject matter of Just Mercy extends to each of its subjects. A message of compassion is brought home through powerful performances and dignified portrayals by the talented cast under Cretton's direction.
Just Mercy follows the story of recent Harvard graduate and real-life civil rights lawyer Bryan Stevenson (Michael B. Jordan) begins an organization in Alabama seeking to aid death row inmates in reducing their sentences with the help of Eva Ansley (Brie Larson). The primary plot focuses on Stevenson as he attempts to clear the name of the innocent Walter McMillan (Jamie Foxx), currently on death row for the murder of a young woman.
The film is set in Monroeville, Alabama, where Harper Lee was born and raised and the film repeatedly makes the audience aware of this. But this is not for the sake of rewriting To Kill a Mockingbird for the twenty-first century. Instead, Harper Lee's novel becomes an object of criticism since its existence has allowed the town to envision itself as a white liberal utopia where racism no longer exists with impunity. The reputation of the town is the primary focus of Stevenson's foil, the District Attorney Tommy Chapman (Rafe Spall), who would rather uphold a flimsy and bigotted ruling than serve justice.
What develops out of this is not a typical critique of one unreasonable person, Chapman is not alone in the judicial system when he refuses to reevaluate McMillan's case. He is a former public defender with a mark of empathy and compassion. But it is the pressure exerted by a flawed and prejudiced system that acts as the villain. In particular, the threat of death through police violence or the death penalty is used to bring not only criminals but Stevenson himself in line.
Just Mercy argues that the death penalty is not only a tool of the state to persecute a disempowered people, but also an act of cruelty. Even with those convicts in the film who openly admit to committing heinous crimes, the film portrays them with humanizing dignity and highlights the cruelty of their sentence. In this regard, the subplot surrounding Herbert Richardson (Rob Morgan) hammers this point home. Morgan's performance is one of the most emotionally powerful performances in a film stacked with powerful and evocative portrayals.
The weight and grieving from Michael B. Jordan convey the emotional labor of working in a seemingly hopeless legal battle where losing a case means that someone loses their life. The harsh reality of the subject matter is softened throughout, however, by a warm and inviting sense of humor. The jokes told are all rooted in an intimate feeling of camaraderie which reinforces the pain felt when these friends and families lose each other.
Just Mercy appears at first glance like a stuffy self-righteous courtroom drama out to snag an Oscar or two for its movie star cast. That cynical reading is a disservice to a film that, through artistry and compassion, transcends stereotypes to tell a meaningful and wildly competent story.