Synopsis for 4×09: Monroe has been taken by some vicious individuals. Meanwhile, Wu gets to finally learn the truth about Nick and everything that has been going on.
Rating: ★★★☆☆
At the end of Chubacabra, we saw two things. The first was Monroe being abducted by a group that had been threatening him due to his marriage to Rosalee. The second was Juliette looking into the mirror only to find that she's a hexenbiest. It ended on a cliff hanger and picked up at the same exact place for this week's episode of Grimm.
In the aftermath, Juliette is genuinely shaken but decided not to call Nick. Wu ended up in a holding cell and Nick and Hank decided to retrieve him. They lead a somewhat reluctant and frightened Wu out into the woods to Aunt Marie's trailer to finally bring him into the fold. Wu was brought into the world of Wesen and Grimms, and while he may have been confused he took the news a bit better than he could have. If anything, it seemed to comfort him as much as it baffled him. Finally, he had answers for everything he'd seen and for Nick's weird behavior.
While that was happening, Rosalee realized that Monroe had been taken a little too late.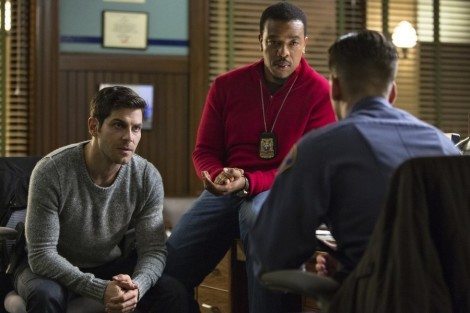 Nick and Hank jumped into action once they realized what had happened with Monroe. They rushed to Monroe's home to figure out what happened, while Juliette continued to fight with the beast within herself. Not only was she demonstrating visible changes, but invisible ones too. Her headache caused glass in the room to shatter and definitely freaked her out. Yet there was little time to focus on it since Nick called her to update her on the Monroe situation.
Like a good friend, she kept her crazy monster crisis to herself in order to try and put on a brave face for Rosalee. It was probably going to backfire, but she didn't even understand what's happened to her. How could she even begin to explain it to Nick in the middle of a bigger crisis?
Monroe was not loving life. Cuffed, beaten, and altogether helpless, he was dragged into a creepy warehouse where a ton of men in masks stood around and called him "impure." They then proceeded to beat the ever loving crap out of the poor guy and left him unconscious. While he's trapped, his friend were scrambling to try and find him.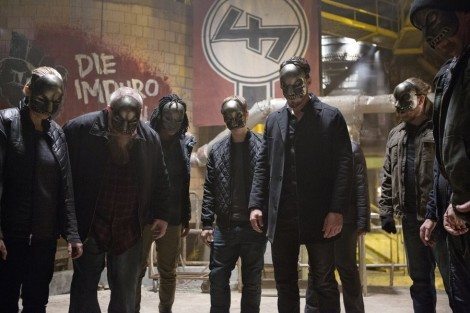 Nick ended up telling the Captain what had happened, and Renard was quick to flex his royal muscles and get someone to investigate the situation under the table. Nick and Hank worked on doing some good old fashioned police work and tracked down a known member of the hate group who had made threats against Nick in the past. When they arrived at the scene, the guy made a run for it and was promptly arrested. They found one of the creepy masks on him which confirmed exactly what they believed.
Renard came clean to Wu after he found out Nick had filled him in on everything. Wu's surprised face was probably the best thing I've seen on television in years. He really was the odd man out in their little ragtag team of justice seekers and seemed glad to be brought into the insanity. Like Renard said, "It's better than being crazy."
We got a better peek into Monroe's situation. He came back to consciousness only to be hazed by the young guard who pretended, for a moment, to be kind. Instead of water, he fed Monroe vodka, and laughed about it. As Monroe lay their helplessly, he realized he wasn't alone. There was another man, presumed to be a Wesen like himself, chained up on the other side of some bars. He looked like he'd been there a lot longer than Monroe, and was soon dragged away when other members of the Wesenrein showed up.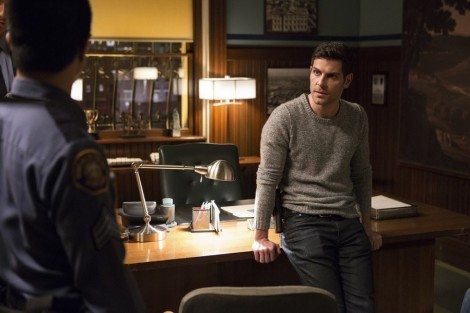 Meanwhile, in Europe, Adalind and Viktor are still up to their schemes. They're still planning to find her child and it is going to involve some travel.
Back in Portland, Nick began the interrogation. Naturally, the suspect refused to give anything up. Nick had to step up his game, and in a heated moment revealed that he was once again a Grimm. This surprised Shaw, the suspect, who backpedaled pretty quickly but still refused to tell them where Monroe was. Right as Nick was about to choke the man to death, Hank stepped in and pulled him out. Shaw screeched about suing but was quickly shut down by Renard who very suavely revealed that he knew exactly what Shaw was, and what Nick was, and he was on Nick's side.
We checked in with Rosalee and Juliette. Rosalee was, understandably, upset. She wasn't even sure Monroe was still alive and was clearly losing hope. Thankfully Juliette was there to be a comforting friend.
After bringing Wu into their scheme to try and track down Monroe, Nick and the team released Shaw. Unfortunately for them, Shaw went home and immediately got lured into an alley by his buddies. The leader of the Wesenrein decided he was too much of a risk if he were to get caught by the police again and killed him. They left his body in the alley and drove away, extinguishing Nick's only connection to the Wesenrein and Monroe.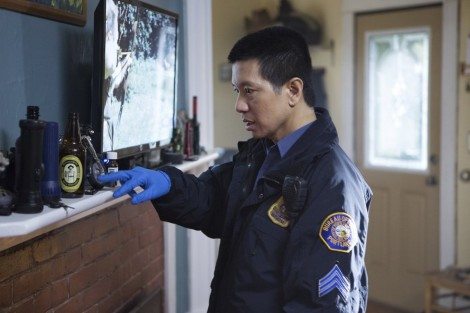 Rosalee continued to worry, especially in the face of no news. She called out Nick, claiming he should be a grimm right now instead of a cop. Juliette and Rosalee got into a huge fight about it and Juliette transformed into a hexenbiest and attacked Rosalee. She ripped out her friend's throat, but it was quickly revealed that it was a nightmare. Thank god. Rosalee woke her up and broke the spell, revealing a still very sad and worried friend.
Wu, posted outside of Shaw's residence, went running when a woman began screaming after finding Shaw's body. The team had to regroup in the face of their only connection disappearing. However, after searching his house they found a photo which included a young police officer who had been knocked out when Monroe was taken. Apparently he'd been playing them the entire time, probably without realizing all the terms of the game. In the face of one lead fading, they found a new one.
In Monroe's own personal hell, the guard decided to play a power game. It was revealed that his brother was the grand master of the group, though he made sure to make it clear he had no respect for the guy. Playing on the young man's arrogance, Monroe made a run for it after knocking him out. Though right as he got out and made a run for it, the rest of the team came barreling in with their truck and gave him chase.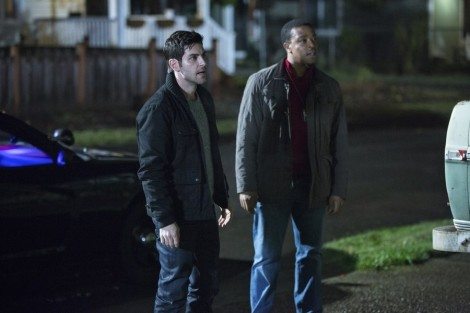 Monroe ran into the woods only to find his good friend from the cell stripped of his skin and impaled on a giant wooden spike. The Wesenrein caught up with him and took him back into their possession.
As Monroe is faced with his impending death and torture, Nick and the team continued to try and figure out what's happening. They're running on thin connections, but anything that could lead them to their friend was important. While they were busy with that, Juliette was tasked with keeping Rosalee from running back home.
The team finally made a break that could lead them straight to the head of the Wesenrein. With the clock ticking, we'll have to wait to see if our heroes will find their friend.