I have previously mentioned a pair of crochet earrings, that can be seen here, and decided to showcase some more of the amazing crochet work that can be found on Etsy!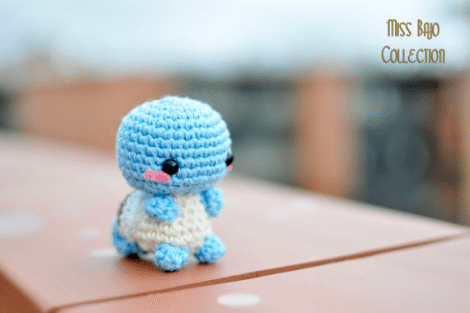 These are so tiny and cute! I think it should be immediately noted that this store does more than just Squirtle – they also have Charizard, different versions of Squirtle, Vulpix, Fenniken, Vaporean, and more. These are all hand crocheted items and are seriously adorable. Look at those cheeks on Squirtle! If you happen to want your Pokémon in a different color, message the store as that seems to be an option they offer. They also offer custom orders!
The Squirtle seen above has the possibility of being a keychain for no extra cost, so you can take him everywhere! This particular crochet piece will set you back $14 plus $5 shipping to anywhere in the world, except Spain. Shipping there is $4. Expect to wait a few weeks before Squirtle is sent out, as the store states it may take 2-3 weeks to prepare him.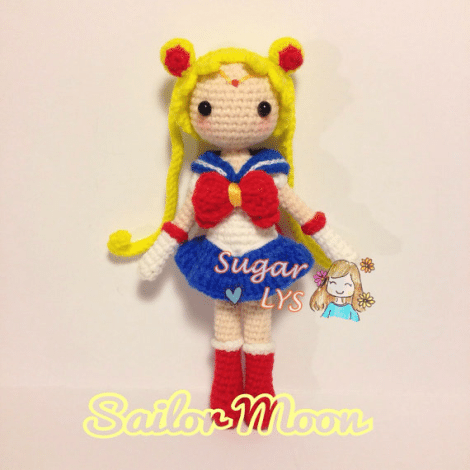 This is a 6.2″ Sailor Moon inspired doll! Made from acrylic yarn with a polyester filling, this item is a nice addition for a Sailor Moon fanatic. I really like how the hair curls! Unfortunately, the store does not offer custom orders, so you can't collect all of the Sailor Scouts in this unique crochet fashion, but maybe at some point in the future?
As cute as this doll is, it is a bit expensive. The doll itself costs almost $32 and then about an extra $9 for shipping, unless you are in Germany, then you are looking at about $6 dollars in shipping. This seems to be a very small and/or new store, so it may seem like a bit of a risk, but think of the Sailor Moon memorabilia!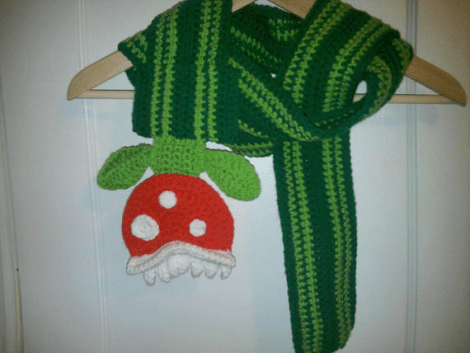 Alright, this is a Piranha Plant attached to the green tube that those bastards pop out of. This is a great gift for a Mario fan. It is about five feet long and five inches across and it looks really well done from what I can see in the picture. It's also machine washable! So you don't have to worry about getting it a little dirty, which is nice since most of these other crocheted items are hand wash gently only.
Everything from this store seems to be hand-knitted and crocheted, as I would expect from an Etsy store. The handmade items really are the best. It looks like this store offers custom orders, so if this your style but not quite your game, message them! The scarf will set you back a cool $35 on top of $6 shipping in the United States, or $18 anywhere else. This scarf will definitely set you apart from others!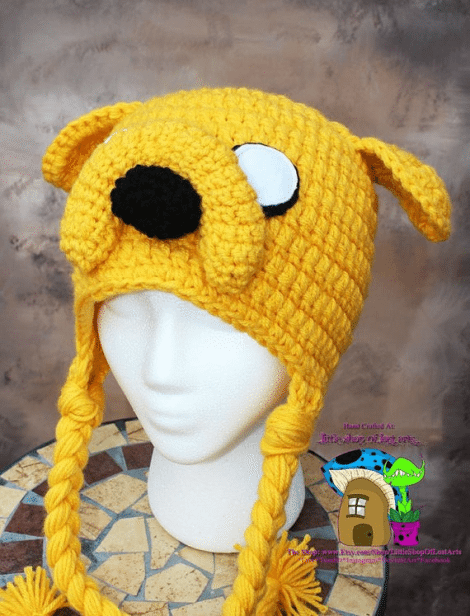 This hat is incredibly well done and a 'one size fits most' size. If you have ever watched Adventure Time, you'll know that this really does look like Jake. The hats seen at LittleShopOfLostArts are unique to them, as the patterns are supposedly not for sale and kept in house.  The store states that the hats are all double threaded to provide double the warmth of crochet hats simply made for the look. The hat does look really warm!
If Adventure Time isn't really what you want to be representing via your brain dome, there is also a nice selection of My Little Pony, Frozen, and Little Big Planet inspired hats. You can have Jake on your head for around $26, with $4 in shipping. Sadly, this item only seems to ship throughout the United States.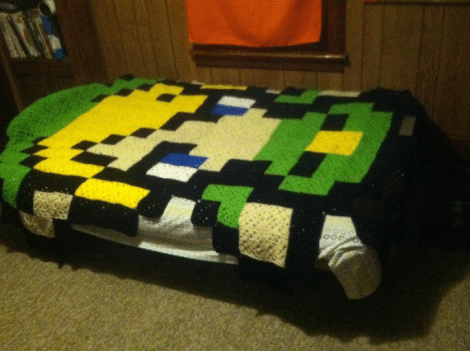 I saved the best for last. This is personally my favorite item on the list! This Link inspired blanket is painstakingly pieced together one square at a time, giving it that pixelated look. It is made from nice, soft acrylic yarn so it should feel nice to sleep with! The store states that it fits well over a twin sized mattress and would fit well on a queen as well. I wonder how it would look on a princess? (Haaaa)
Now for the sad part, I will never own this blanket. It costs right around $390 before shipping, and add an extra $25 for shipping. It also only ships within the United States. If you do choose to order this item, be prepared to wait 4-6 weeks for it to be ready to ship.