Synopsis of 7×10/11: We are treated to the absolute delight that is Andy's tv show and the town faces a whole lot of change after the death of Mayor Gunderson and the return of Lucy and Tom from a blissful vacation in New York.
Rating: ★★★★☆
With only two weeks left, the writers of Parks and Rec are just buttering up the fans in anticipation of the end. Every single episode since 7×04 has felt like it could end the series, there's never been a doubt about the happiness of the characters in my mind. But man oh man, with all the change happening these past few episodes, I honestly have no idea what's going to happen in the end.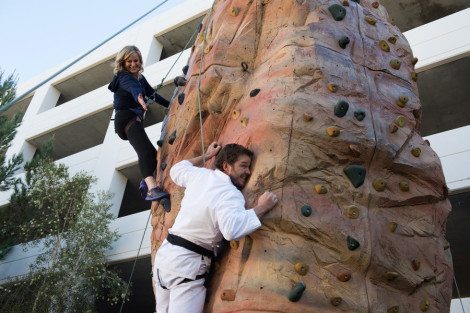 The first half of this week's Parks and Rec was a show-within-a-show, and we were treated to a wondrous half hour of "The Johnny Karate Super Awesome Musical Explosion Show." While many people might have complained that Chris Pratt was underused this season, obviously due to other contractual obligations he has going on, this episode was a direct, "We know you've been missing Andy, so here's as much Andy as you can possibly have."
Andy Dwyer makes the perfect kids' show host – he relates to them in ways that other adults can't, has a wonderful imagination of his own, and is just plain adorable. He's hosting a farewell episode, since him and April are planning to move to Washington D.C. in a few months, and all of his old friends get to play a part this time!
We are treated to wonderful segments where Johnny Karate has to find his $900 million dollar guitar, and Burt Macklin, FBI agent is on the case. Donna tells him he's the best spy in the world, and she's worked with James Bond, as he goes on to find the guitar. We move on to his Five Karate Moves to Success: Make something, learn something, karate-chop something, try something new even if it scares you, and be nice to someone. They make something with Ron "My contract is specific" Swanson, learn something with "Professor Smartbrain" Ben Wyatt, karate-chop something – the beloved mailman Garry, try something with Leslie Knope, and while we wait for him to be nice to someone, we get treated to a whole slew of throwbacks/fake commercials.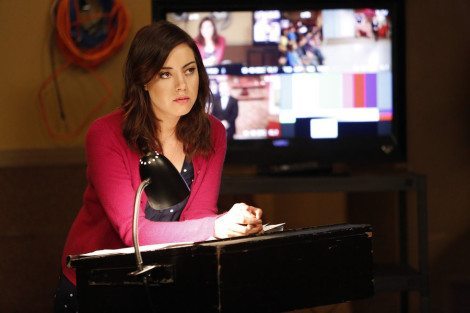 April runs out when she starts to feel bad about Andy giving up his show for her, but he reminds her that together is when the super awesome stuff really happens, and our hearts melt. This was a wonderful chance for the cast to be as ridiculous as possible before moving onto another episode with some more story development.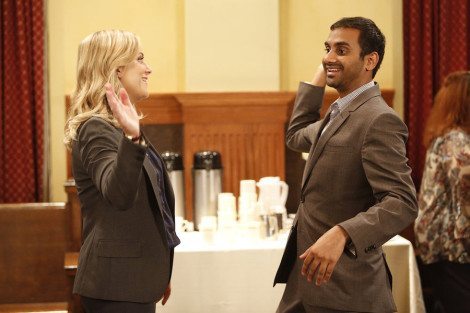 The next episode centers around endings of a different kind – the long standing mayor of Pawnee has died and the city is looking for a replacement, all while Leslie is trying to help Tom plan his proposal to Lucy (anyone else feel that the Lucy/Tom relationship is moving too fast?). After coming back from New York, where the two even looked at rings (Shia also apparently has a solid career as a jewelry designer), Tom is more than ready to plan the engagement of the century with Leslie eagerly hopping on board to help produce the insanity. Insert Jean Ralphio, trained doves, smoke machines, and over the top pageantry as they prepare, until the moment that Tom goes to pick up Lucy and cancels the whole thing, having Leslie prepare him a stack of pancakes, a daisy, and a pack of cards as a reminder of the first day they met.
Who would have thought that Tom Haverford, the man of a million crazy antics, would tone it down for a moment like this?
The rest of the episode showed some other wild antics, namely the reveal of Mayor Walter Gunderson (the man, the legend, Bill Murray) in a video in which he claims that he never really knew what was going on in Pawnee, but the citizens were just as clueless as him. Ben is left trying to find an interim mayor, which shouldn't be hard, since it just needs to be a resident of the town ages 30 and up who can simply just sit there without doing anything crazy, but is just an excuse to parade out the town crazies one last time. Who didn't smile at Mona Lisa, Bobby Newport, Joan, or even the Douche as they made their final impressions on our screen? In the end, the only sensible candidate is Garry, who seemingly will never retire even when he tries his hardest.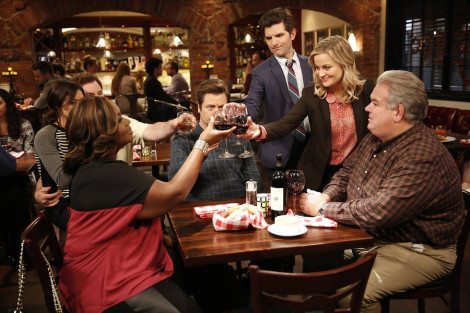 The absolutely wild engagement gets turned into Garry's inauguration, and let's be honest, as we celebrate Garry as everyone happily looks on I just can't fathom how I'm going to be able to handle next week's finale. This show is a gift, no, a blessing, and we are not worthy of it. While Ron lets go of his deceased barber and quickly finds a match in a new one (Donna's over the top suggestion who constantly talks of "Eurotrash" to Ron's giggling delight), I don't know if I'll be able to let go of this show and pick up a new one as easily.