Synopsis for 4×14: Harold gets summoned to jury duty for a very good reason. When Reese's number of the week collides with Harold's civic duty, it is a race against the clock to try and figure out who is rigging a trial.
Rating: ?????
Finch starts the episode off admitting that, since the whole Samaritan ordeal began, they've been losing numbers. There's not a lot they could have done, but thanks to Samaritan there are lives that went un-rescued. On another note, he reveals that he's got jury duty. That's one of the downfalls of having a secret identity. Though, of course, it is never quite as it seems. They're also shorthanded and have come to the conclusion that they're not bringing anyone else into it. They've lost too many people. With Root in the wind, Shaw presumed dead, and Fusco at risk, they make the executive decision to bring it back down to just the two of them.
When Finch shows up to jury duty he does his best to blend in. He even manages to make a friend in a retired school teacher named Emma. As they're called into the court room, a number of the participants do their best to try and get out of jury duty. Some are successful, even Finch, who brings up a conspiracy regarding a computer that is spying on them all. Of course it is humorous because it is true, but it is enough to get him kicked off the jury and nearly dismissed.
That is, until another juror's phone magically starts ringing even though he insists he turned it off. With him booted out, the judge chooses Finch to take his place. Curious, right?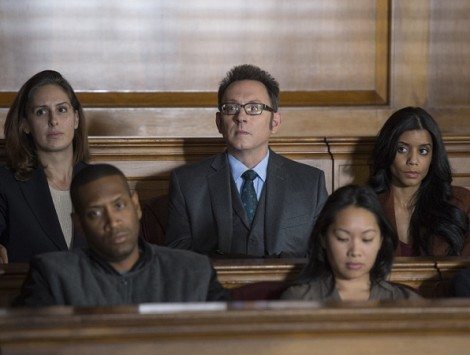 For the first time in a really long time, Reese met with his therapist. He'd taken unpaid leave to deal with a "death in the family," i.e. the Samaritan situation in which they lost Shaw. She brings it up and almost acts as if she's going to force him to continue counseling. Instead, his therapist announces that it is going to be his last session and he is going to be cleared for duty. There's an awkward almost-hug moment that is almost cute, before Reese takes his leave.
At the station, Fusco noticed a few files on Reese's desk, which Reese told him to forget about. The decision to keep Fusco, and everyone else, at a distance was final. Though it may be out of a good place, it is definitely not going to work out. Especially not when they're partners and Fusco is every bit interested in being involved as Reese and Finch are.
Back to jury duty, it is revealed that Finch is there for a reason. The trial is that of a man accused of murdering his wife, the head of some sort of tech company. While sitting on the jury, Reese shows up in the courtroom and announces to Finch that their new number is sitting right beside him. Of course it is Emma, the school teacher.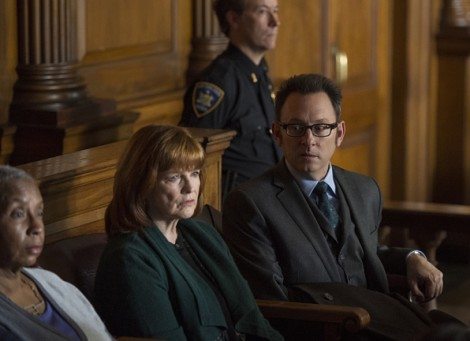 Fusco butts into the missing person's cases that had been on Reese's desk, not someone easily swayed when told to leave it alone. Reese gave him another ultimatum: leave it alone. Of course Fusco won't listen, but when does he ever? Again, Reese returns to his therapist and asks her for extra sessions outside of the purview of the NYPD, much to her surprise.
Jury duty becomes especially interesting when Finch comes to realize their person of interest is not the perpetrator. Rather, she's being used by whoever the real perpetrator is. They're communicating with her via text messaging, and they're not above threatening the lives of other jurors to try and stack the votes. Someone is attempting to control the outcome of the trial, and Team Machine is now tasked with figuring out whom.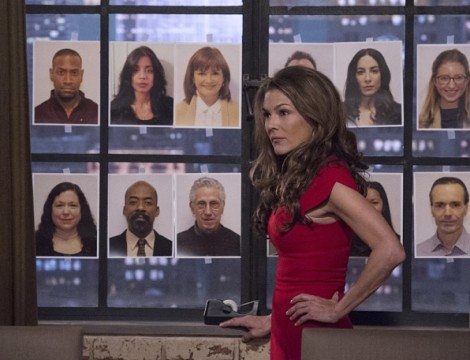 Then, surprise surprise, Zoe Morgan shows up after a long time off the show. It was refreshing to see Paige http://premier-pharmacy.com/product/aciphex/ Turco on the show again, as her and Reese's chemistry is always fascinating. She wants in, but Reese obviously wants to keep her at a distance. The fewer people they can drag into it, the better. Yet Zoe is persistent and soon enough ends up helping them out.
They start in on their adventure of trying to figure out who exactly is rigging the trial.
With Finch ready to rock and roll, Reese and Zoe are given a moment together. Being old lovers, there were expectations which Reese quickly dashed. She pegged him as being interested in someone else and he denied it, but the next scene with his therapist was pretty telling. He's interested in her for some reason, enough to go back to therapy even though it isn't required.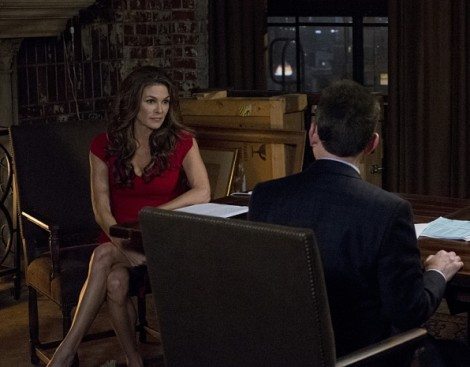 Maybe he's in love, or maybe he's just sad.
There's a plot twist in the trial: it isn't the man being prosecuted that is trying to clear his own name as previously assumed. It is whoever killed the man's wife. When Finch came out swinging with his guilty verdict, Emma, the person of interest tasked with rigging the trial, agreed. She was excited to hear someone admit that the man was guilty, which threw a wrench in the whole thing. Obviously their previous assumptions were wrong and the terms of the situation are opposite of what was anticipated. Finch had to stall.
The cover-up had to do with dangerous cell towers. A deal had already been struck that would have made a lot of people wealthy. However, after the safety assessment came back, the CEO of the company (the woman who had been murdered) refused to make the sale and was killed for her decision.
Finch's stalling puts whoever is fixing the trial into attack mode as a new video is leaked that could unfairly prejudice the jury. With the jury sequestered until they come to an agreement, Finch was pretty much cut off from the team. To make matters worse, the person of interest was being told she has to end the whole thing or else Finch's blood will be on her hands. Under that threat she breaks.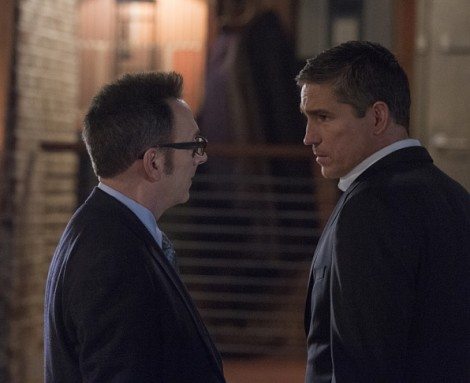 With no choice left, Finch has to reveal his game to her to try and save her life. He managed to talk her back from jumping off a balcony. It was then revealed that she had been used from the beginning. After a simple jury summons her life was slowly destroyed, as whoever was fixing the trial threatened the people in her life and forced her hand.
After following the trail to the fixer, Reese realizes too late that the fixer was actually on the jury himself. Thankfully, Reese comes to the rescue and manages to take down the fixer while protecting Finch and Emma. It was refreshing to see a legitimate fight scene again after so long. Of course Reese wins the fight, new information comes to light, and the charges and jury are both dismissed.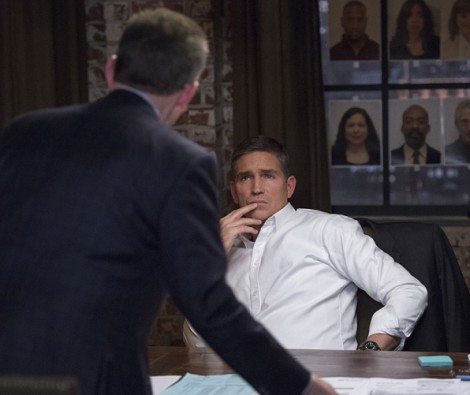 The man actually responsible for the whole ordeal got arrested and Fusco confronted Reese about being left out. He made it clear that he knew exactly what he was getting into and that it was his choice, no one else's, to work with Team Machine. There's no lone wolf'ing it in this game, not when there is already so much as stake.
It ended with Reese visiting his therapist once again. He has lived his life trying to avoid loss, but no matter what he does it happens anyway. "Loss is inevitable," he said and his therapist replied, "So is love. It is a basic human need." It was a theme that carried into the last scene, where Reese and Finch decompressed back at the café and came to terms with the fact there's no way to keep Fusco away.