Synopsis of 2×04: Flint threatens Vane while Eleanor plays mediator. Rackham and Max compete for Anne's heart and Hornigold questions Flint's end goals.
Rating: ★★★★☆
Vane is not a happy man as the episode opens. His anger is fueled by Flint's presentation of demands to vacate the fort or prepare to be fired upon by sunrise. To make matters worse, Vane discovers that Flint has strategically positioned his ship in the bay, taking advantage of the fort's weaknesses, as its guns cannot reach Flint's ship.
Things between Vane and Eleanor grow tense, as Vane questions whether Eleanor had any role in Flint's plan. Eleanor insists she had no idea, nor how stupid Flint could have been. Vane though, in a fit of rage, claims that while he may not be able to hit Flint's ship, he can hit every other ship in Nassau's harbor.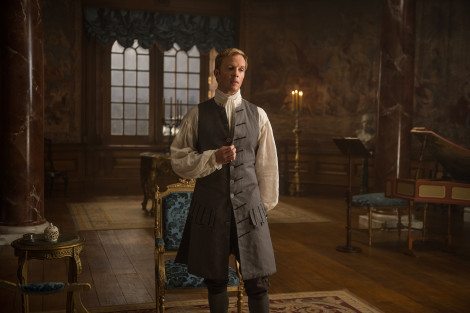 Back on board the Spanish warship, Flint and Hornigold work out the details of their plan to attack the fort. While Horingold insists an all out attack on the fort is best, Flint still resists the idea, believing that by attacking the fort, they would be leaving it vulnerable for weeks as they repair the damage. Flint admits that they would be taking catastrophic risks, as Spanish and British ships are likely still searching for Flint's crew.
Through flashbacks, we learn that Hamilton is expecting a visit from his father, whom he plans to make a final plan of proposal concerning Nassau to. Before his father's arrival though, Hamilton makes a startling proposal to Flint, claiming that he would like to pardon all of the pirates in Nassau, rather than hanging them, when they liberate Nassau. Flint counters Hamilton, believing his father will most assuredly reject his proposal.
Back in Nassau, Rackham finds Nassau on edge, unsettled and apprehensive of the Flint's Spanish war ship now anchored in the bay.
 Eleanor, desperate to take matters into her own hands, rows out to visit Flint with Vane's own ultimatum. Her visit though is unsurprisingly unproductive, as Eleanor continues to be pulled two ways: by Vane's company or Flint's partnership. Both Vane and Flint have turned this debacle into political theater, as Vane will never voluntarily leave if it leads to him showing weakness. Eleanor also highlights Flint's own concerns, that the danger to Nassau in the following weeks is unprecedented should it fall under attack. One way or another though, Flint is determined to see Vane leave that Fort.
Meanwhile, Vane visits lord Peter Ashe's daughter, Abigail, where he questions her on the value of his estate. Vane inquires as to if her father loves her and insists her father will pay Vane what he asks for her safe return. Vane has her pen a detailed letter to her father asking a hefty sum for her ransom.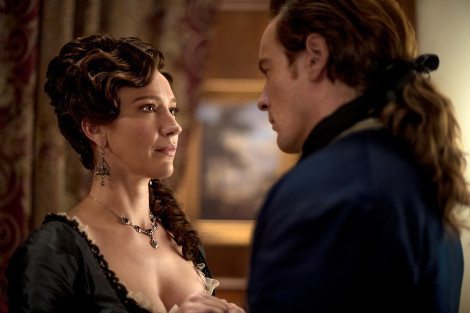 While Vane's crew prepares what guns he does has at the fort, he learns many men from the beach have joined Vane's side to help him defend the fort against Flint. Flint, concerned with this news, surprisingly asks Silver's opinion as to why men have joined Vane's cause, rather than his. Silver grudgingly admits that the men may see Flint as the villain in this situation. Silver is shocked to learn that Flint is actually bothered by what the men think of him.
On Flint's orders, Silver makes quick work of the beach, attempting to sway or buy men in support of Flint. While on the beach, he discovers an unconscious Billy Bones, having been just pulled from the water. It sounds like things are about to heat up with Billy's return to Nassau.
Eleanor, still desperate to convince Flint from traveling down his current path, seeks out none other than Miranda Barlow's help, in an attempt to get her to appeal to Flint. Miranda does not take kindly to Eleanor's jabs and insults though, and insists Eleanor has been the one enabling him all along.
Meanwhile, Rackham continues attempting to bring in new recruits for his crew. Both Rackham and Max continue to essentially compete with each other for Anne. Rackham, along with Max's help, enlists the assistance of Lise Slabber, one of Max's girls, who plans to seduce a very prominent navigator, Mr. Featherstone, to join Rackham's new crew. Max later gives Rackham the good news that Featherstone is willing to join Rackham and he believes many of his former crewmembers will join him as well. Anne later approaches Rackham asking him to diligently watch her back when she's with Max, because while Anne knows Max is dangerous, she just can't stay away.
Back on the beach, Silver believes Billy could spoil Flint's chance at retrieving the Urca gold and retaking the beach, so he remains vigilant watching Bones. Billy awakens for a short time, then falls unconscious again but not before whispering "get gates" to Silver. Tensions begin to frantically escalate, as chaos erupts on the beach as men grapple over whom to side with.
 In further flashbacks, Hamilton's father finally arrives and over dinner, Thomas reveals his wish to put the pirates to work rather than kill them. Hamilton senior is more than irate with his son's idiotic plan and asks Flint whether he agrees with his son's plan or not. Flint loyally claims that he believes in Hamilton's plans and abrasively asks Thomas' father to leave. After the departure of his father, Thomas insists that his father will stop at nothing to see his plan fail and now he will undoubtedly put Flint in his line of fire. Later, Thomas presents his proposition to his fellow lords, but is met with scorn and dejection, except from one man, Lord Peter Ashe, who is more than willing to help Hamilton. It looks like Flint's connections from both the past and present are beginning to meet.
Finally, Miranda learns the identity of Vane's hostage, Abigail Ashe, whose father she notably knew as Thomas Hamilton's wife. In the final scene, Flint solemnly gives Hornigold and his crew the order to fire upon the fort. Looking forward for the action in next week's episode.