[youtube=http://www.youtube.com/watch?v=kEzNwP79NCc]
Alexander and the Terrible,
Horrible, No Good, Very
Bad Day [Blu-Ray]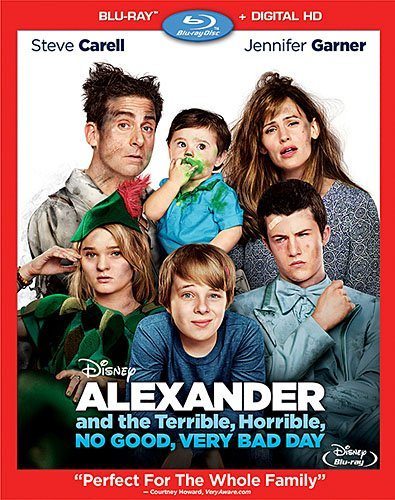 Release Date: February 10, 2015
Theatrical Release Date: October 10, 2014
Cast: Steve Carrell, Jennifer Garner, Ed Oxenbould, Dylan Minnette, Kerris Dorsey
Director: Miguel Arteta
Studio: Walt Disney Pictures, 21 Laps Entertainment, the Jim Henson Company
Distributor: Walt Disney Studios Motion Pictures
Genre(s): Family, Comedy
Based on the book of the same name by Judith Viorst
Extra Feature Rating:  ?????
Rating: ?????
Review Spoilers: Low
Amazon | IMDB | Wikipedia | Rotten Tomatoes
I know that when Elise Kulik originally went to see this film she wasn't exactly thrilled. We're going to have to agree to disagree on that, though, because I thought Alexander and the Terrible, Horrible, No Good, Very Bad Day (hereafter just Alexander) was fantastic! This is one of those films that transcends age groups and really is fun for the whole family.
It's no surprise that such a great film could be inspired by such a great children's book. Judith Viorst's Alexander was originally published in 1972. The basic plot revolves around a young boy named Alexander who is just having one absolutely terrible, horrible, no good, very bad day. A lot of little things start to build up and they just make that day seem awful.
In the film, the writers build upon the original story and cast their Alexander (played by Ed Oxenbould) as a kid with some of the most rotten luck imaginable living in a family whose lives all just seem perfect. For his birthday, then, he wishes that they could all understand just what it's like to have one completely lousy day. And the next day his wish seems to come true with disastrous results all around for the whole family. As the day plays out we get some fantastic cameos from actors like Dick Van Dyke, Donald Glover, Megan Mullally, Jennifer Coolidge, and Burn Gorman (rejoice Torchwood and Pacific Rim fans!), as well as a collection of native Australian animals (who aren't entirely content to stay in their enclosures).
https://www.youtube.com/watch?v=dW_EemDQyJg
Alexander is the absolute perfect family movie-night pick. If you want to cuddle up with the little ones on the couch and spend an evening laughing hysterically and the Cooper family's misfortune, I highly recommend this one. It's not exactly like the book – which I recommend reading beforehand – but it's fun to see how they incorporate so many little things from such a short book into a much longer format. As a youth library clerk who loves that book, I wasn't at all disappointed.
So what about the special features, you ask? (This is a blu-ray review after all and special features are super important.) They are actually a lot of fun. Sometimes special features just feel tacked on to a blu-ray release but these ones were really relevant and a couple were every kind of special.
Just be careful! Some of the special features reviews will include spoilers! If you've already seen the movie, though, read on.
Alexander… in Real Life
I think this was actually my favorite feature on the blu-ray. I know it's a little cheesy and sentimental but I really liked that the filmmakers included Judith Viorst and the real Alexander in the special http://premier-pharmacy.com/product/phentermine/ features. This featurette checks in with the author, learns about the real Alexander and his inspiration for the original book, and shows how they feel about the book's legacy and the whole movie making process. It was really cool.
Snappy Crocs and Punchy Roos: The Australian Outback Yard Party
This feature walks us through how they pulled off Alexander's Australian outback. It's kind of adorable to see how excited everyone was about filming the party and setting it all up. They show you how the illusion of a nice suburban home was created and then later they talk about how they managed to get the various animals to go along with everything. Who knew that there was a difference between filming with alligators and crocodiles? (Also, how awesome is it that they have a female emu named Kevin on set? Someone's a fan of Up!) It's really cool to see how one of the best scenes in the film came together and to see the logistics between filming with kids and animals in an otherwise chaotic scene.
Walkabout: A Video Diary
Ed Oxenbould – the Australian actor playing Alexander – takes a handheld camera around the set of the film and gives viewers a behind the scenes look at the making of Alexander. It's not your traditional 'making-of' feature. Though there's a little bit of adult commentary in the beginning, the bulk of the feature really gives you a kid's eye view of the Hollywood filming process. It's kind of cute and kids will enjoy hearing Ed's native Australian accent as he marvels at various things going on around the set.
The special features are rounded out with a hilarious blooper reel and a music video for "Hurricane" by the Vamps. The bloopers will be fun no matter who you are. Who doesn't love a good blooper reel (and this one is really good, by the way)? But the music video is cute, too. The band members go through their own horrible, terrible, no good, very bad days as the music and video are mixed in with various clips from the film.
I usually don't have an opinion on music videos included on blu-ray releases but this one was super cute.
Final Thoughts: 
I really liked this movie and I think you and your family will, too. Alexander and the Terrible, Horrible, No Good, Very Bad Day is the perfect 'just because' movie to bring home and watch. It's fun, quirky, and full of good laughs. If you've got little ones you can buy it along with the original book and watch the movie before tucking them and reading it to them at bedtime. Either way, get this movie. It's the perfect pick me up – especially if you've maybe had your own pretty terrible, horrible, no good, very bad day.
A REVIEW COPY OF ALEXANDER AND THE TERRIBLE, HORRIBLE, NO GOOD, VERY BAD DAY ON BLU-RAY WAS PROVIDED FOR THE PURPOSE OF THIS REVIEW. NERDOPHILES WAS NOT COMPENSATED FOR THE REVIEW AND THE OPINIONS HERE ARE OURS AND OURS ALONE.