Synopsis of 2×03: Flint and Hornigold team up. Vane deals with Lowe and Rackham regains his reputation. Eleanor makes a crucial decision.
Rating: ★★★☆☆
In a more politically geared episode, episode XI of Black Sails sees many relationships mended or created, while others are broken or destroyed in the never ending cycle to gain power. On the Spanish Man-O-War, it seems Silver may have finally found his sea legs, candidly and casually gossiping and managing the majority of the crew. Still, most of the crew wishes to head back to Nassau for a few days of R&R. Flint, believing that Hornigold is still in charge of Nassau's inner harbors, believes he cannot directly sail the Man O War into her harbor.
Instead, Flint plans to leave in a small long boat and then make his way to Nassau while their ship is anchored off the island. He plans to find Hornigold and requisite half of his crew to assist him in returning to the beach where the Urca stranded to retrieve the gold prize he believes he is owed. Before leaving, Dufresne cautions Flint and questions him as to how he will respond to those who inquire as to Gate's location and fate. Undeterred, Flint heads into Nassau with Silver.
 Leisurely wasting time in his fort, Vane receives a surprising visit from Lowe, who cryptically expresses his unhappiness in being provoking by Mrs. Guthrie. Lowe also subtly threatens Vane as he has heard rumors of Vane's peculiar relationship with Eleanor. Try as he may to be rational, Lowe reveals that his instinct to be extreme is too strong. Vane attempts to remain rational but he advises Lowe against any more extreme moves. Before leaving, Lowe presents Vane with a bag of coins, a favor he claims to strengthen their relationship. Vane however, eyes the bribe with disgust.
Dealing with personal problems of his own, Rackham of course, wakes up in an empty bed, with Anne nowhere to be found, but he has a pretty good idea of who she is with. Anne and Max are still intimately enjoying each other's company even in the early morning hours. Their relationship, as complex as it sounds, seems to be doing Anne some good. While Rackham may make an excellent business partner and friend, his skills in appeasing woman under the sheets seem a bit lacking.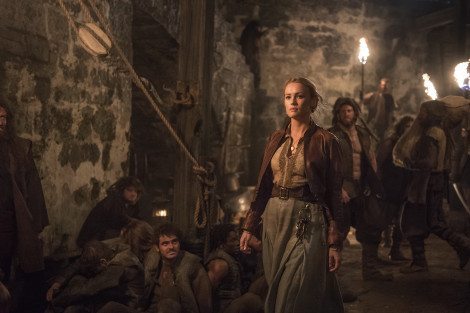 Eleanor pays Miranda Barlow a surprising visit, where she insinuates that Miranda owes her a favor, a favor that she has come to now claim. She asks Miranda to set up a meeting with a friend, Mr. Underhill, who owns a large plantation on the opposite side of the island. Miranda is oil while Eleanor is water and the two simply rub on each other the wrong way. While Flint has told Miranda quite a lot about Eleanor, Eleanor reveals that Flint has told her very little about Miranda herself. Whether Flint is embarrassed of his relations with Miranda of he is simply attempting to shelter her remains to be seen.
Flint and Silver make landfall near Nassau where they soon discover, much to their disappointment, that Hornigold no longer commands the fort and has been ousted to living in tents a short ways from Nassau. It looks like they have missed quite a lot while they have been absent.
 Vane oddly enough pays a visit to Max, whom he asks to discreetly look into the identity of the secret prize Lowe claims he is hiding from their last plunder. Max regretfully tells Vane that she knows Lowe has threatened Eleanor multiple times and that, while they may refuse to admit it, they care about her in their own ways. She also shares with Vane that through gossip, she has learned that many of his former crew members wish to sail once again.
Meanwhile, Flint receives a very warm welcome back from Eleanor when he waltzes back into Nassau and Eleanor's tavern. That is, until he reveals to her that he has returned empty handed. Baffled, Eleanor is unsure of how to proceed. Flint confronts Eleanor about Vane's new position, irate over how Eleanor could have allowed Vane to overthrow Hornigold. While Eleanor insists Vane has no interest in disrupting the flow of trade in Nassau, she cant deny that truth that he might use his new position to rob Flint of the Spanish gold were he to return with it to Nassau. He also heavy heartedly reveals Gate's untimely fate and his desperation to secure their future.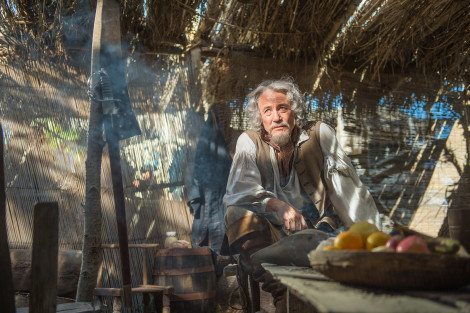 Through flashbacks, we learn more of Flint and Miranda Barlow's unusual developing relationship. Miranda's uncalled visit to Flint suggests she has underlying feelings or a hidden motive in seducing Flint. She charmingly asks him to accompany her to a party, a party her husband will notably be absent at. Flint attempting to be a modest respectful man, accepts her request to accompany her, but instead attempts to return her home.
Miranda, believing that she has identified Flint's true motivations, believes he is more concerned with what people talk about, not about what they exactly do. The two are unable to deny the lust they both share for each other, embrace, hidden within the confines of their carriage. Flint has undoubtedly made a decision that will likely come back to bite him in the ass.
A desperate Rackham attempts to rally some crewmembers for a new crew. Still, he is met with firm resistance as many still see him as a crew killer. Rackham confesses that he believes Anne's judgment is clouded when she is with Max, and that Max is taking advantage of that. Anne admits that while she realizes this, she can't stop herself from being with Max. The two are approached by Vane, who offers to grant Rackham a small favor and invites him to sit and talk with him. Vane claims he is repairing Rackham's reputation by simply sitting with him and mending what was broken. Watched by dozens of brothel customers, Vane pleasantly shakes Rackham's hand and embraces him, giving Rackham a fresh start as a reputable man in Nassau.
Aboard his ship, Captain Lowe, while silently brooding over how many ways he will be able to kill Eleanor aboard his ship, receives a surprise visit from Vane himself. All pleasantries aside, Vane makes Lowe an offer, a partnership between both of their crews. Vane reveals that he wishes to return to sea, instead of wasting away in the fort, but of course he needs to acquire a new ship as his former was taken from him.
Lowe has no interest in his offer, explicitly threatening him as he believes he has come all alone. While the two speak, Vane's remaining crew silently sneaks on board Lowe's ship, disposing of Lowe's crew and overthrowing Lowe's leadership. When Lowe realizes he's been deceived, he attacks Vane and the two tussle for some time, before Vane knifes him through the throat. He emerges victoriously onto the deck of Lowe's boat, now Vane's, dangling Lowe's bloody head for his crew to see.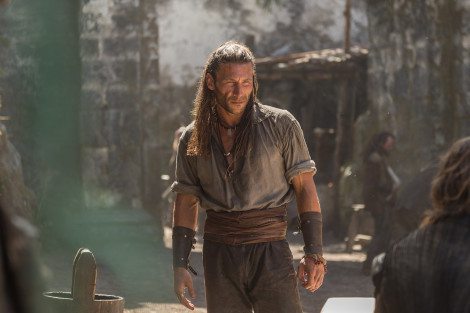 By disposing of Lowe and publicly displaying his decapitated head, Vane has essentially challenged Flint, and any that would oppose him, by solidifying his position and rule over Nassau and the fort. Eleanor, pleased with Lowe's death, visits Vane where the two passionately embrace and wind up tangled in bed together. He later admits that he needs to show her something and shows her the young woman Lowe had been holding.
Eleanor learns that she is the daughter of a rich lord named Peter Ash, who just so happens to be governor of the Carolinas colony and has already offered to pay a handsome ransom for her return. Eleanor is apprehensive about dealing with Ashe, as he has a fanatical reputation to accompany him and warns Vane against getting involved.
Rackham meanwhile is enjoying his new reputation, having already garnered a small group of interested men to sail with. It hopefully won't be long before Rackham is back on the seas. Confidence renewed, Anne leaves Rackham to join Max in bed, but Rackham finds to his surprise that both Anne and Max have invited him to join them in their after hour activities. Now, I didn't see that one coming. No pun intended.
Hornigold and Flint, unable to discern where Eleanor's true loyalties lie, make plans to overthrow Vane together. Flint returns to his man-o-war, where he reveals to the crew Vane's actions in their long absence. Flint rallies the support of the crew, refusing to yield to, bargain or compromise to Vane. Flint unwaveringly gives Vane an ultimatum, abandon the fort, or face the wrath of the man-o-war's guns.