From the 007 Pinewood Studios in London, one of the largest soundstages in Europe and famously where "budgets go to die," Skyfall director Sam Mendez finally unveiled the title of the 24th James Bond movie:
Before neophyte Bond fans and the rest of the internet goes speculating, Mendes has this to say: "Those of you who have some knowledge of the Bond franchise and the legend of Bond will probably have some idea what that refers to. But I couldn't possibly comment."
It's only appropriate, with the feeling of death and rebirth that pervaded Skyfall, that this forthcoming installation would feature a ghost of Bond's narrative past; SPECTRE (SPecial Executive for Counter-intelligence, Terrorism, Revenge and Extortion) is a politically-neutral global terrorist syndicate prominently featured in pre-Craig James Bond. This is the antagonist whom literary critic Umberto Eco diagnosed as "a master of planning, an organizational genius [and] treacherous as needs be." Bloody hell.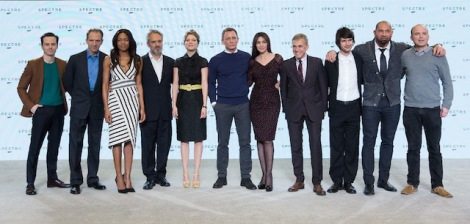 As for the cast, Daniel Craig, Ralph Fiennes, Naomie Harris, Ben Whishaw, and Rory Kinnear are set to reprise their roles from Skyfall. Most exciting are the newbies. Christoph Waltz (Hans Landa from Inglourious Basterds) plays Oberhauser, whose telling name hints to a sinister overlord of SPECTRE. But it might be a red herring. Léa Seydoux is set to play a femme fatale by the name of Madeleine Swann, whilst Andrew Scott plays Denbigh, a "new addition to the White Hall family."
Merging Skyfall writers John Logan and Neal Purvis & Robert Wade with Interstellar personnel DP Hoyte van Hoytema and Editor Lee Smith, SPECTRE has the potential to be the most mesmerizing Bond adventure yet.