The Immortal Crown (Age of X)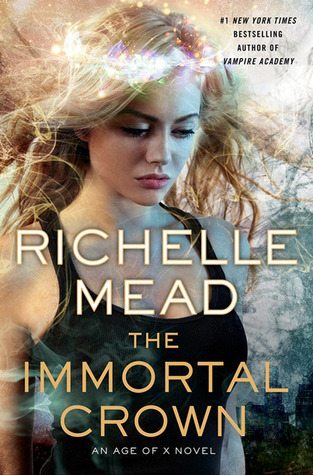 Author: Richelle Mead
Release Date: May 29, 2014
Publisher: Dutton Adult
Source: NetGalley DRC
Genre(s): Supernatural, Mythology, Fantasy
Rating: ★★★★☆
Review Spoilers:  Moderate
GoodReads | Amazon
Gameboard of the Gods was probably my all time favorite book of 2013. I absolutely loved it. It was such a unique story, blending a variety of mythologies into a rigid, pseudo-dystopian future. The world building was the main draw but I also appreciated the characters. They had depth and layers that peeled away throughout the book. Getting to know them and getting to know that world was an absolute joy. It was a realistic world where the supernatural some how fit in perfectly.
It's no surprise that the sequel, the Immortal Crown, is going to be a serious contender for my favorite book of 2014.
One of the nice things about the Immortal Crown is that it feels like Richelle Meade looked back at what she had done with Gameboard of the Gods and thought, "I need to make this even better." So we get a lot more. We get a lot more of Justin and Mae sorting themselves out and developing as characters. We see Tessa starting to forget her own identity and find her own place in RUNA. And instead of sticking around RUNA we continue exploring the various other countries, warped by religion and mythological belief.
It's fantastic.
It's great to see Tessa in particular find herself mixed up in Justin's world as much as he tries to avoid it. Honestly, it's kind of exciting to see Justin start to truly accept how caught up in this crazy world he is and to embrace it. These are just some of the things that make the Immortal Crown so awesome. Characters start to really grow and change, accepting their circumstances and adapting to what is coming.
But I think my favorite part of the whole book was probably Mae. Justin is easily my favorite character. I like the guy. I like his failings. And I like how he starts to handle things in this book. But Mae's really blew me away this time around. When she and Justin are sent on a mission in Arcadia – a backwater, theocracy in what was once the Southern – she really shines. Honestly, the whole excursion to Arcadia generally was pretty much the best part of the book. Not just for how Mae's story comes together but also for Justin's part and the rest.
It's just a solid book all around.
If you read the first book, you need to read this one ASAP. And, if you haven't read Gameboard of the Gods you should really get on that. Like seriously.
Final Thoughts:
The Age of X series is one of my favorite on-going series in any genre. The Immortal Crown is a more than worthy successor to the first entry in the series and it builds up well to the next one. The character development and continued world building do not disappoint.