Star Wars: The Last Jedi hits theaters on December 15, but we're sure that even the most spoiler-conscious among us have heard about at least one thing from the upcoming film: Porgs. From their blink-and-you'll-miss-it introduction in the 2017 D23 Behind the Scenes video, they've become a merchandising dream – sufficiently saturating the market and everyone's hearts.
Chances are whoever you're gifting has already bought themselves the Funko POP! Porg and all the variants, but we've got a few more suggestions to hit full-on Porg mania this Christmas! …Maybe don't get them any porglets though.

Clothes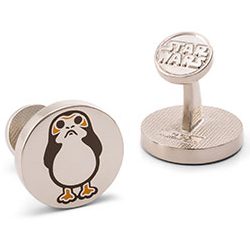 Elevate your giftee's geek fashion with some of the cutest creatures in the galaxy, whether at home or in the office, there are options out there to cover all kinds of styles and tastes. And you'll ensure your giftee is right on trend with the Internet's newest obsession.
As we settle into winter, pick up a Porg Beanie that comes complete with pompom and a thinly veiled confused look. Or if your giftee wants to flaunt their newest nerd love in the office, there are two different sets of cufflinks to choose from, as well as a subtle silk tie or less-subtle bow tie that will cause double-takes in the cube farms.
And if your giftee is more of a homebody, there's this Porg pajama set. Seriously, the longer you look at it, the stronger the siren song becomes. Cute, comfy, and perfect for a Christmas Day Star Wars marathon.
Haven't seen something that screams perfect for your desired giftee? Disney has a few other clothing options, but you can also check out Amazon for t-shirts and Etsy for absolutely bonkers clothing options like this Porg bikini or this cosplay dress. Keep an eye on Her Universe too, which has teased a cute sweater with Porgs in the pocket (ready in time for Christmas).
Collectibles & Accessories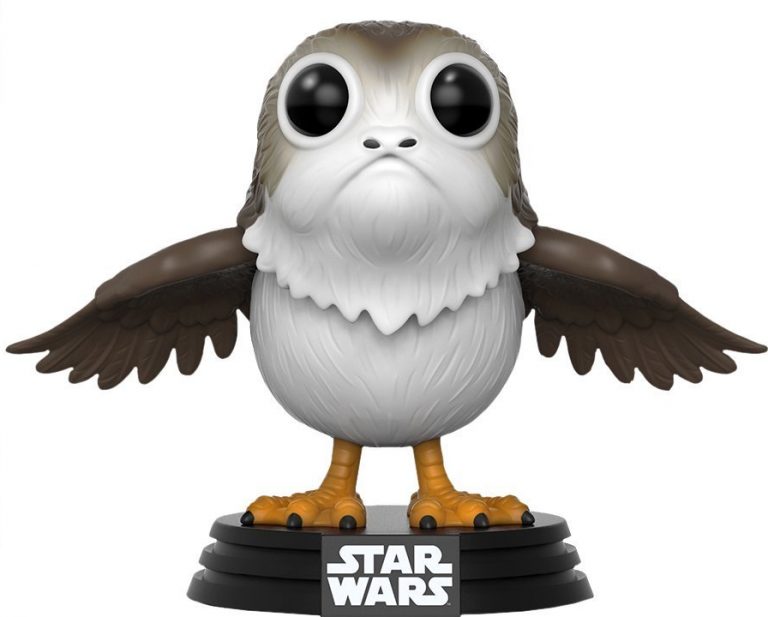 Maybe your giftee needs something for their desk or an accessory that showcases their love of Ahch-To's most beloved residents (after Luke of course). You can't go wrong with one of the many aforementioned Funko products. If we were forced to pick one, we'd say go with the wings spread Target exclusive Porg.
Disney also has an array of things, like the popular enamel pin sets and singles, and a coin purse from Loungefly, to show off the Porg love. Entertainment Earth has the least subtle Porg backpack in existence if you think your giftee can pull it off and more subtle keychains for those who can't (me included).
Again, Etsy isn't a bad place to look for some one-of-a-kind gifts. Personally, I love these stickers, which turn all of our new favorite characters into Porgs themselves. There are also prints, decals, and any number of patches, jewelry, and pins to be found. Mix and match to your giftee's tastes – most items are affordable enough that you can curate the start of a collection for them!
Home Goods
Coffee mugs are always a safe bet and you'll have your pick of the bunch for your giftee this holiday season. It's not online anymore, but if you're close to Disney World or Disneyland, they had a licensed mug that was in stores as late as October (or there's always eBay).
Target has a throw blanket and pillow combo set that has also made my list this year. Not only do you get an adorable Porg-shaped throw pillow, but the blanket itself is soft, bright, and full of movie imagery beyond just the Porg. It's a great gift for anyone you don't want to go too overboard on the Porgs for.
If the run-of-the-mill coffee mugs and throw blankets aren't unique enough for your giftee, ThinkGeek has an exclusive stationery set that includes all of the Porg-themed office supplies a Star Wars fan could want – including a journal, file folders, a memo cube, binder clips and a Porg pen (Funko has some of those too!) to complete the theme.
There's even this duvet cover for the Porg-obsessed and the bold on Etsy.
Kids & Pets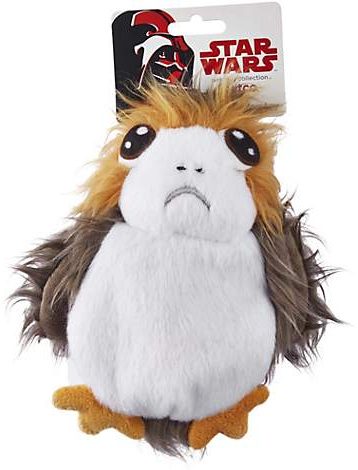 For the actual kids out there, Chewie and the Porgs has its book birthday on the same day when The Last Jedi hits theatres. The illustrations look gorgeous and young readers will absolutely get a kick out of it. Build-A-Bear has a plush Porg, though that's surely not the only place to find one. Amazon has a life-size plush that makes sounds and Target has an electronic one that flaps its wings.
If you really want to be prepared – or get your holiday revenge pictures early – there's an actual Porg costume for toddlers that I haven't stopped laughing at yet. Perfect for next year's Halloween or holiday card!
For all the dog moms out there, Petco has so much Star Wars merchandise and a few specifically Porg-shaped items. Get your giftee and their pet matching Porg throw blankets and pillows! There's also a Porg rope toy and a flattie to keep four legged giftees out of trouble and in the holiday spirit.

Seriously, Star Wars fans across the internet have already fallen in love with Porgs. It won't matter if they eat every Ewok in existence or take down the Millennium Falcon or only end up in The Last Jedi for two minutes, they've already cemented their place in pop culture.
Big or small, there's something for every Porg fan on this list (and if you didn't see anything, here's a Porg potato recipe to have at your holiday meal instead).
Still maybe avoid those porglets though…


Did we miss anything Porg-related that's on your must-have holiday list?
Let us know in the comments!