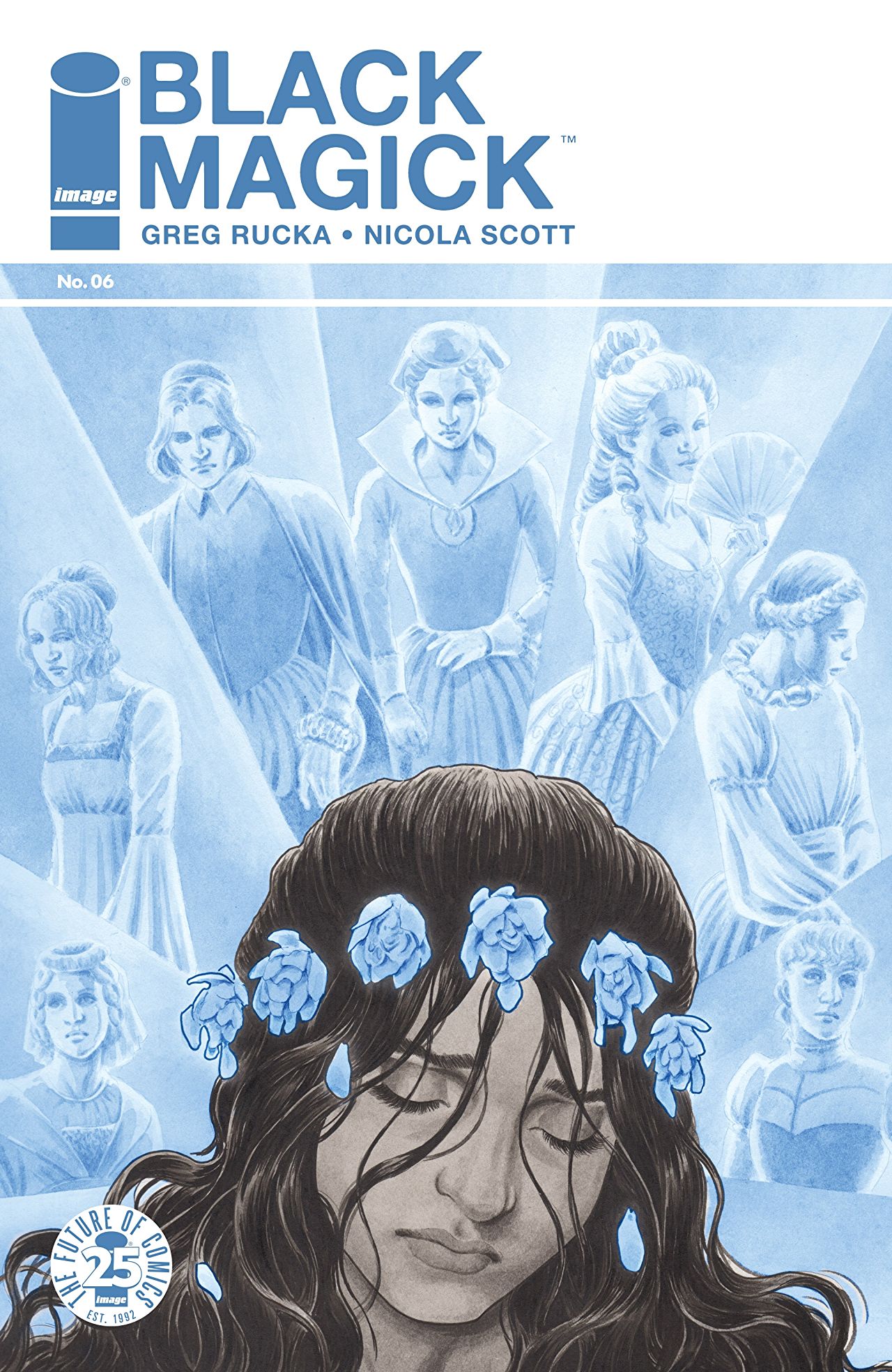 Author: Greg Rucka
Artists: Nicola Scott
Release Date: June 28, 2017
Publisher: Image Comics
Genre: Horror


Rating:

The witch, with her roots in Puritan New England, has had something of a resurgence in indie horror as of late. Between Robert Eggers' allegory of faith, desire, and power, The VVitch, to Scott Snyder and JOCK's white-knuckle horror yarn of pledges made and broken, Wytches, to even Archie Comics' twisted tale of sacrifice and spell-casting in Chilling Adventures of Sabrina, it's been easy to find dark stories of young women dabbling in or surrendering to the arcane.

Black Magick, an Image series from Greg Rucka and Nicola Scott stood out from the lot when it debuted in the winter of 2015, being equal parts police story and a clash between the sacred and profane in a sleepy Northeastern town. The two creators put the series on hold in 2016 to lead DC's relaunch of Wonder Woman but their return this week shows them switching gears, embracing the dark heart beating at the center of the story and telling one of the most unnerving horror tales I've read in years.

Black Magick #6 is all flashback, with the majority of the story taking place in the lead up to Rowan joining the coven. She's a vastly different character than when readers saw her nearly a year and a half ago, hopeful about her future and excited to embrace the world of magic she knows she's destined for.

There's a real sense of something horrifying coming though and a palpable sense of dread hangs over a child's birthday. Rowan's mother and grandmother warn her of what's coming and fear for what she'll see and the ultimate reveal, as Rowan encounters her past lives, many of whom met bleak ends, forces her to question her belief and her place.

It all makes for a story both horrific and tragic, where readers are as shocked and broken by how Rowan changes as she is. It's a smart script from Rucka, believably showing how Rowan is changed by her magical rebirth and how she struggles with it in a way the rest of her family doesn't.

It's also an incredible showcase for Scott, who's grown tremendously as an artist over the last three years, her understated, light and realistic pencils never looking better than with the series limited color palette, provided by Scott with assists by Chiara Arena. There's incredible insight deployed here when a scene explodes into color and it's one of the smartest things I've seen in comics in years, a sequence that emphasizes the excitement, horror, and mystery of the moment where everything changes for Rowan.

It all makes Black Magick #6 as ideal of a return to the franchise for lapsed readers as an entry point for new ones and it's a true achievement for two creators working at the peak of their abilities.