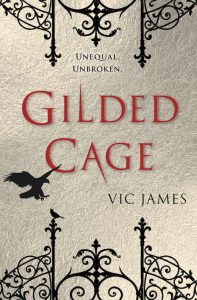 Author: Vic James
Release Date: February 14, 2017
Publisher: Del Rey Books
Genre(s): Fantasy, Contemporary
Series: The Dark Gifts Series
Review Spoilers: Low
GoodReads | Amazon

I'm a sucker for a good dystopian fantasy and even more in love with unexpected series' that create something completely new in that space. The author, Vic James, has spun together an alternate look at modern day Britain, where Parliament is run by Equals – wealthy, historically significant families that possess Skill, that is unexplained powers like telekinesis, healing, and more that people don't know about or understand.
Those unSkilled that weren't fortunate enough to be born into an Equal family? Before being recognized as a full citizen, they must give up ten years of their life to slavery. Most work in unsafe factories for the Skilled family businesses for no pay and with no rights, many coming back permanently injured or emotionally scarred. It's a masterfully complex world with just enough familiarities to the present to make it unsettling and just enough parallels for readers to draw their own conclusions about what the author might be saying about society.
Alongside this richly set world, James has detailed much of the history of the Skilled families and how they crafted the modern world. It's a fascinating look to the past, teased out by different characters and put together by readers, that plays out presently with the ambitious and mysterious youngest scion of the Jardine family, Silyen. That extra layer, connecting all of the characters to the past, is masterfully done and weaves multiple plot points together beautifully.
The story unfolds through multiple points of view, looking into the thoughts and actions of many different characters that are both Skilled and unSkilled and gives an interesting perspective into both sides. The major unSkilled point of view belongs to that of Luke Hadley, a teenaged boy forced to start his slavedays at his parents behest and who finds himself fighting back against his circumstances.
For the major Skilled point of view, the youngest son of the Jardine family, Silyen – who is actually close in age to Luke – pulls many strings and is shown working towards his own goals for the entirety of the book, though to what ends is still very unclear. Filling in between those two include other members of their respective families.
As interesting and unique of a world as James has built, the book does largely center around the politics of the day and if that's not to your tastes, you may find yourself struggling through this book. I personally enjoyed the political peacocking and secret dealings that went on behind closed doors. It wasn't blatantly easy to follow at times, but the challenge made for a more interesting read.
It's also not a book for anyone who likes their stories tied up nice and neatly at the end. As a planned trilogy, Gilded Cage ends on a major cliffhanger and has its fair share of plot twists and turns to get there. A few of those twists I figured out before they happened, but never fully, and each one made for a shock that brought more depth to the story.
Gilded Cage is a multi-layered, complex story that doesn't hold easy answers or even very hopeful answers throughout the first book, but it holds so much potential that I'm eagerly awaiting the second book to see how things are picked up and if we can expect some new points of view in such a shockingly bleak world.

A REVIEW COPY OF GILDED CAGE WAS PROVIDED BY THE PUBLISHER IN EXCHANGE FOR A FAIR AND HONEST REVIEW. NERDOPHILES WAS IN NO WAY COMPENSATED FOR THIS REVIEW. OUR OPINIONS ARE OURS AND OURS ALONE.