You've got your fans of 50 Shades and you've got your fans of Highlanders, but this Valentine's Day, I think it's time to jump into a good old Regency romance novel. If you find yourself alone and single on today—does anyone even call it Single Awareness Day?—and you're looking for a way to escape from crushing social pressures or maybe just another steamy trope-filled read, look no further!
Let's kick this off with some of the classics that are decidedly more appropriate than the good ole' bodice-ripper (though, I'll be honest, I prefer the bluestocking trope). And when I say classics, I obviously mean Jane and the Brontës, which is not a name for a potentially awesome female band, but rather Jane Austen, Charlotte Brontë, Emily Brontë, and Anne Brontë.

Jane Austen
This is a lot to cover, but let's look at some of the greatest hits. Want the most classic of classics? It's time to jump into Pride and Prejudice. Want a feisty, meddling young heroine with a hot, older, responsible hero? Emma. Want a Gothic novel fangirl who gets to spend a night in a spooky castle? Northanger Abbey. In need of some sisterhood bonding? Sense and Sensibility. Jane's got you covered on on all fronts.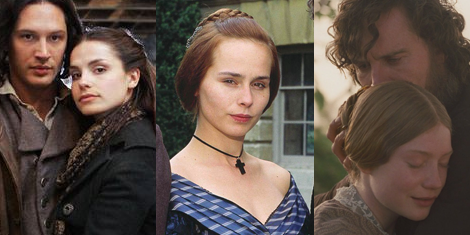 Charlotte, Emily, and Anne Brontë
And if Jane is a little too mild for you, let's turn the heat up 600% with a Brontë novel. I clumped the family together for the sake of brevity, but if you want to get into some heavy material, you've got to turn to a Brontë. Byron may have invented mad, bad, and dangerous to know, but the Brontës popularized the iconic "tall, dark, and handsome" trope. Seriously, people, these sisters must have had angst on tap or something, because these novels do not play around.
Want a Byronic, revenge-filled, passionate hero who is obsessively in love with his petulant adoptive sister? Wuthering Heights. Want a broody, mysterious rich man who falls in love with a timid but curious wallflower? Jane Eyre. This one is filled with lots of secrets and plot twists, Catherine Moreland would have clutched her breast. Sick of these brooding rakes? Just want a novel where a woman is sick of the crazy men around her and sets off on her own? The Tenant of Wildfell Hall.
I think it's clear I've got a bit of a crush on them, but hey, you're either a Beatles or an Elvis person just like you're either an Austen or a Brontë person.
Okay, let's move on to some more recently published novels. Before you comment about how trash this list is because I didn't include The Poet, you'll see that the topic of this article is romance novels, not plays or poems. Plus, definitely not Regency era. Get your literature straight, folks!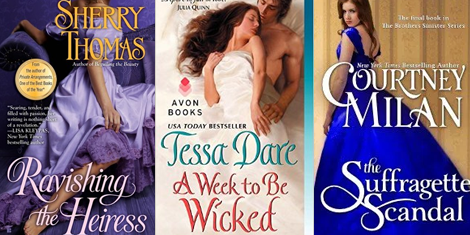 You're going to be hard-pressed to find any arguments from me on this series. If you're new to Regency romance, there's really no good place to start. Most of it is the same tall, rich, titled, super hot, super manly and virile hero falling in love with a sassy, beautiful, clever, feminist, virgin wallflower. And that's if you're lucky. Where it actually gets good is the writing style and how an author works in the classic trope among some truly inventive circumstances.
Tessa's Spindle Cove series is about a group of "spinster" women who have decided to lead crazy single lives in the English countryside because they either can't stand being married off or have some oddity that makes them undesirable. They spend their days reading and doing gentlewomen things but also learning archery and generally being pretty strong-willed women. Each of the heroines gets their own story, and they're all perfect in their own way, but my favorite has to be A Week to Be Wicked. This series is the gift that keeps on giving, so you really can't miss out.
And if you like her series, you can read her other series Castles After Ever, and then read the CROSSOVER NOVEL. Oh Tessa, never stop writing.
My love for Tessa's humor is parallel to my love of Sherry's Drama and Angst. Capital D and A. Sherry's one of my favorite romance novelists, and it kills me that she hasn't written historical romances since 2014. The Fitzhugh series is an enchanting story about a close family of artisocrats and their romantic lives. The oldest sister is involved in a masked romance on a cruise, the heir is involved in a marriage of convenience that turns into something more, the youngest sister gets involved with her brother's well-intentioned, if naggingly-persistent best friend. Ravishing the Heiress is my absolute favorite in this series.
The Heart of Blade duology is not for the weak of heart. The first book The Hidden Blade is essentially a prequel novella to the main story with very little actual romance, with My Beautiful Enemy being the main plotline that could be read on its own. Semantics aside, this is a singularly unique romance novel that tops my list. The heroine is Chinese — I REPEAT, SHE IS CHINESE! YES! — and she and the hero have a torrid affair in the past that is mired in mystery and heartbreak. God, just summarizing the book is making me want to read it again. Pick it up for a wild ride of emotions.
(Her London series is also great, The Luckiest Lady in London is my favorite from that series.)
There's no single series from Connie's list that surges to the front of my list, but her earliest works, As You Desire, My Dearest Enemy, A Dangerous Man, and All Through the Night are among some of the most vividly descriptive and adventurous romance novels I've ever read. They could all be made into full length feature films. Connie's got beautiful prose as she paints a romance as beautiful as the scenery its set in.
And we're right back to series again! Courtney Milan's another author that's got a certain way with words, even if sometimes her plots aren't as creative and fresh. But, out of her Brothers Sinister series, my favorite is The Suffragette Scandal, where a bluestocking and a forger cross paths and verbally spar before falling in love and living happily ever after.
If those don't hold you over, there's plenty more that are also worthy of your attention if you've found a love for these Regency romance novels even after Valentine's. Meredith Duran's Luck Be a Lady is about an ice queen and a criminal rogue, and the rest of her novels are just as enticing. Julia Quinn's whole bookshelf is full of adventure loving siblings who find love and a couple of spy romances to boot, my favorite is The Sum of All Kisses. Eloisa James's Desperate Duchesses series is about as iconic as you can get with Regency romance novels and every one of them is a classic, my favorite is This Duchess of Mine. Sabrina Jeffries' has almost too many series to pick one out specifically, but I love the Hellions of Halstead Hall, simply because it was one of the first romance novels I remember really jumping into.
And that's the list folks. These are some of my favorite authors and definitely some of the most prolific out there right now. If you've always been curious about these books and you've been a romantic at heart, it's time to give these a chance. Sure, they're not always "realistic" or "historically accurate", but I can bet they'll get you hooked and soon you'll be addicted to them, just like me!