This week has been a bit slow for us here at Nerdophiles, at least as far as comics are concerned. We only had three books out that we're following but – on the plus side – most of them were pretty good. We're still really enjoying Harrow County (it's awesome) and Lantern City. Rebels could stand to pick up the pace a bit but all in all?
We're pretty happy with our picks.
What did you read this week? How were those books?


Sam's Reads
Lantern City #2 (0f 12)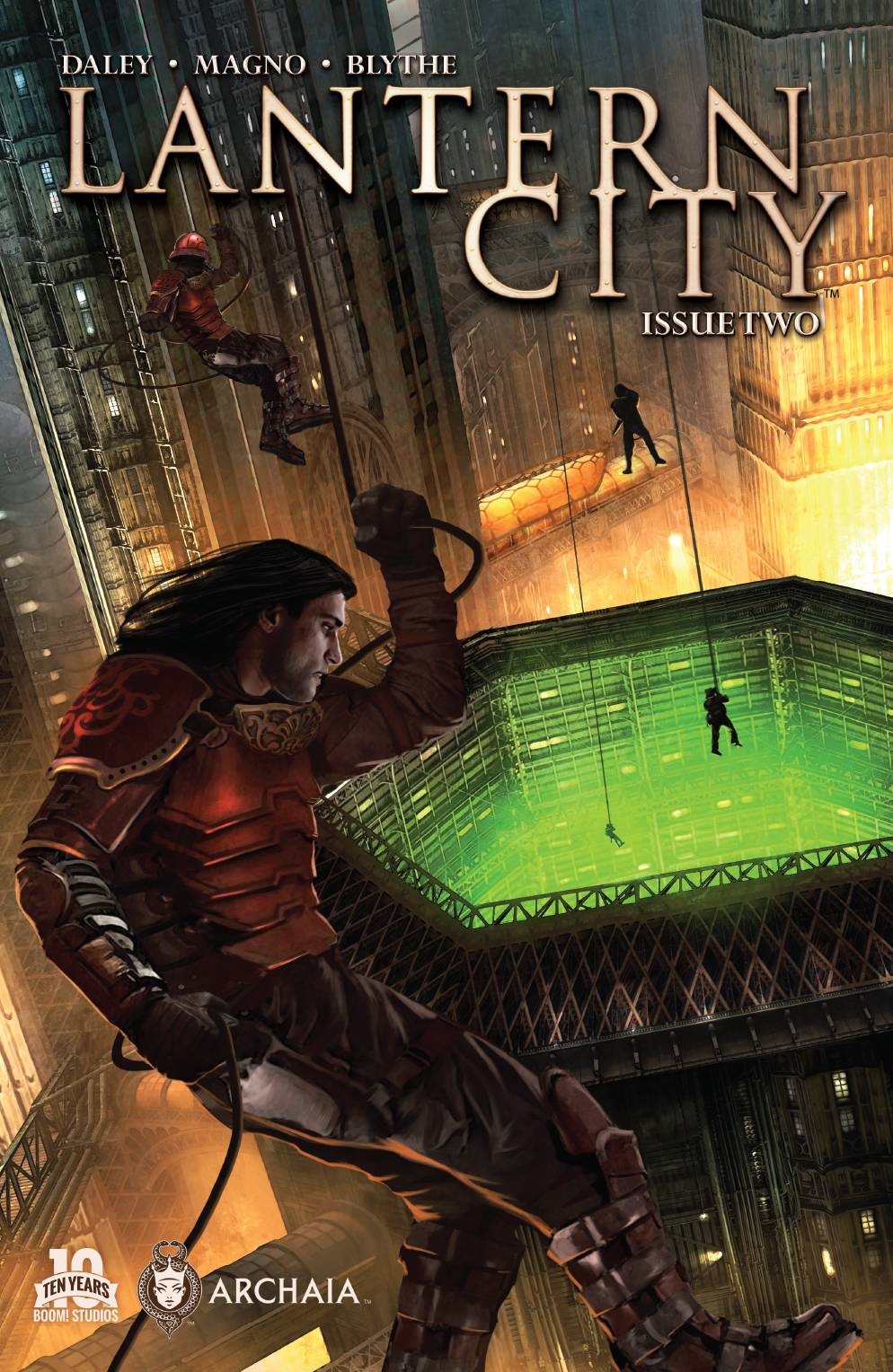 Author: Matthew Daley
Artist: Carlos Magno
Publisher: Archaia
Source: BOOM! Studios DRC
★★★☆☆
At the end of the last issue Sander was bullied into an incredibly dangerous mission by Kendal to don the gear of the dead guard captain and return to their ship and infiltrate their oppressors. Of course, that doesn't turn out to be very easy. After he find his way aboard a dirigible he manages to basically survive on dumb luck during a jump. Shortly after he has to blast off his own freakin' arm to hide the fact that he's missing the regulation identifying tattoo everyone else has. After he's patched up – and has another man's arm sewn on – an investigator comes sniffing around asking questions. Sander is convinced he knows what's going on and nearly breaks down once hidden away in the safe confines of the real captain's home. Unfortunately, he doesn't stay alone for long as the captain's wife and son arrive shortly after. Uh-oh.
Still digging this series. I feel for Sander. I really do. He never wanted any of this and yet suddenly here he is elbow to elbow with the bad guys. I'm just interested to see where things go from here. Still waiting on a bit more world building but it seems sure to come!
Rebels #3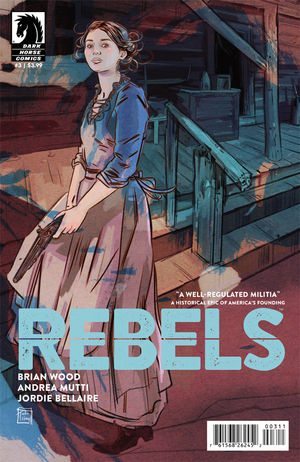 Author: Brian Wood
Artist: Andrea Mutti
Publisher: Dark Horse
Source: Dark Horse DRC
★★☆☆☆
After the Continental Army's success on Lake Chamberlain, Seth must find his way home while being tracked by British Rangers. Meanwhile, back at home Mercy is waiting for his return and trying to keep things working while she can. Seth thinks he might get a chance to spend some time at home but Ethan Allen beats him there and quickly spirits him away down south to join the rest of the Continental Army. Unfortunately, he has no idea that back at home Mercy is four months pregnant – and he won't be home for another six years.
Despite some good moments, I feel like this book would have worked better as an actual book. Don't get me wrong – I love the trend towards historical comics in general. But Rebels has been slow and rather disjointed as a narrative. Things that would have been interesting – like Seth evading the Scottish Rangers – were left out in favor of a random flashback and an impromptu meeting with Ethan Allen. Interesting tidbits? Yes. But I'd be way more interested if I was being told this in the written word and not as a graphic novel. I do like Rebels and Seth's moving down south to join the bigger fight may bode well for future issues. We'll have to wait and see.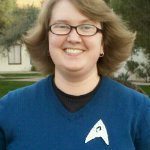 Sam Wildman is a co-founder and co-editor at Nerdophiles. She'd never be so committed to a farce as to blow off her own arm. She'd just die. @samaside


Kylee's Reads
Harrow County #2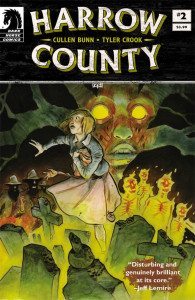 Author: Cullen Bunn
Artist: Tyler Crook
Publisher: Dark Horse
Source: Dark Horse DRC
★★★★☆
Harrow County #1 set us up with a slow burn southern gothic horror story with hazy farm days and an innocent young girl whose involvement in a past witch burning was unknown. After the cliffhanger of the first issue, the second takes readers from zero to sixty in no time flat. Where I thought Emmy might be afraid of the skinsuit boy we left her with last, she felt the exact opposite. Elated to have a Haint of her very own, she took it home with her as if it where the most normal thing in the world.
It's only after some mysterious healings and an impromptu town meeting at the tree that we see what might have happened. Emmy may or may not have been the live girl pulled from the tree after the witch burning – another girl was found dead, like the calves of the first issue – and now that she's eighteen, it's time to… kill her? Maybe? That's the assumption she makes and runs away with her Haint. So far the story has been weird and intriguing enough to keep my attention despite the common tropes it's based on and the cliffhangers keep me on the edge of my seat for more.


Kylee Sills is an associate editor at Nerdophiles. There's no amount of money you could pay her to pick up a human skinsuit and treat it like a new pet. @kyleewho