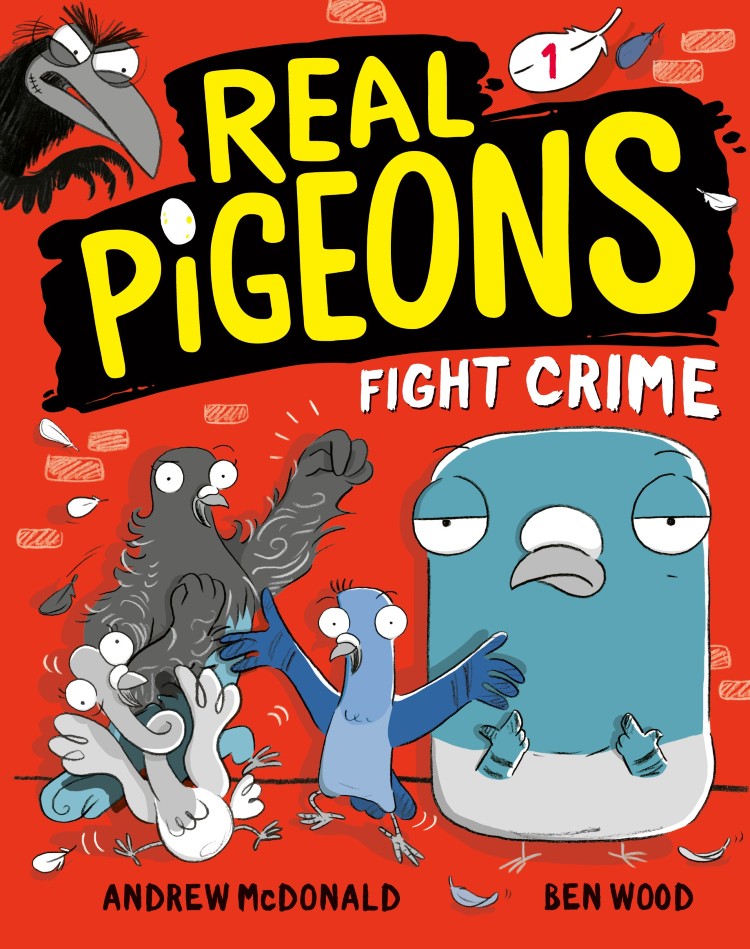 Title: Real Pigeons Fight Crime
Author: Andrew McDonald
Illustrator: Ben Wood
Pub. Date: January 7, 2020
Publisher: Random House Books for Young Readers
Formats: Hardcover, eBook
Pages: 208
Find it: Goodreads, Amazon, Kindle, B&N, iBooks, Kobo, TBD
When I was a kid I never would have read a book like Real Pigeons Fight Crime. It's silly, illustrated, and juvenile. This is probably also why most kids my age thought I was a real stick in the mud. Real Pigeons Fight Crime is tons of fun and it's exactly what you'd expect. It's real pigeons fighting crime. Bird crime. And also real crime.
As it so happens, this is exactly the kind of book my son loves and he's been coveting my copy ever since we got it.
Real Pigeons Fight Crime is a blend of chapter book and highly illustrated pseudo-graphic novel. It's broken into three separate parts with each one being broken down into smaller, easy chapters. The first chapter of the book is approximately 18 pages long but they are quick, easy, and fun pages.
Each 'part' moves the larger story along with everything coming to a climactic ending. As the book progresses you get to know the four main players on the Real Pigeons team as well as their leader, Grandpouter. Rock Pigeon is largely the main character, as we follow him from his humble farm beginnings into the big city. But each pigeon gets a chance to show off their special abilities and take charge.
Kids will enjoy the silliness and the pigeons' little adventures. (Plus the fun illustrations!) And parents will appreciate that there are already two more books planned in the series. So after the kids devour this one, know there are at least two more on the way!
About the Book
Ever wonder why pigeons act so weird? Because they are secretly chasing bad guys and flying around saving your butt! This hilarious illustrated series is perfect for fans of BAD GUYS and DOG MAN.
What do REAL PIGEONS do? They fight crime, of course! Wait, what? You didn't know your town is protected by a secret squad of crime-fighting feathered friends? Well, you are about to get schooled. REAL PIGEONS solve mysteries! REAL PIGEONS fight bad guys! And REAL PIGEONS won't stop until your neighborhood is safe and the questions are all answered: Like, why have all the breadcrumbs disappeared? And which food truck smells the best?
Giveaway
a Rafflecopter giveaway
About the Creators
About Andrew:
Andrew McDonald is a reader and writer of books for young readers.
His brand new series REAL PIGEONS debuts in 2018, with hilarious illustrations by Ben Wood.
His first children's novel, The Greatest Blogger in the World featured the story of Charlie Ridge, a young blogger navigating family, friends and the perils of internet life. His second novel Son of Death, a black comedy about a family of modern grim reapers, was named by The Age as one of the 'best books of the year' in 2015.
He is also the creator of a blog post about 'camera loss' that somehow went viral and he wasn't embarrassed enough to decline an invitation to be a Cleo Bachelor in 2011.
Andrew is an avid reader of children's and YA literature. He has worked for Readings bookshop in Melbourne and at the flagship Foyles bookshop on Charing Cross Road in London, where he was thrilled to put his knowledge to work as a children's bookseller. He has previously judged the Young Adult category of the Victorian Premier's Literary Awards and the Centre for Youth Literature's Inky Awards.
Andrew is a graduate of RMIT's Professional Writing and Editing diploma and his writing has taken him around the world. He completed an artist residency at Caldera Arts in Oregon, USA and a May Gibbs Children's Literature Trust Fellowship in Adelaide.
He is a regular presenter on the schools' circuit in Australia, conducting writing workshops; talking about his writing life; and sharing the stories and experiences behind his books.
Website | Twitter | Facebook | Instagram | Tumblr | YouTube | Goodreads
About Ben:
Ben Wood is a children's illustrator based in Victoria, Australia. He has been commissioned to work with clients such as Hardie Grant Egmont, Penguin Random House, and Scholastic Australia.
Ben is able to offer clients a wealth of illustration styles and techniques in both digital and traditional mediums. Recent publications include Blast Off! by Shelly Unwin and the Squishy Taylor series, by Ailsa Wild. He is currently illustrating the Real Pigeons series by Andrew McDonald. "It's super coo!"
Ben also runs presentations or workshops in schools, public libraries, and bookstores. His sessions can vary from small to large groups, depending on what suits best. He is more than happy to work with Prep-Year 9 students, and adults too. Please contact Booked Out Speakers Agency to enquire about a booking.
Website | Twitter | Facebook | Instagram