It can be hard for small conventions to get off the ground, even in this season where conventions are king. Last year I dubbed Cherry City Comic Con "the little con that could" due to the rather suddenness of its appearance and surprising success. I've said it before and I'll say it again, Salem isn't exactly known for being cool. The fact there is not one, but now two comic book conventions happening within a year is amazing for my hometown, and I'm proud that Cherry City Comic Con had another good run even with all of the bad media it faced earlier in the year.
While there may have been a lot of bumps along the way, Cherry City Comic Con was a great show. There was a good mix of vendors, guests, and entertainment options to keep con-goers busy on both days.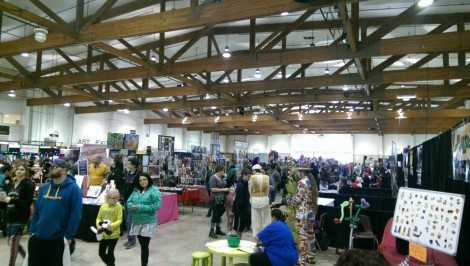 First, the venue was fantastic. It was held at the Oregon State Fairgrounds, which was obviously made to house big events. Even though the building it was in was massive, they managed to fill the space really well. The nice thing was that even with all of the people milling around, there was enough room to get by. I know it might not seem like a big deal, but I like to keep moving in-between booths and sometimes at bigger cons that is nearly impossible. When you try to move from one to another, you get pushed back into the stream or people or blocked all together. Nothing is worse than saying your goodbyes to someone running a booth, only to have to stand there awkwardly because you've been boxed in.
The Fairgrounds will also provide a lot of room for the convention to grow in the coming years and I anticipate that they'll take full advantage of the space. While it was a little out there to house it at the Fairgrounds, I think it works. Most cons are held in hotels or convention centers, but Cherry City jumped in and went big from the get-go and have had no trouble filling the space. It was a lovely venue, even though it was definitely secluded from the rest of the city.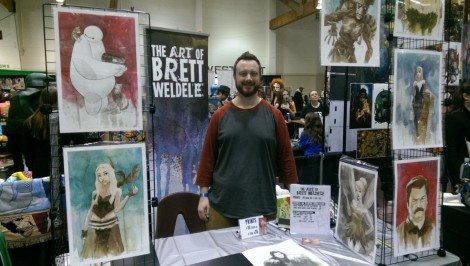 Second, the guests were amazing. I'm always eager to see who will turn up to cons like these, especially from the indie comic world. One of my "con rules" is to walk away with at least one locally produced indie comic. I walked away with three, which gives you an idea of what kind of people were at this particular convention. It is one of the bonuses of attending a smaller convention, I think, because newer artists and writers have a better chance at snagging a table. They're able to get in at conventions like this, as opposed to bigger cons where they'll probably get beat out by veteran vendors.
The entertainment guests were lacking, though there were a few recognizable names. However, that was to be expected at a convention like this. To be honest, I don't go to small conventions to meet actors anyway. I go to mingle with creative minds trying to produce quality entertainment in the form of comics and art. All in all, the guests were exactly what I was hoping to find at a convention like this.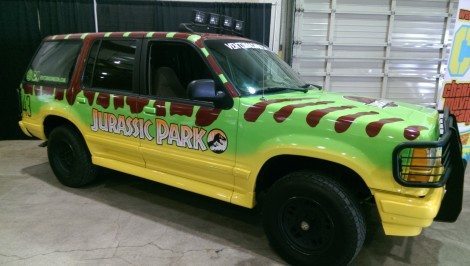 Third, this convention really did its best to try to appeal to a broader audience. While it has a lot to work on, for a second year con it did a pretty good job at attracting various types of people. There were tabletop gaming demonstrations, some panels, a children's section, tattoos, and costume contests. With what it had, Cherry City did a great job at providing a little something for everyone. I imagine in future years they will improve upon this factor ten fold, especially if they gain more space by moving into some of the other Fairground buildings.
As for improvements? Well, there were a few. Panels were probably the biggest disappointment. I struggled to find a schedule, and the one I did find was taped up to a pillar just inside the building after passing through with wristbands. I think they could do better and at least be handing out the schedules, or have them available online. Also, the panels were sort of distracting because all that separated the talks from the rest of the convention were curtains. As someone used to going into a separate room for a panel, it was a little strange.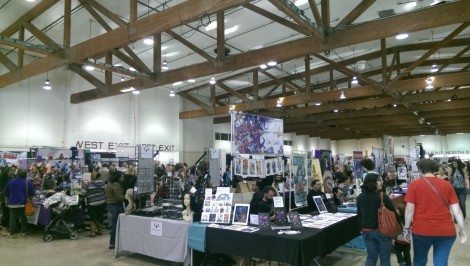 While the venue has the right size, I think its distance from downtown might hinder it some. Something I love about conventions is the people it brings into a city. Those people tend to not only attend the convention, but spread out into the city to find food, entertainment, or shopping. Though having it secluded did make it a little more manageable parking wise, I would like to see more food options in the future. Even food trucks coming in would be great, as the food available in the Fairgrounds was lacking and there was a disconnect between the convention and the downtown area.
Over-all, I'm definitely looking forward to see this show grow and improve. It is a great testament to the will of the people running it that a little bit of bad press didn't stop the show. With a new show-runner at the helm and an entire year to prepare for Cherry City Comic Con 2016, there's no doubt going to be some fun stuff on the horizon. For now, I'll bast in the wonderful post-con glow and take a huge nap.