The time has come for all San Diego Comic-Con attendees: the exclusives portal is live. As we mentioned in a previous post we had a feeling this was coming. Following the lead of big conventions like New York Comic Con, San Diego has shifted to using a lottery to assign attendees access to exclusives available on the convention floor.
If you have badges, you should have received an email from Comic-Con International letting you know that the portal is ready. You can access the portal through the e-mail or by logging in with your member ID and clicking the "exclusives" tab.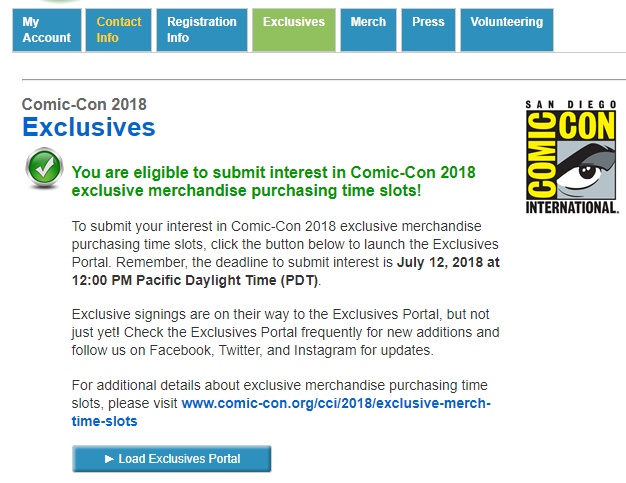 Once you're there you will want to click the blue button at the bottom. This will take you into the exclusives portal where you will be met with all your time slot options for the various companies giving out exclusives at SDCC this year. Available through this portal are slots for Funko, Hasbro, and UCC Distributing.
At this point, the portal feels more like a regular shopping experience where each of the time slots is an item you can put in your cart. Select the day, time, and company you want then be sure to agree to the terms and conditions. It won't let you add it to your cart if you don't!
There will be a pop-up with the terms and conditions for the lottery entry that you will agree to. Then you can click to add the item to your cart. Add as many as you would like, but try to be strategic. It might be difficult without the set schedule available but you can check out the schedules from last year to figure out when the big stuff happens.
Once you have selected all the slots you want and add them to the cart you can submit them.
Thus concludes the exclusives portal. You should receive an e-mail confirming the entries once they have been submitted. After that, you're left to wait until July 13th when the random drawing and assignment will happen.
It's time to chat about portals, the do's, the don'ts, and which ones you definitely shouldn't take to Dimension X. Nothing good happens in Dimension X, use only approved portals. #SDCC2018 #ToucanTip https://t.co/PWcYWjA9g0

— San Diego Comic-Con (@Comic_Con) June 28, 2018
The exclusives portal might take away some sense of control, but it definitely seems to be the best way to handle the huge crowds and demand for exclusives at San Diego Comic-Con. Gone are the days when attendees would have to wait in line all night and all morning just to get a chance to get something — often at the cost of missing panels and other exclusives.
With the exclusives portal, you can know when you need to be at each booth and will have a better, controlled chance of getting what you want. It saves you time, it provides natural crowd control for the venue and vendors, and over-all makes the exclusive-getting process simpler.
For planners like me, it also gives me another concrete thing to pencil in instead of leaving open a huge gap of time with a big question mark, not knowing if I could get in line before the cut-off.
Don't miss out on your chance to enter the lottery. Remember, you only have a limited time to make your selections and the sooner you do it, the more quickly you can cross it off your to-do list.
Good luck! Enjoy this next hurdle and just remember: San Diego Comic-Con is coming! I can almost smell it.