I am thrilled to be hosting a spot on the THE TOGETHER TREE by Aisha Saeed and LeUyen Pham Blog Tour hosted by Rockstar Book Tours.
The Together Tree is a story that's likely to resonate with kids and parents alike. The book follows a boy named Rumi as he moves into a new town and a new school. Unfortunately, things don't start out well and he quickly finds himself being targeted by a bully in his new class. The other kids laugh or stay silent as it happens until one day someone has the courage to reach out after the bully takes things too far.
Unfortunately, all of our kids are going to experience bullying at some point. Some will suffer worse than others. My youngest is finishing third grade and it's all too apparent that bullying remains an issue in our schools. In The Together Tree young readers will see just how important it can be to step up for other kids and tell bullies that it's not cool to make fun of others or tease and torment them. They will also see just how important it is to give everyone a chance.
I loved the illustrations. LeUyen Pham is one of the best illustrations out there today. I will always love her work. The trees and other plants look so vibrant and alive throughout the book. And I loved Rumi's drawings get worked into the branches and leaves as he becomes more confident sharing his creativity with his new friends towards the end of the book. Amazing details!
Check out the rest of my post and make sure to enter the giveaway!
About The Book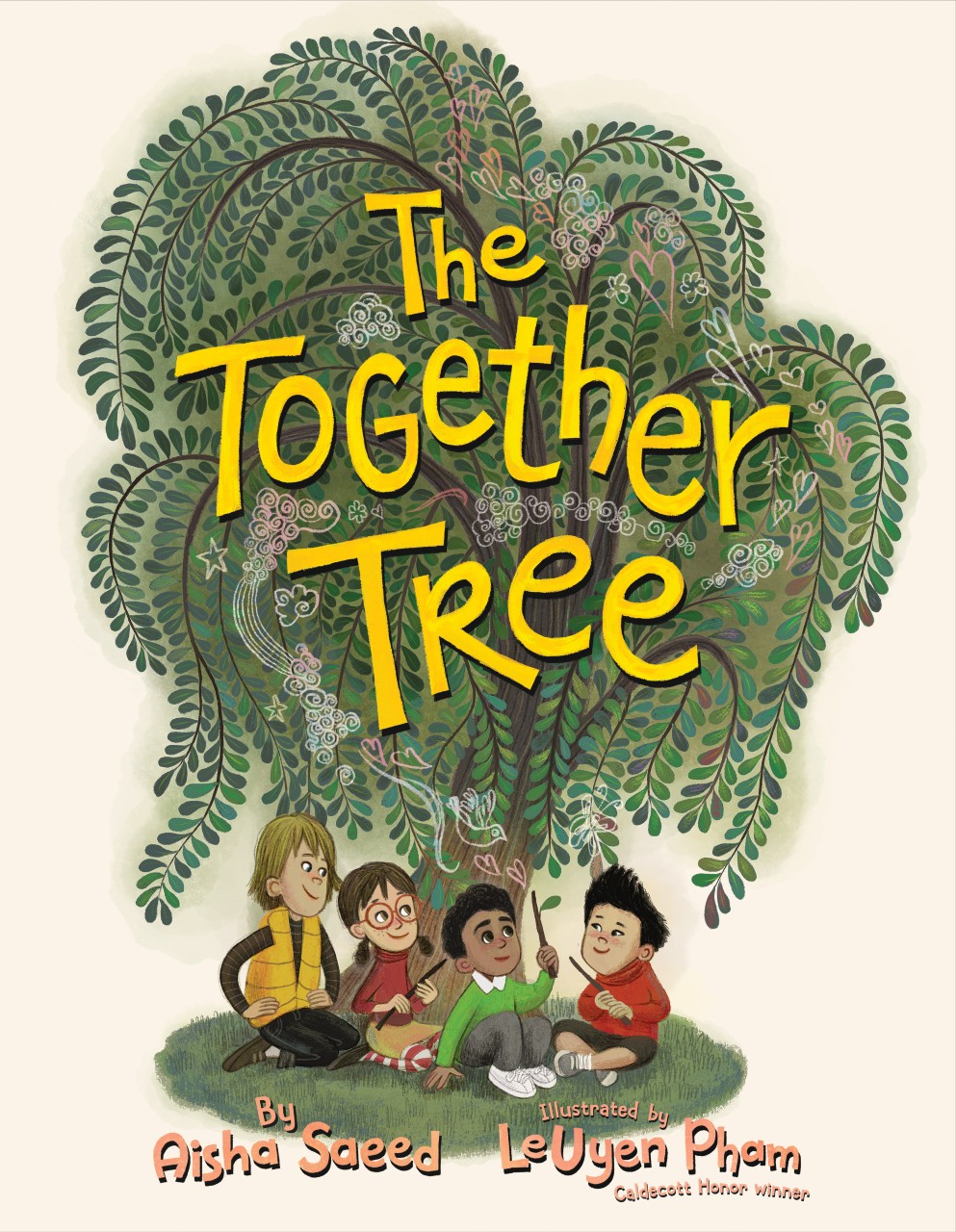 Title: THE TOGETHER TREE
Author: Aisha Saeed and LeUyen Pham (Illustrator)
Pub. Date: May 30, 2023
Publisher: Salaam Reads / Simon & Schuster Books for Young Readers
Formats: Hardcover, eBook
Pages: 40
Find it: Goodreads, https://books2read.com/THE-TOGETHER-TREE
All Are Welcome meets Be Kind in this poignant and accessible picture book about the power every bystander—no matter how small—has to extend kindness and stand up in the face of intolerance.
At his new school, quiet Rumi feels small and unwelcome, and a few kids bully him for his brown skin and bright shoes. He finds refuge beneath the old willow tree by the playground and builds his own world of hope and dreams of belonging.
One day, when Rumi is made a target again, one of his classmates bravely steps in to defend him. It's in that moment of solidarity Rumi's class finally realizes that under the shade of the willow tree, all are welcome, and they create a space they can all play in—together.
About Aisha Saeed
Aisha Saeed is the author of Written in the Stars, which was listed as a Best Book of 2015 by Bank Street Books, a 2016 YALSA Quick Pick for Reluctant Readers, and named one of the Top Ten Books All Young Georgians Should Read in 2016. She is also the author of the middle grade novel Amal Unbound, which has received starred reviews from Publishers Weekly and Kirkus Reviews and is a Global Read Aloud for 2018. Her other picture books include Bilal Cooks
Daal and The Together Tree. Aisha is a founding member of the nonprofit We Need Diverse Books. She has been featured on MTV, HuffPost, NBC, and the BBC, and her writings have appeared in publications including the journal ALAN and the Orlando Sentinel.
Subscribe to Aisha's Newsletter!
Website | Twitter | Facebook | Instagram | Goodreads | BookBub
About LeUyen Pham
LeUyen Pham has illustrated more than fifty books, including board books, picture books, chapter books, and graphic novels. Her work has been recognized with numerous honors, including the Society of Illustrators Los Angeles Bronze Medal in the Children's Book category, and Best Books of the Year lists in publications such as Kirkus Reviews, The Horn Book Magazine, and Comic Book Resources. She is also a New York Times bestseller for Grace for President, written by Kelly DiPucchio; Freckleface Strawberry and the Dodgeball Bully, written by Julianne Moore; and Princess in Black, written by Shannon and Dean Hale.
Born in Vietnam, LeUyen came to the United States at the end of the Vietnam War when she was only two. She studied illustration at The Art Center College of Design, and for a short period of time worked at DreamWorks Animation as a layout artist before turning to illustration full time. She lives with her husband (who is also an artist) and two sons in Los Angeles. Visit her online at LeUyenPham.com.
Website | Facebook | Instagram | Goodreads 
Giveaway Details
1 winner will receive a finished copy of THE TOGETHER TREE, US Only. Ends May 31st, midnight EST.
a Rafflecopter giveaway
Tour Schedule
Week One:
Week Two: