I am thrilled to be hosting a spot on the CITY SPIES: CITY OF THE DEAD by James Ponti Blog Tour hosted by Rockstar Book Tours. Check out my post and make sure to enter the giveaway!
About The Book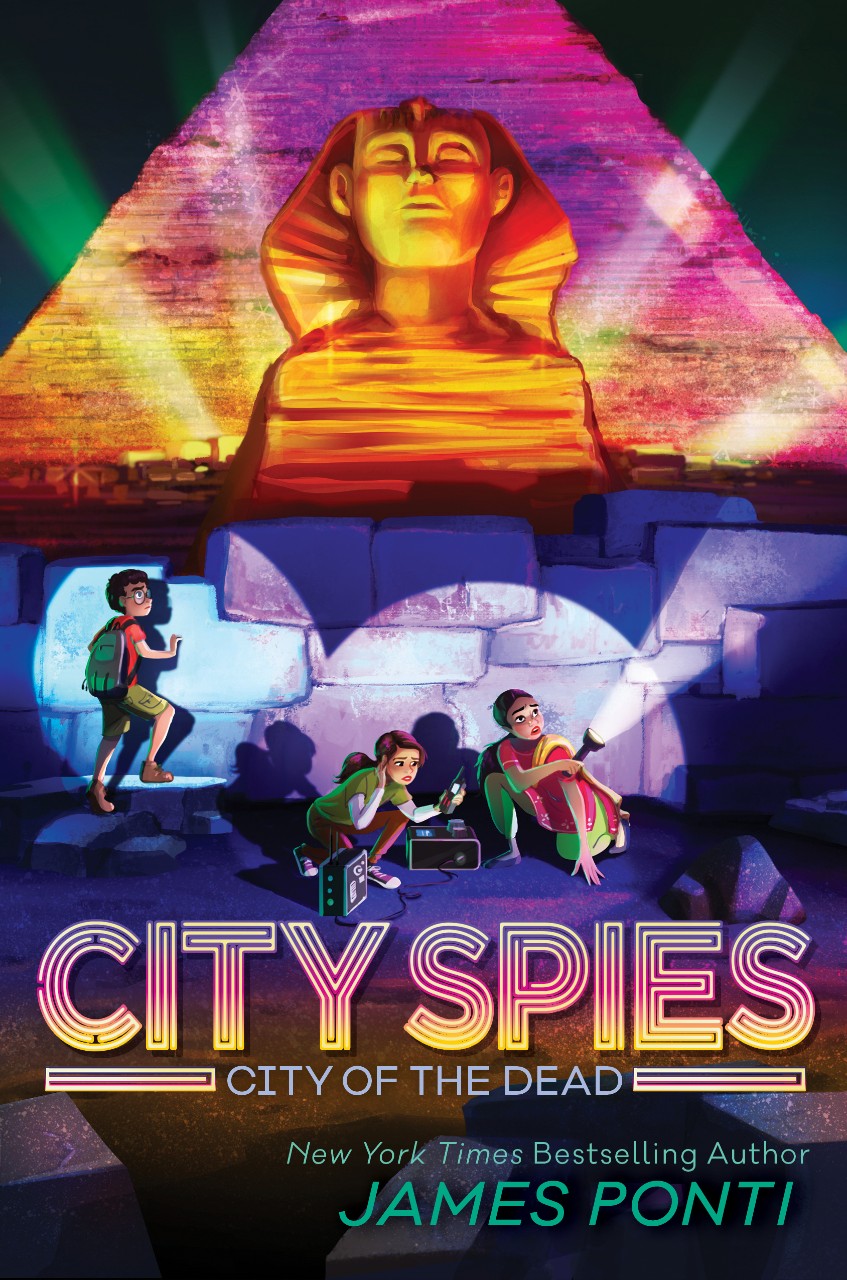 Title: CITY SPIES: CITY OF THE DEAD
Author: James Ponti
Pub. Date: February 7, 2023
Publisher: Aladdin
Formats: Hardcover, ebook, audiobook
Pages: 400
Find it: Goodreads, https://books2read.com/CITY-SPIES-CITY-OF-THE-DEAD 
In this fourth installment in the New York Times bestselling series from Edgar Award winner James Ponti, the young group of spies go codebreaking in Cairo in another international adventure perfect for fans of Spy School and Mrs. Smith's Spy School for Girls.
Codename Kathmandu, better known as Kat, loves logic and order, has a favorite eight-digit number, and can spot a pattern from a mile away. So when a series of cyberattacks hits key locations in London while the spies are testing security for the British Museum, it's clear that Kat's skill for finding reason in what seems like randomness makes her the perfect candidate to lead the job.
And while the team follows the deciphered messages to Egypt and the ancient City of the Dead to discover who is behind the attacks and why, Kat soon realizes that there's another layer to the mystery.
With more players, more clues, and involving higher levels of British Intelligence than ever before, this mission is one of the most complex that the group has faced to date. And it's also going to bring about a change to the City Spies…
Grab the rest of the CITY SPIES BOOKS now!
Book Trailer
About James Ponti
JAMES PONTI (he/him/his) is the New York Times bestselling author of three middle grade book series: City Spies, about an unlikely squad of five kids from around the world who form an elite MI6 Spy Team; the Edgar Award–winning Framed! series, about a pair of tweens who solve mysteries in Washington, DC; and the Dead City trilogy, about a secret society that polices the undead living beneath Manhattan. His books have appeared on more than fifteen different state award lists and he is the founder of a writers group known as the Renegades of Middle Grade. James is also an Emmy– nominated television writer and producer who has worked for many networks including Nickelodeon, Disney Channel, PBS, History, and Spike TV, as well as NBC Sports. He lives with his family in Orlando, Florida. Find out more at JamesPonti.com.
Website | Twitter | Instagram | Facebook | Goodreads | Amazon
Giveaway
1 lucky winner will receive a finished copy of CITY OF THE DEAD, US Only.
a Rafflecopter giveaway
Rockstar Book Tour Schedule
Week One:
Week Two:
Additional Tour Stops
Monday, February 7, 2023 at 6:00pm CT
Virtual launch event hosted by Blue Willow Bookshop (Houston, TX)
In conversation with Kelly Yang (author of NEW FROM HERE and FINALLY SEEN)
Wednesday, February 8, 2023 at 7:00pm ET
In-person event hosted by Little Shop of Stories (Decatur, GA)
In conversation with Laurel Snyder (author of ORPHAN ISLAND and CHARLIE & MOUSE)
Thursday, February 9, 2023 at 6:00pm ET
In-person event hosted by Malaprop's (Asheville, NC)
In conversation with Alan Gratz (author of REFUGEE, GROUND ZERO, and TWO DEGREES)
Friday, February 10, 2023 at 5:00pm ET
In-person event hosted by RJ Julia Booksellers (Madison, CT)
In conversation with Lauren Tarshis (author of the I SURVIVED series)
Saturday, February 11, 2023 at 3:00pm ET
In-person event hosted by Books of Wonder (New York, NY)
In conversation with Sayantani DasGupta (author of THE FIRE QUEEN series), Chris Grabenstein (author of DOG SQUAD and THE SMARTEST KID IN THE UNIVERSE), and Karina Yan Glaser (author of THE VANDERBEEKERS series)
Sunday, February 12, 2023 at 2:00pm CT
In-person event at St. Louis Public Library hosted by The Novel Neighbor (St. Louis, MO)
In conversation with George Jreije (author of SHAD HADID AND THE ALCHEMISTS OF ALEXANDRIA)
Monday, February 13, 2023 at 7:00pm CT
In-person event hosted by Wild Rumpus Books for Young Readers (Minneapolis, MN)
In conversation with Jacqueline West (author of THE BOOKS OF ELSEWHERE and LONG LOST)
Tuesday, February 14, 2023 at 5:30pm ET
In-person event hosted by Quail Ridge Books (Raleigh, NC)
In conversation with Kwame Mbalia (author of the TRISTAN STRONG series)
Thursday, February 16, 2023 at 10:30am ET
In-person event hosted by Politics & Prose (Washington, D.C.)
Saturday, February 18, 2023 at 2:00pm ET
In-person event hosted by The International Spy Museum (Washington, D.C.)
Saturday, February 25, 2023 at 2:00pm ET
In-person event hosted at Lake Highland Prep School hosted by Writer's Block Bookstore (Orlando, FL)
In conversation with Jerry Craft (author of NEW KID and CLASS ACT)