I am thrilled to be hosting a spot on the THE FALL OF TITAN by H.G. Ahedi Blog Tour hosted by Rockstar Book Tours. Check out my post and make sure to enter the giveaway!
About The Book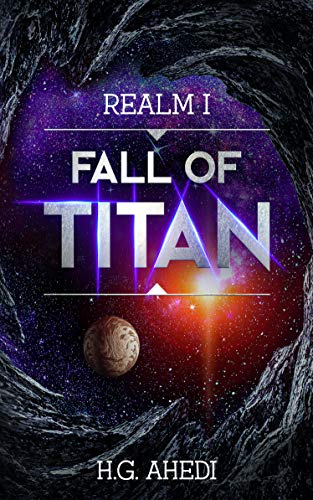 Title: THE FALL OF TITAN (Realm 1)
Author: H.G. Ahedi
Pub. Date: November 12, 2022
Publisher: H.G. Ahedi
Formats: Hardcover, Paperback, eBook
Pages: 338
Find it: Goodreads, https://books2read.com/u/3nDY8o
Read for FREE with a Kindle Unlimited Membership!
In the twenty-fourth century, a sophisticated security system called the perimeter guards the outer rim of the solar system. Governed by Titan, a powerful space station, the perimeter is almost impenetrable. Emmeline Augury, an astrophysics cadet on Titan, believes in a family folklore about a mythical device with unlimited power. Recognizing its scientific and military value, she uses unorthodox methods to follow a trail of cleverly concealed clues. Her search uncovers an ancient plaque, which reveals a star map of a secret network of portals leading to the device, the key that opens the doors to the seven realms. Suddenly, the key to absolute power is in her grasp, and everyone wants a piece of it, especially the power-hungry Orias queen. What began as a scientific adventure turns into a dangerous manhunt when an Orias fleet attacks Titan. The queen threatens to slaughter everyone unless she is given the device. When the fate of Titan and the seven realms hangs in the balance, Emmeline must make a choice. Will she save her home or the device?
Get all the books in the Realm Series now!
About H.G. Ahedi
I am H.G. Ahedi, writer of the award winning science fiction series Realm. I dabble a bit with crime fiction too. I am the owner of the most vacant apartment in Sydney (it has minimum furniture and more books). My plants do not survive (I have buried four) and if you buy me a good cup of coffee – we are friends forever!
My dream is to find a way into the fictional world, and write about it in real world. I would love to have a cup of tea with Agatha Christie and solve a case with Sherlock Holmes. And of course pick their brains for my books. I spend my weekends with box of popcorn and TV series (mostly sci fi and mysteries). My real life is a bit more sensible or rather boring. I have done a PhD (I don't know what I was thinking) and right now I spend my day handling a database.
So what have I written?
Stella is free book is available on my website : https://harbeerahedi.com
Mysteries/thrillers – Black Moon, Calculated Murder, Haunted, Shadow Pandemic and Shadow Fraction.
Science Fiction – Transcendence, Realm 1: Fall of Titan, Realm 2: Poseidon, Realm 3: Icarus
Do I do social media? A little bit…
Website | Twitter | Facebook | Instagram | Goodreads | Amazon | BookBub
Giveaway
Win the entire Realm Series!
Ends January 31st, midnight EST.
Giveaway Link: (scroll to the bottom of the page)
Tour Schedule
Week One:
Week Two:
Week Three: