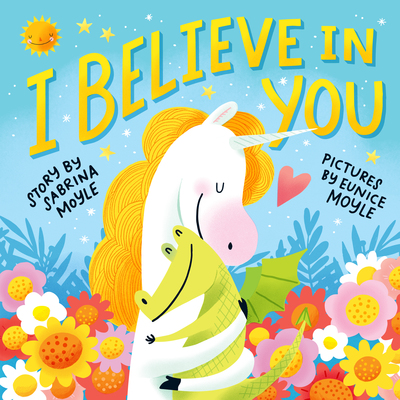 Title: I Believe in You
Creators: Eunice and Sabrina Moyle of Hello!Lucky
Release Date: September 29, 2020
Publisher: Workman Publishing Company
GoodReads | Amazon | Hello!Lucky
I Believe in You isn't just another adorable picture book from the creative sisters behind Hello!Lucky. It's actually our favorite book from Sabrina and Eunice Moyle. (And we really like their board books.) My six year old couldn't stop saying how much she liked this one!
I Believe in You has a fantastic message and it's one that will really speak to young readers. The book loosely follows the adventures of a young dragon who decides he is ready to learn to fly and the adult unicorn who helps and cheers him on. Despite setbacks and frustrations, the unicorn supports the young dragon as he tries out a variety of different ways to achieve his dreams.
We loved the positive tone and, of course, the adorable illustrations. If you haven't read a Hello!Lucky book before you should know that they are super vibrant and colorful – and full of adorable animals doing equally adorable things. Eunice Moyle is a master illustrator and her illustrations are always fun and quirky. From a giraffe in a hot air balloon to a hedgehog with pom-poms, there are so many great little details hidden among the larger narrative.
Now, one of the less obvious reasons that I love I Believe in You is the fact that it features an adult unicorn caring for a baby dragon where most picture books usually feature a parent and child of the same species. This may not necessarily mean much to some readers but my family came together through adoption and we're still an active foster home. Seeing the unicorn so lovingly encourage and support the little dragon reinforces the idea that love takes on many forms and that families do not always have to match.
While that may not have been the authors' intended message, it's one that we really appreciate!
I Believe In You's unicorn and dragon characters are certain to speak to all kinds of child-caregiver relationships making it a perfect book to read together or give as a gift. We're so glad to have such a positive story to share with the kids in our home and I highly recommend it as a great bedtime read!