I am thrilled to be hosting a spot on the FLIPPING FORWARD TWISTING BACKWARD by Alma Fullerton Blog Tour hosted by Rockstar Book Tours. Check out my post and make sure to enter the giveaway! 
Flipping Foward Twisting Backward is a beautifully written story about a young gymnast with Olympic dreams who has been hiding her struggles with reading and academics for years. Claire knows she has what it takes to be a great gymnast because everything comes easy and the things that don't she loves to perfect. But in school her inability to read leaves her feeling stupid. To cope with her frustration and teasing from her peers, Claire acts out to the point that she's perfectly happy sending herself to the principals office when things get rought.
When someone finally takes the time to sit Claire down and figure out the root of her issues, it becomes clear that she has dyslexia. It explains pretty much everything and she's excited to finally have an answer. But her with her parents divorced and her high-achieving, high-expecting mother absolutely against the idea of even considering that her brilliant daughter (who made it this far in school!) could have any kind of learning disability. With the help of her sister she she tries to make her mother understand. And with the help of some great folks at her school she begins to make progress with her reading.
The book is told in flowing verse which I actually loved. It's a little surprising because usually I'm not a big fan of novels in verse. But Claire's voice is so clear and earnest. Considering the author herself has dyslexia she's speaking from the heart when she shows young readers Claire's struggles and triumphs. I particularly loved this book because one of my favorite young people is a gymnast who also happens to be dyslexic and I can already imagine the number of young readers who will see themselves in Claire.
This is a book I think we'll be recommending for years to come!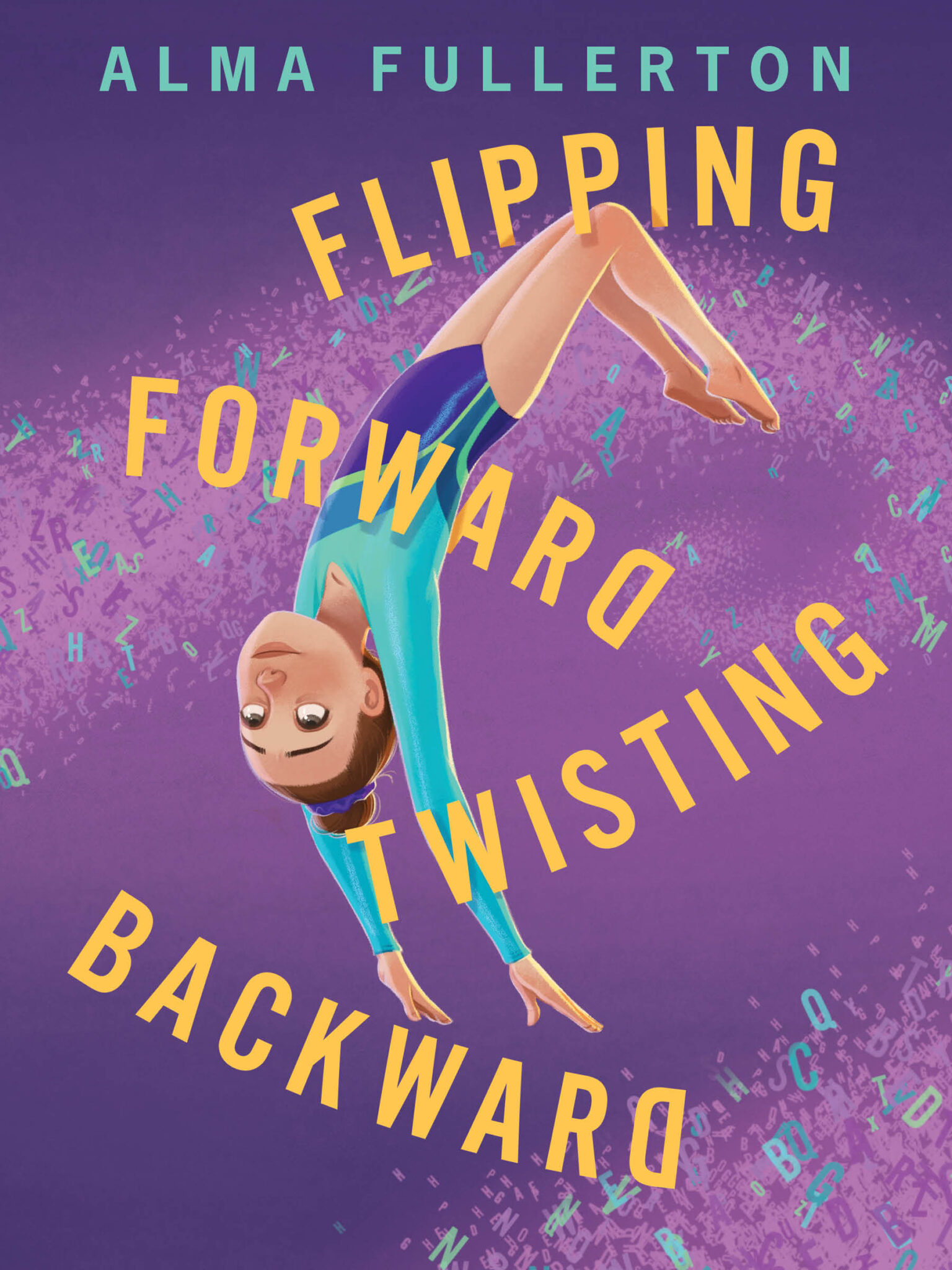 Title: FLIPPING FORWARD TWISTING BACKWARD
Author: Alma Fullerton
Pub. Date: August 2, 2022
Publisher: Peachtree
Formats: Hardcover, eBook
Pages: 144
Find it: Goodreads, Amazon, Kindle, B&N, iBooks, Kobo, TBD, Bookshop.org
A high-energy novel in verse starring a fifth grader who is almost as devoted to competitive gymnastics as she is to hiding her poor reading skills. What happens when Claire's secret starts unraveling?
Claire is by far the best gymnast on her team, and she's well on her way to qualifying for the state championships. The gym is where Claire shines. But at school, she's known as a troublemaker. She seems to spend more time in the office than in class—which is fine with her since it enables her to hide the fact that she can't read. She has never been able to make sense of the wobbling jumble of letters on a page. No one except her BFF knows.
But when a sympathetic principal wonders if Claire is acting out because she's dyslexic, her mother balks. She's afraid Claire will be labeled "stupid" and refuses testing. Claire has always assumed she's dumb; she never imagined her reading problem could have a solution. Is she strong enough to take on both her reading challenges and her mother's denial? Is it worth jeopardizing her spot in qualifiers?
Told in clear and poignant verse and featuring black and white illustrations, Claire's struggle with something that seems to come easily to everyone else will resonate with readers and have them cheering her on.
About Alma Fullerton
Alma Fullerton couldn't read until she was in the fourth grade. Today she works with students who have learning disabilities. She is the author of several middle grade and young adult novels that garnered acclaim and awards in her native Canada. Alma is also the author/illustrator of several picture books. She is on faculty with the Highlights Foundation for teaching novel in verse writing and is an RA for SCBWI's Canada East region.
Website | Twitter | Facebook | Instagram | TikTok | Goodreads | Amazon 
Giveaway
1 winner will receive a finished copy of FLIPPING FORWARD TWISTING BACKWARD, US Only.
a Rafflecopter giveaway
Tour Schedule
Week One:
Week Two: