By this point, if you don't know about Everything Everywhere All At Once, then this is the perfect time for you to order the 4K Ultra HD™ + Blu-ray™. Created by the Daniels aka Daniel Kwan and Daniel Scheinert, Everything Everywhere is an emotional family drama that's wrapped up in the packaging of a wacky sci-fi, nihilist adventure.
This film has something for everyone, there are comedic moments that will make you laugh out loud and then heartfelt moments that leave you in tears. It follows Evelyn Wang, played by the amazing Michelle Yeoh, who is just your average mom. She's struggling with her marriage and her daughter, running a business, taking care of her estranged father, and she's being audited by the IRS. When she is contacted by someone from an alternate universe, she is pulled into a mission to save the entire multiverse. Through this adventure, we learn about how she met and fell in love with her husband Waymond (Ke Huy Quan), how she left China and her father (James Hong) behind, how she struggled when first immigrating to America, how she raised her daughter Joy (Stephanie Hsu), and ultimately how she ended up feeling like she's lived an unfulfilled life.
With an immensely talented cast, we are treated to the weirdest corners of the multiverse. There's the one where people are extinct and only rocks exist. Oh, and the one where Evelyn is in a relationship with her IRS inspector Deirdre (Jamie Lee Curtis) but they also have hot dogs for fingers. Or even the one where Evelyn reveals that her co-worker Chad (Harry Shum Jr.) is a teppanyaki chef who is being controlled by a raccoon a la Ratatouille.
If you loved the movie and you want more of the Daniels' multiverse, then it's time to pick up a physical copy of this movie. One of the things I miss the most in this streaming world is special features and the ones in Everything Everywhere offer a unique look at the movie. The audio commentary by the writer-directors the Daniels points out things you might have missed, offering a look at their thought process as the movie plays out frame by frame! The two featurettes look deeper into the behind-the-scenes filming of the movie. You can watch the cast working with each other over Zoom during the pandemic, see them operate Racacoonie, look at how they built the sets, how they created the costuming, and how they made the multiverse.
The deleted scenes offer a surprising look at some of the lost multiverses out there, one of them being about literally a piece of spaghetti and macaroni called Spaghetti Baby Noodle Boy. And then still another where everyone ends the movie singing "Barbie Girl" by Aqua, and not just because it's a banger but there's an emotional connection to it! For me, the best part of this is that I am able to show this to my family. Rarely do these movies come with Chinese subtitles, but this one includes them. It's the best part of this, and I highly recommend you go out and get yourself a copy of Everything Everywhere All At Once.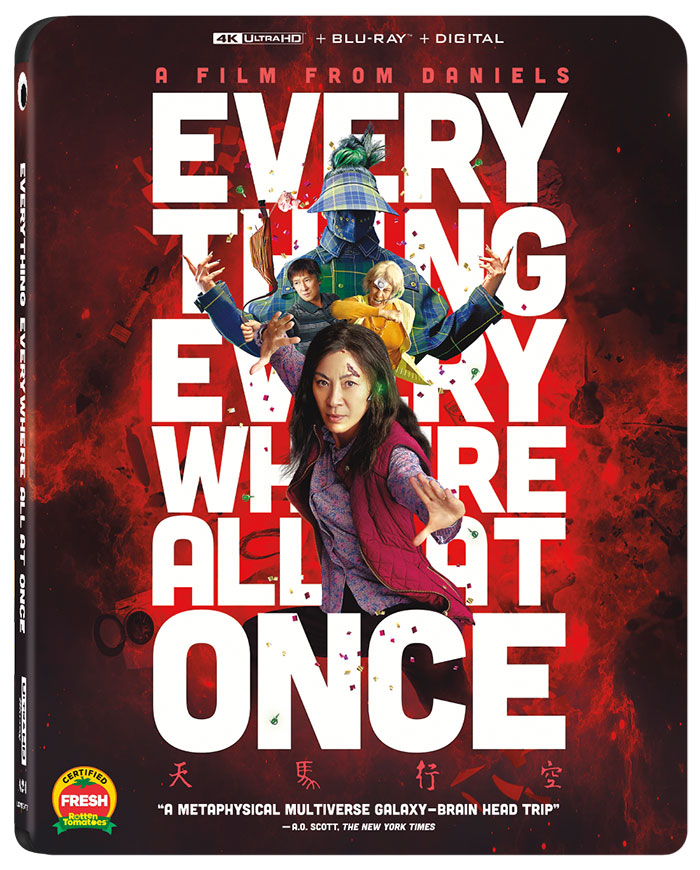 PROGRAM DESCRIPTION
The mind-bending action-adventure Everything Everywhere All At Once arrives on 4K Ultra HD™ + Blu-ray™ + Digital, Blu-ray + Digital, and DVD July 5 from A24 and Lionsgate. The film stars Michelle Yeoh as an unlikely hero who must channel newfound powers to fight fearsome dangers from the multiverse. Directed and written by Daniel Kwan and Daniel Scheinert, the writing-directing duo collectively known as the Daniels (Swiss Army Man), Everything Everywhere All At Once will be available for the suggested retail prices of $42.99 for 4K Ultra HD + Blu-ray + Digital, $39.99 for Blu-ray + Digital, and $29.96 for DVD, respectively. 
OFFICIAL SYNOPSIS
Evelyn Wang (Michelle Yeoh), a flustered immigrant mother, is contacted from a parallel universe and told that only she can save the world. The unlikely hero must learn to channel her newfound powers and fight through the splintering timelines of the multiverse to save her home, her family, and herself in this big-hearted and irreverent adventure. With Stephanie Hsu, Ke Huy Quan, Jenny Slate, Harry Shum Jr., James Hong, and Jamie Lee Curtis.
4K ULTRA HD / BLU-RAY / DVD SPECIAL FEATURES:
Audio Commentary with Writers-Directors Daniel Kwan & Daniel Scheinert
"Almost Everything You Ever Wanted to Know About Everything Everywhere All At Once" Featurette
"Putting Everything on a Bagel: Cooking up the Multiverse" Featurette
Deleted Scenes with Optional Audio Commentary
Outtakes
Music Visual
Theatrical Trailer
PROGRAM INFORMATION
Year of Production: 2022
Title Copyright: Everything Everywhere All At Once © 2021 A24 Distribution, LLC. Artwork & Supplementary Materials © 2022 Lions Gate Entertainment Inc. All Rights Reserved.
Type: Theatrical release
Rating: Rated R for some violence, sexual material and language
Genre: Sci-fi, Action, Adventure
Closed-Captioned: N/A
Subtitles: Spanish and Chinese (Traditional), English SDH
Feature Run Time: 139 Minutes
4K Format: 2160p High Definition 16×9 (1.85:1) Presentation with Dolby Vision
4K Audio: English Dolby Atmos
Blu-ray Format: 1080p High Definition 16×9 (1.85:1) Presentation
Blu-ray Audio: English Dolby Atmos
DVD Format: 16×9 (1.85:1) Presentation
DVD Audio: English 5.1 Dolby Audio