I am thrilled to be hosting a spot on the NEXT DOOR TO HAPPY by Allison Weiser Strout Blog Tour hosted by Rockstar Book Tours. Check out my post and make sure to enter the giveaway! 
About The Book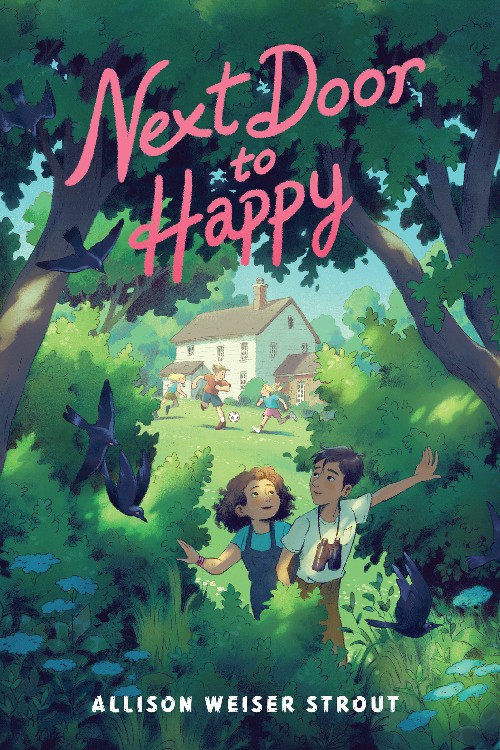 Title: NEXT DOOR TO HAPPY
Author: Allison Weiser Strout
Pub. Date: June 12, 2022
Publisher: Margaret Ferguson Books
Formats: Hardcover, eBook
Pages: 192
Find it: Goodreads, Amazon, Kindle, B&N, iBooks, Kobo, TBD, Bookshop.org
Twelve-year-old Violet Crane is an only child in a lonely household who longs to be part of the gregarious family that's just moved in next door.
With a mother struggling with anxiety, a father who recently moved out, and no siblings to commiserate with, socially awkward Violet Crane feels like she is starting middle school with less going for herself than that of your average kid.
When the rambunctious Walker family moves in next door, Violet can't help but wish she could become a part of their household–everyone and everything seems so normal compared to her own.
After she meets them, Violet falls in love with all five Walker siblings and especially with Mrs. Walker, who is nothing like her own mother. Violet and Reggie, the black sheep of the Walker family, find that they have an easy understanding of each other, and it doesn't hurt that they are in the same grade at school.
But then Violet overhears a conversation between Reggie and his mother in which she tells him that she doesn't feel like Violet is an appropriate friend. Violet is devastated until she faces a truth–no person, family or friendship is perfect–and realizes just how lucky she is.
About Allison Weiser Strout
Allison Strout is a writing tutor for middle school and high school students. Next Door to Happy is her debut novel. She lives in New York City and Maine.
Instagram | Goodreads | Amazon 
Giveaway
1 winner will receive a finished copy of NEXT DOOR TO HAPPY, US Only.
a Rafflecopter giveaway
Tour Schedule
Week One:
Week Two: