When it comes to historical romance movies and books, it's honestly not that hard to impress me. Suzanne Allain's Mr. Malcolm's List joins the company of shows like Bridgerton and movies like 2020's Emma. Youthful and slightly precocious with impossibly charismatic casts, Mr. Malcolm's List technically does very little to stand out in comparison to other period romances, but the hunger for the genre content is strong enough to gobble this up. Directed by Emma Holly Jones, the story follows the kind Selina Dalton (Freida Pinto) who is enlisted by her childhood friend Julia Thistlewaite (Zawe Ashton) to get revenge after Julia is insulted by the very eligible and highly-sought-after Mr. Jeremiah Malcolm (Ṣọpẹ́ Dìrísù). Jeremiah has an impossible checklist for his future wife, one that Julia fails to check off, and as a result, he jilts her. The following social humiliation Julia experiences is enough for her to plot her revenge with Selina.
The premise is pure romance novel fodder. Selina must attract Jeremiah under the illusion that she might simply be his ideal woman, while in the background Julia is coaching her on how to act and how to be. Pinto's Selina is the ideal romance heroine, she's kind, thoughtful, and considerate. Unlike the more temperamental Julia, Selina, who is not as wealthy, joins in on Julia's trickery in order to help her friend but approaches it with a bit of trepidation. After meeting Jeremiah, she quickly forms a true connection with him. Although even Selina does not check off every item on Mr. Malcolm's list, she is his match where it counts.
The movie goes as you would expect. The two meet without knowing the other initially, with Selina charmed by Jeremiah, despite his outward prickliness. When Selina realizes who the man she met in the Orangerie is, things start getting complicated. As Julia and her cousin Lord Cassidy (Oliver Jackson-Cohen) educate Selina on the ways of the ton, it's obvious that Jeremiah is falling for the trap. On the surface, Selina checks all of his more superficial boxes, but she is also well-versed in current events and matches his temperament. And when the handsome Captain Henry Ossery (an unfortunately mustachioed Theo James) comes into the picture, who not only recognizes Selina but has a previous bond to her, Jeremiah recognizes that he might have competition.
But, mercifully, the story does not deviate into the land of love triangles. Instead, it is obvious that Selina is taken by Jeremiah, and Henry falls for Julia, much to her surprise. This all culminates in the lie getting exposed, in a rather dramatic way. Betrayal breaks apart the group, severing not only Selina from Jeremiah but also from Julia as well. Of course, if you're familiar with the genre, you'll know that there is eventually forgiveness and love in the end, but that doesn't make the path getting to the end any less entertaining.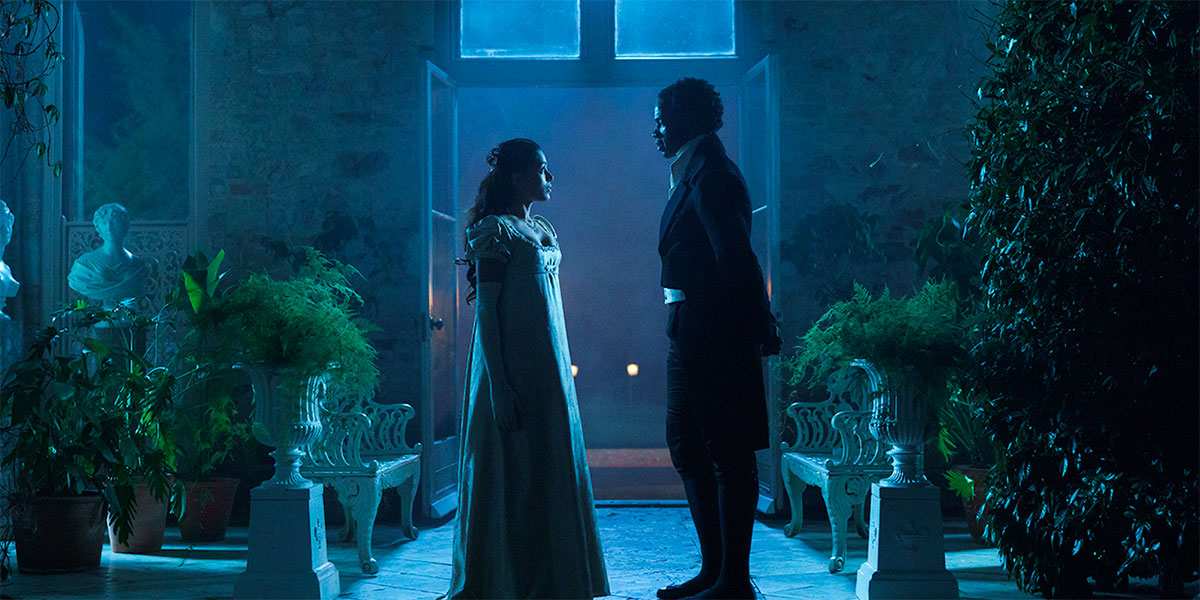 What makes it a movie still worth watching despite a familiar formula lies in the performances of its cast. Dìrísù is a perfect lead as the titular Mr. Malcolm: arrogant, handsome, and pretty high maintenance. His instant chemistry with Pinto and their initial meet-cute is enough to keep us invested. Similarly, Ashton plays the rather complicated Julia who is far from perfect but also rather easy to love. While she might seem initially like the villain of the tale, or at least an antagonistic force, her relationship with Selina goes through an evolution and the two come out better for it.
Emma Holly Jones' direction offers an enchanting look at Regency England, and the decision to cast a diverse group of actors is handled far better than Bridgerton. Balancing two love stories and doing them both justice is one of the highlights of the film. While Selina and Jeremiah's story is at the center, Julia's romance with Henry is more than just a subplot that plays out in the background. In this way, and many others, the story is reminiscent of Pride and Prejudice, though the premise offers something a bit juicier. So, yes, we are on well-tread territory, however in this case it's about the journey, not the destination. For lovers of romance and period pieces, Mr. Malcolm's List will surely scratch that itch.