The Fuse Vol. 1:
The Russia Shift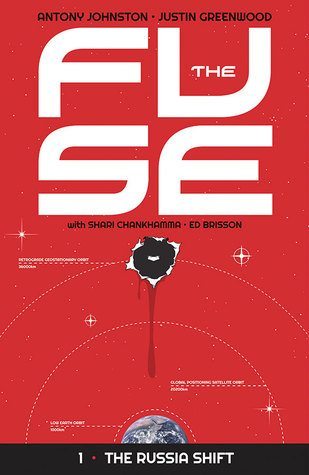 Author: Anthony Johnson
Artist: Justin Greenwood
Release Date: August 27, 2014
Publisher: Image Comics
Source: NetGalley DRC
Genre(s): Science Fiction, Crime
Rating: ★★★★☆
Review Spoilers:  Low
GoodReads | Amazon
We are in the midst of a science fiction comic book Renaissance and we really, truly have Image Comics to thank for that. They are taking an interest in and giving a chance to books that wouldn't otherwise hit the shelves if we left things up to the 'big two.' This is probably why I have said before and will say again: Image Comics is my absolute favorite publisher. My bookshelves are full of Image trades and probably always will be.
The Fuse is a great book – especially for those who really enjoy police procedurals. Set on an orbital satellite floating above the planet, it's a unique location with it's own vibrant history, society, and cast of characters. A refuge for some and an escape for others, the Fuse was originally meant to be nothing more than a space station. But as people stayed and built up more around the original structure it became something much more. The creative team behind the series put so much thought and planning into the world building and the series truly shines as a result. The Fuse is almost a character in itself at times.
The story is a lot more 'down to earth' than the setting. It's a very standard procedural set in a location that's anything but standard. After a couple of 'cablers' – people living in the cables and crawl spaces of the station – are murdered, veteran detective Klem and her new partner Ralph (just seconds after he arrives on the station) are thrown into a murder investigation, of which the ultimate resolution could have some very serious implications for some very powerful people.
Admittedly, the story is a little predictable. We live in a world that is incredibly over-inundated with police procedurals on television. But we love them. I love them. So that's not a problem. It doesn't make the investigation or mystery any less interesting, nor does it make the characters we meet less compelling. I love Klem and Ralph. They are such a unique team. We don't get a whole lot of older female characters as leads in comic books and that was a fantastic surprise in itself. And, honestly, we don't have nearly enough black characters in leading roles in comics either. They make this book only that much better because of who they are and how that shapes their backgrounds and character.
One last thing to note: the artwork is spectacular. How is Justin Greenwood not working on, you know, everything ever? I guess I'm going to be tracking down Stumptown and Stringers next.
I really like The Fuse. It's a nice spin on a classic buddy cop set up. And it may have more sinister undertones later on if our last page is anything to go by. I'm looking forward to exploring more of the Fuse and more of the story going forward.
A REVIEW COPY OF THIS TITLE WAS PROVIDED BY THE AUTHOR VIA NETGALLEY.