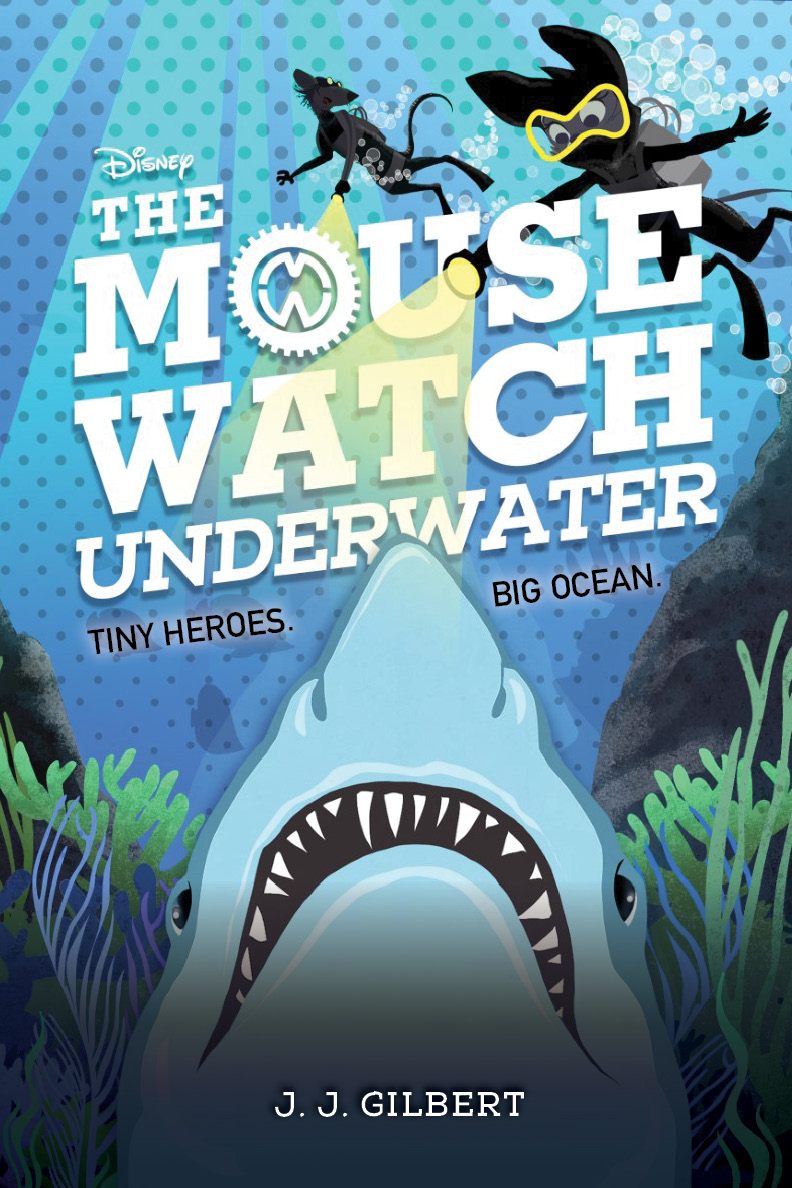 Title: THE MOUSE WATCH UNDERWATER
Author: J. J. Gilbert
Pub. Date: May 4, 2021
Publisher: Disney-Hyperion
Formats: Hardcover, eBook, audiobook
Pages: 240
Find it: Goodreads, Amazon, Kindle, Audible, B&N, iBooks, Kobo, TBD, Bookshop.org
Parents who grew up watching The Rescuers and Chip 'n Dale: Rescue Rangers may want to read The Mouse Watch series even more than their kids! Set in the same world as Rescue Rangers and featuring cameos from some of those iconic characters, The Mouse Watch Underwater sees newly initiated recruits Bernie and Jarvis undertaking a deep water mission in a race against the evil R.A.T.S. organization.
When all the other agents are called away on an emergency situation, Bernie and Jarvis are left to help out on what should be a pretty mundane oceanic mission. But soon they find themselves rushing to find a long lost mouse submarine that may contain a secret, potentially devastating device. Determined not to let it fall into R.A.T.S.'s clutches they join a cast of adventurous characters and bravely undertake a deep sea adventure.
I picked up The Mouse Watch Underwater without having read the first book in the series and while I feel like I missed out on the original story it really didn't detract from The Mouse Watch Underwater. I always appreciate series where you can jump in anywhere early on and I'm glad to say that The Mouse Watch seems to be one of them!
The world build was great (omg Catlantis!), the characters fun, and as a parent who grew up on The Rescuers and Rescue Rangers I really enjoyed all the throwbacks – though my children probably wouldn't understand many of the cameos and references. Fortunately, they wouldn't need to! The Mouse Watch series is nostalgia done right. It appeals to those who know the background while also giving today's kids a brand-new cast of heroic rodents to love.
The Mouse Watch Underwater is a well-paced, action packed story of heroic rodents that will appeal to kids with a love of spy stories and, of course, Disney. If your kids fit the bill, tell them to check it out! Don't forget to enter the giveaway below!
About The Mouse Watch Underwater
In this action-packed sequel to The Mouse Watch, a team of elite crime-fighting mice must go where no mouse has gone before – the depths of the ocean!
For Fans of Chip & Dale Rescue Rangers
Six months into their Mouse Watch training, Bernie and Jarvis are getting along like cheese and crackers! Less exciting: having already completed their first successful mission, it's now back to basic training.
But more pressing matters are at hand (or rather, at paw). The remains of the S.S. Moon, a long-lost spy vessel, have been found. Onboard the ship is a legendary map, and the transmission says that it leads to an energy source that could save—or destroy— the planet. The Mouse Watch must get to it before it falls into the clutches of their nemesis, R.A.T.S!
Bernie and Jarvis suit up—in scuba suits, this time—for a deep-sea mission on a submarine the size of a shark-snack. Their mission brings them whisker to whisker with a giant robotic kraken, nefarious R.A.T.S. agents, the underwater city of Cat-Lantis, and more underwater perils, all in a fight against time to keep a powerful weapon out of the clutches of evil.
"Mice in Black" meets "Mission Im-paw-sible," this high-octane follow-up to The Mouse Watch will appeal to fans of the tiny rodent heroes, as well as draw new readers in with adorable antics and high-stakes adventure.
Praise for The Mouse Watch
"A fun little adventure brimming with Disney intellectual-property synergy "– Kirkus Reviews
"Disney's The Mouse Watch is the James Bond of Mice" – Your Money Geek
"The Mouse Watch is a fun adventure story about believing in yourself, widening your world view, and good triumphing over evil. Kids will love it for the relatable characters, cool gadgets, and cyborg villain" – Laughing Place
GRAB BOOK 1, THE MOUSE WATCH NOW!
Giveaway
3 winners will win a finished copy of THE MOUSE WATCH UNDERWATER, US Only.
a Rafflecopter giveaway
About J. J. Gilbert
J. J. Gilbert has worked in Hollywood for most of his life as a director, animator, producer, and storyboard artist for companies such as Walt Disney Studios, and has been bringing mice (and other creatures) to life for years. He lives in California with his wife and kids. His favorite kind of cheese is Stilton.
Instagram | Goodreads | Amazon
Tour Schedule
Week One:
Week Two: