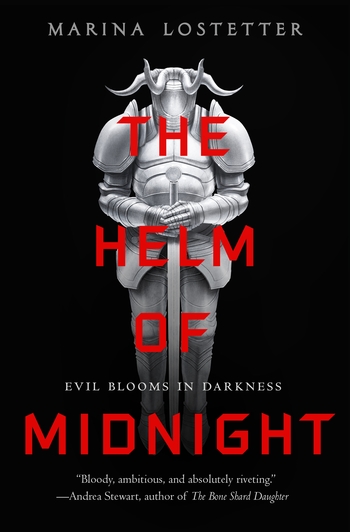 Title: The Helm of Midnight
Author: Marina Lostetter
Publisher: Tor Books
Publication Date: April 13, 2021
Page Count: 464
Find it: Amazon| B&N | Goodreads
Synopsis:
A legendary serial killer stalks the streets of a fantastical city in The Helm of Midnight, the stunning first novel in a new trilogy from acclaimed author Marina Lostetter.

In a daring and deadly heist, thieves have made away with an artifact of terrible power–the death mask of Louis Charbon. Made by a master craftsman, it is imbued with the spirit of a monster from history, a serial murderer who terrorized the city with a series of gruesome murders.
Now Charbon is loose once more, killing from beyond the grave. But these murders are different from before, not simply random but the work of a deliberate mind probing for answers to a sinister question.
It is up to Krona Hirvath and her fellow Regulators to enter the mind of madness to stop this insatiable killer while facing the terrible truths left in his wake.
Nerdophiles Review:
I am absolutely loving all these fresh, genre-blending books being published lately! I read this book immediately after the adventurous cannibalistic magic nun book, Star Eater, and you could call it the perfect palate cleanser (ha!).
The Helm of Midnight is a total vibe and I am here for it. It's all the things I love about neo-noir: it's dark and gritty and suspenseful. It has characters with dark secrets and traumatic pasts battling their own demons and racing against time to stop a serial killer. Bonus: it weaves in a healthy dose of magic and high fantasy lore.
The Helm of Midnight follows three separate stories that eventually intersect: one from a city guard's perspective tracking a serial killer after powerful magical items are stolen, another from a local healer with a mysterious secret, and a third from a physician-turned-religious zealot-turned-serial-killer.
Threaded through the three narratives is a delicious sense of suspense. Normally, I don't like switching perspectives in fantasy books (I didn't like it in Eragon and I couldn't stand it in A Song of Ice and Fire, don't @ me!), because it feels so abrupt that it takes me out of the story. Too often it's used as a repetitive, artificial way to heighten suspense at the end of every chapter. It's basically emotional whiplash! Thankfully, I didn't feel that way here- Lostetter makes the switches to further the story, not to manipulate the reader's emotions. The breaks between stories didn't happen at the height of plot climaxes, and the pacing and energy levels felt very organic switching between characters.
Beyond the structure, I really enjoyed the overall blend of mystery, fantasy, and lore. The writing and pacing are really well done – each story is compelling, and watching the pieces snap into place, plot points augmenting the world-building, is masterful.
The book feels really reminiscent of The Name of the Star by Maureen Johnson, and to a lesser extent, the Crescent City series by Sarah J Maas. The trio of books involves solving murders with magical elements. In particular, Johnson's book and Midnight both involve solving a series of supernatural murders when the spirit of a serial killer is revived. Midnight has more high fantasy elements compared to Johnson's series, but less world-building (and romance) compared to Maas', but they are all alike in concept and grittiness. All three books wholly embrace gruesomeness and grief.
The Helm of Midnight is a fresh, fantasy take on the neo-noir genre, replete with informants, seedy characters, nefarious plots, and world-changing stakes. I highly recommend this book for readers of mystery and fantasy- as the first in a new series, I'm looking forward to reading what comes next!