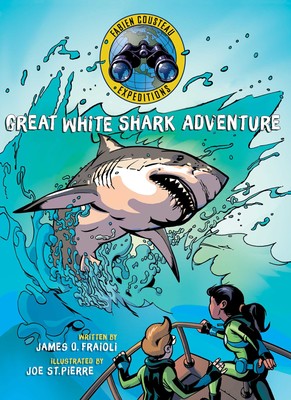 Title: Great White Shark Adventure
Series: Fabien Cousteau Expeditions #1
Author: James O. Fraioli
Illustrator: Joe St. Pierre
Contributor: Fabien Cousteau
Release Date: March 5, 2019
Publisher: Mcelderry Books
Review Spoilers: Low
GoodReads | Amazon
After years exploring the oceans and contributing to the family legacy, Fabien Cousteau is lending his name to an exciting new series of graphic novels called the Fabien Cousteau Adventures! The books are geared towards getting young readers excited about the ocean – and ultimately about protecting it – by bringing them along on some epic expeditions around the world.
Since nothing appeals to young readers (especially boys) quite like sharks it's only natural that the series would start off with the Great White Shark Adventure.
Fabien Cousteau himself appears as one of the main characters and he brings two young 'Junior Explorers' along with him and his crew of colorful characters. In Great White Shark Adventures, Fabien and his crew are searching for a massive great white shark that they hope to track and ultimately protect.
Joining him on the journey this time around are Bella and Marcus who help out with everything from churning up chum to tagging sharks for research purposes. Bella and Marcus are likable self-insert characters who stand in for the reader as Fabien's handpicked 'Junior Explorers.' They're both clever and quick to ask – and sometimes answer – any number of questions that help the story move along.
Great White Shark Adventure does a really good job of offering up a wide variety of science facts while moving the story along. In a lot of kids' non-fiction comics the story can take a backseat the amount of information that's being squeezed into each page. But while the story in this book isn't super developed the characters and plot get their fair shake. The action and information go hand-in-hand and seem evenly paired.
While Great White Sharks may be the titular species of note they are not the only ones covered in this book. Great White Shark Adventure covers numerous other types of sharks, fish, and other ocean life that co-exist with the iconic sharks. The book teaches kids boating terminology, dispels Hollywood myths and stereotypes about sharks, and encourages kids to take an interest in the preservation of our oceans.
Honestly, the book covers so many topics and species that I was left wondering what the next books will cover! It was so informative and covered so many topics. (Spoiler: the end hints at an arctic expedition next.)
Joe St. Pierre does a fantastic job of portraying the various species covered throughout the book and that alone might keep kids reading. The sharks look super cool (and appropriately scary) and the rest of the ocean comes to life with brilliant illustrations and great, vibrant colors. I'd never really thought about how blood in water would look illustrated but your shark-obsessed kids probably do a lot and St. Pierre gets it. (Not that I have a lot of reference – we're in a dinosaur phase in our house.)
Great White Shark Adventure was a great introduction to the Fabien Cousteau Expeditions series and I hope to see more titles in this series released soon. I love the idea of a marine life-centered series and I love the plot-based premise. These books are great for kids who love sharks, love non-fiction, and, obviously, love graphic novels. It'll be great for the elementary and middle school crowds!