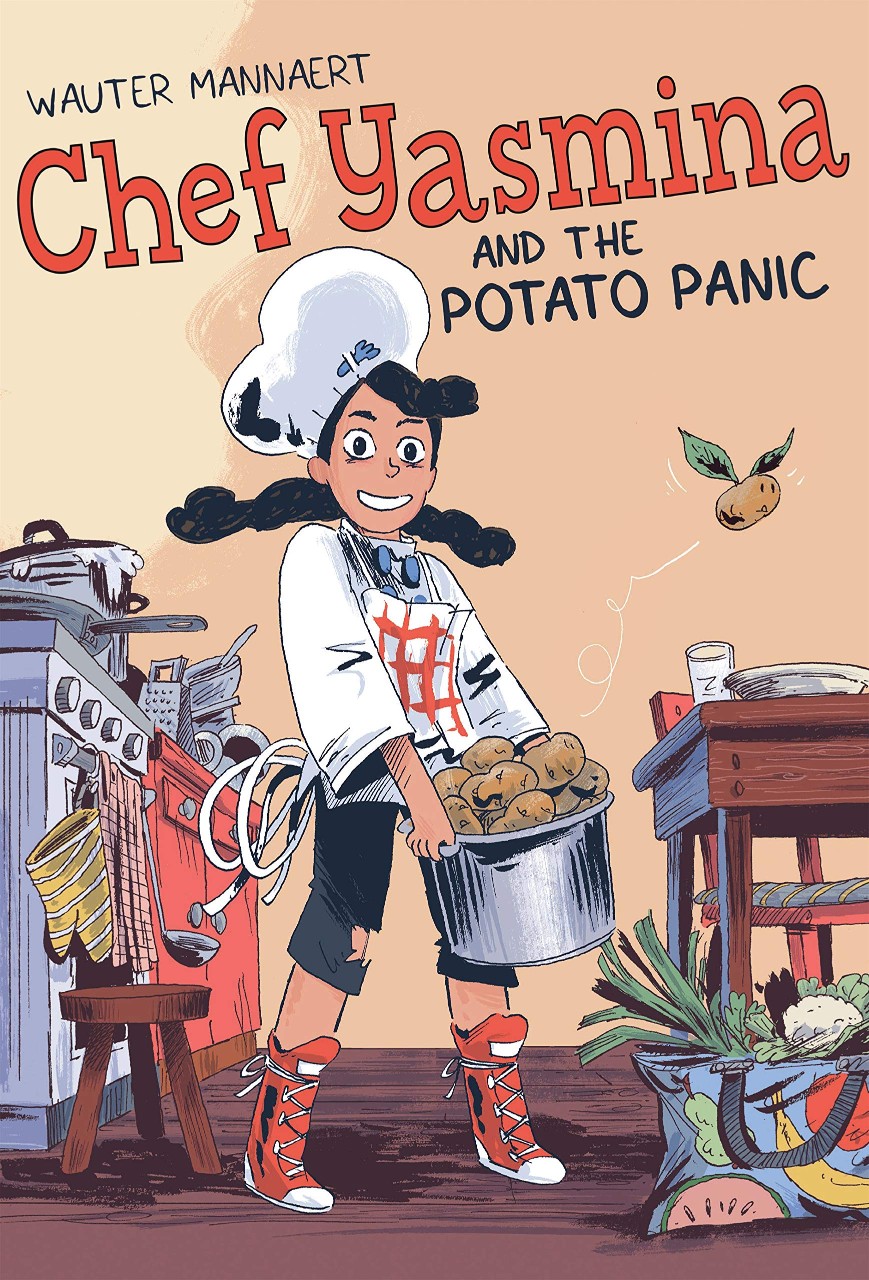 Title: Chef Yasmina and the Potato Panic
Creator: Wauter Mannaert
Release Date: February 9, 2021
Publisher: First Second
GoodReads | Amazon | Macmillan
Who would have thought potato chips could have led to the civilization as we know it? And yet that's the challenge Chef Yasmina is up against in Chef Yasmina and the Potato Panic! A girl with a love of food (and especially vegetarian cooking), Yasmina has to match wits with an evil corporation trying to take over the world with some seriously weird, genetically modified potatoes.
If it sounds like an odd set up you're not wrong. There's some pretty outlandish science involved but that just adds to the fun!
With the folks in her city seemingly helpless to resist the effects of these addictive, evil potato chips, Yasmina has to team up with the rather colorful cast of characters. This includes an eccentric scientist and a pair of urban farmers who can't agree on much except the need to fight back against the potatoes. The mismatched team gives way to a lot of opportunities for silly moments and jokes despite the seriousness of their mission. (To be fair, the whole book manages to have an air of humor throughout which makes it such an entertaining read.)
Yasmina is a wonderful character. A precocious young chef, she has a love for cooking and frequently sources her own ingredients from a local community garden (as well as pilfering a few things here and there from the garden of the rooftop recluse in her apartment complex). She shows a true passion for craft and a deep love of her single father. Despite his working for a fairly stereotypical fast food place, she makes sure to cook him a healthy, organic meal every day.
Now, I do want to say that as amusing as the read was I did worry that the story might be seen as genetically modified food fear mongering. The primary message in Chef Yasmina, though, focuses moreon an evil corporation that just happens to use genetically modified food in a negative way so I don't think it entirely applies here. And, honestly, the idea of people becoming obsessed with a particularly highly marketed product (that just happens to turn them into mind controlled, obedient zombies) definitely isn't too much of a stretch. We are a consumer society after all!
Chef Yasmina and the Potato Panic is wonderfully illustrated and has a fun, fast-paced story that will keep readers hooked from start to finish. Comics fans who love outlandish science and strong female characters are sure to enjoy it. I suspect the story won't be for everyone. But if you give it a chance I hope you'll find Yasmina just as charming as I did!